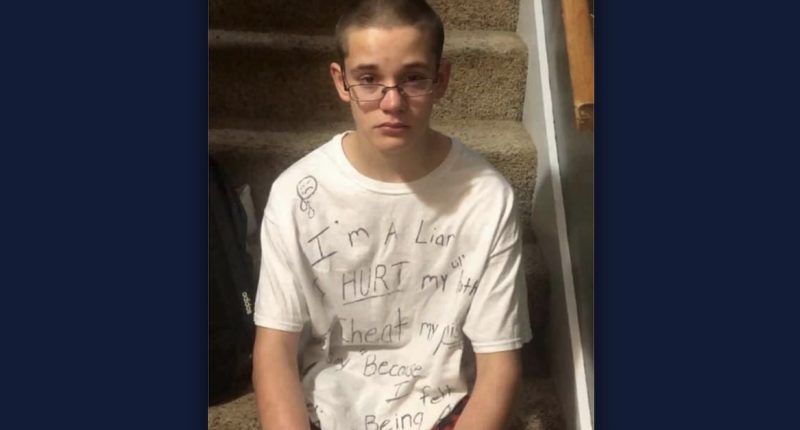 Law enforcement authorities in Indiana are still trying to locate a 14-year-old boy who has been missing since Thursday, shortly after he was photographed wearing a white T-shirt with bizarre phrases handwritten across the front, including "I'm a liar," "cheat," and "I hurt my little brother."
According to a press release from the Eaton Police Department, as of Tuesday afternoon there will not be any organized teams from the public searching for Scottie Dean Morris, who was last seen at approximately 8:30 p.m. on March 16 leaving his home on East Indiana Avenue in Eaton. Eaton is located just over an hour northeast of Indianapolis.
While the teams of civilian volunteers are no longer being used, police say that boats, drones, sonar equipment, and K-9 teams will still be utilized to "check the areas of water nearby" and to search the river areas out of Eaton Town limits.
It is believed that the controversial photo of Morris was taken earlier in the day Thursday, while the teen was "in conflict with adults at his home," according to a report from the Indianapolis Star.
Authorities initially said that Morris was "believed to be in extreme danger and may require medical assistance," though they have not elaborated on the specific danger or medical condition they were referring to in the release.
The department on Tuesday emphasized that officers "are still investigating and working leads" as they come in, and said there would be a meeting of multiple law enforcement agencies later in the day to discuss the next steps. The other agencies will include the Indiana State Police, the Delaware County Sheriff's Office, the Indiana Department of Natural Resources, and at least one federal organization.
Authorities further asked that the public "refrain from making false statements and accusations" regarding the missing child.
In the immediate aftermath of Morris' disappearance, the department was the subject of public backlash and speculation after posting the aforementioned photograph showing Morris looking sullen while wearing a shirt that appeared to be designed to shame and humiliate him.
The department clarified the mishap in a subsequent press release on Friday. saying it was the "ONLY photo that EPD was given to display" at the time.
"We are very sorry the post seemed as if we were trying to shame him in anyway, as that would NEVER be our intent," the release states. "When posting Scottie was not in trouble with the department, we meant we were here to help him and it is the intent of every Officer to find him safely. Placing that photo on social media was in no way an attempt to embarrass or humiliate him. Actually, it was displayed as an investigation tool."
The department later edited the photo and cropped out Morris' shirt.
Eaton Deputy Chief Chris Ligett on Monday said that authorities had interviewed multiple people and conducted several polygraph tests but that there were "no new leads" and "no new information" regarding Morris' whereabouts, saying the department was at a "standstill" in the search.
In the days since Morris went missing, his mother, Felicia Morris — who police say has been "very cooperative" with the investigation — went on television and gave an impassioned plea for her son to return home, addressing him directly.
"Scott, I love you and I want you to come home," Ms Morris while sobbing. "I know you are mad and confused and I'm afraid you're scared with all of this. Everyone is looking out for you, we're not trying to scare you. You're not in trouble."
Anyone with information on Morris is asked to call EPD at 765-747-7878.
Have a tip we should know? [email protected]