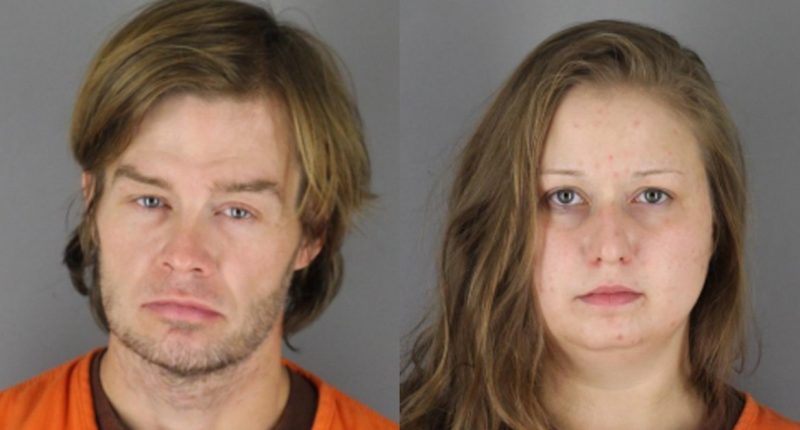 A Minnesota couple who admitted to murdering a pregnant woman and her unborn child before setting the victim's body on fire inside of an abandoned trailer were sentenced to prison this week.
Hennepin County District Judge Paul R. Scoggin on Monday handed down separate prison sentences to Shannon Michael Benson and Jade Monet Rissell for the 2021 slayings of Annysa M. Zierhut and her unborn child, who she planned on naming Grace Marie, court documents reviewed by Law&Crime show.
Both Benson and Rissell had previously pleaded guilty to their roles in Zierhut's death.
Rissell last month pleaded guilty to one count of second-degree murder without intent and one count of second-degree murder of an unborn child while committing a felony. While each count carried a maximum penalty of 40 years in prison, Rissell was sentenced to just over 16 years in prison on each count, with the sentences to be served concurrently. In exchange for pleading guilty, prosecutors dropped charges of aiding an offender after the fact and aiding and abetting first-degree arson of a dwelling. She was also credited with already serving 492 days in jail.
Due to the state's sentencing guidelines, which require an offender to serve the first 2/3 of their sentence in prison and the final 1/3 of the sentence on supervised release, Rissell has less than a decade to serve before she is released.
Benson, who pleaded guilty to aiding and abetting in the murders shortly after Rissell flipped, was sentenced to just under 29 years in prison for each killing, which will also be served concurrently.
The two were also ordered to pay more than $5,800 in restitution.
According to court documents, Zierhut's body was discovered inside a burning trailer in a Minneapolis intersection on Nov. 8, 2021. Zierhut was seven months pregnant and had been reported missing about a week earlier.
Witnesses told investigators that a woman driving a black Chevrolet Tahoe with the trailer attached had been seen in the area before the fire. The vehicles were traced to Benson and his alleged accomplice, Rissell.
Rissell confessed to lighting the trailer on fire to cover up Zierhut's body, officials said.
Rissell further admitted that about a week before the fire, she had lured Zierhut over Facebook to her and Benson's trailer and assaulted her with brass knuckles, knocking her unconscious, police wrote in an affidavit.
She said they left Zierhut in the trailer for a few days, then she took the trailer to an intersection to burn it, according to a sworn affidavit. Shockingly, Rissell also told authorities that Zierhut was in a coma and continued breathing for three days before ultimately succumbing to her injuries, according to court documents.
Prosecutors say Benson had lured Zierhut to the trailer by offering her drugs.
After Rissell's police interview, investigators intentionally left her and Benson in a room while recording them.
Rissell told Benson that the police "have too much information," and she "told them it was me," the affidavit states. The two then started to cry.
Later, Rissell allegedly asked Benson to make a bad joke. He responded, "at least it's not a sex crime." Rissell said, "I'm going in for murder. "Me too," Benson replied, according to the document.
Benson is registered as a predatory sex offender with the state, according to a report from the Star Tribune. He had reportedly been convicted three times in the 1990s for sexual assault and once for assault after beating and threatening to kill his then-wife.
Zierhut's father, Robert Ost, derided what he considered to be sentences that were "grossly inadequate and pathetic" in an interview with the Star Tribune, reportedly saying that Benson and Rissell should both be serving life sentences.
"If this is justice, then our system is broken and has failed Annysa, Grace and all of us. … I do know that typically people who commit these cowardly acts of violence on vulnerable pregnant women and children are not very well received," Ost reportedly told the newspaper. "It seems that even people in prison may understand a better code of justice than our courts will allow."
Have a tip we should know? [email protected]