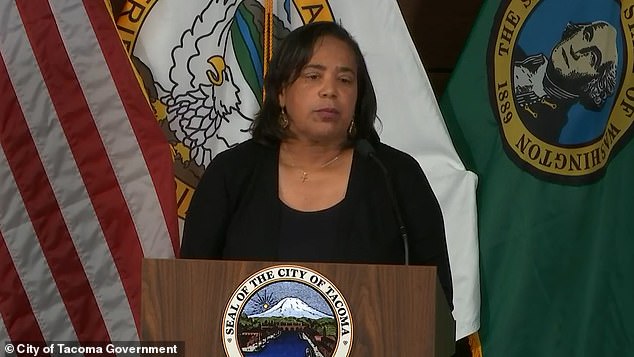 City of Tacoma sees staggering 30% drop in homicides as it hires more cops by re-funding police after cutting its budget by nearly $30M in 2020
Citywide crime figures have recorded decreases in just about every type of crime, a new report shows 
Homicides have dropped 30 percent, while assaults dropped 17 percent after the city increased their number of police officers
The city of Tacoma in Washington State has recorded a staggering drop in the number of homicides since hiring more police officers after slashing its budget by nearly $30 million in 2020.
Data from the Tacoma City Manager's office posted earlier this week shows that homicides as well as crime overall has plummeted in the city compared to last year.
Citywide figures for all crime from January to May 14 in 2022 showed that 13,737 offenses were committed. 
Over the same period this year, the figure has now dropped to 10,444 – with decreases recorded in almost every type of crime.
The number of homicides in the city fell from 20 in the first five months of last year to 14, representing a 30 percent decrease.
Pictured: Mayor Victoria Woodards who said that the decline in crime is due to an increase in officers
Mayor Victoria Woodards told Fox News she believed this to be partly due to an increase in the number of police officers in the city. 
Since last May, the Tacoma Police Department went from being 55 police officers short of its ideal staffing level to 31. 
Mayor Woodards continued: 'When you're going from 55 to 31, that's 20 more people in the department, and so that absolutely makes a difference. You can't deny that.'
Assaults in the city also fell 17 percent in that time frame, from 1,694 incidents to 1,400. 
Sexual offenses have also dropped dramatically, from 127 in the first five months of last year to 92 so far in 2023.
Similarly, kidnapping/abduction has also fallen 17.6 percent, as well as larceny from 4,464 cases last year to 2,955 so far this year – a drop of 33.8 percent.
However, earlier this week, Tacoma Police Union President Henry Betts told Fox News: 'What we are doing is comparing this year's crime to record breaking crime last year. 
'Crime is still really high, we are down 10 percent of our police force. We haven't really added police. We've been defunded, we are still understaffed.'
After the police budget was dramatically slashed by nearly $30 million in 2020, the city announced last year that they would adding an additional $5.6 million in response to soaring crime rates. 
Following the death of George Floyd in 2020, the Black Lives Matter movement called for police across the United States to be defunded. 
Last year, Washington Democrat Representative Kim Schrier came under fire after taking nearly $40,000 from groups to support efforts to defund police.  
In 2020, Tacoma City Council passed Resolution 40622 to transform the City of Tacoma into an anti-racist organization, which included the police department.
Demonstrators clash with police near the Seattle Police Department's East Precinct in June 2020 
People carry signs during a 'Defund the Police' march from King County Youth Jail to City Hall in Seattle, Washington on August 5, 2020
Following the death of George Floyd in 2020, there was widespread rioting to defund the police across the country
In the same year the council also faced a $40 million budget shortfall in its general funds as well as a push for defunding amid protests.
Woodards said in 2020 that she 'didn't know how' to get through the crisis without making a cut in police spending. 
Last year, retired police chiefs warned that the Defund the Police Campaign was to blame for crime levels spiking. 
The movement, which led to violent clashes with officers last year, brought about the dangerous 'ripple effects' across the sector, the former top officers said.
It has caused a dramatic rise in waiting time for victims of vicious crimes and caused moral to plummet to the lowest it has been in decades, they added.
Post source: The List