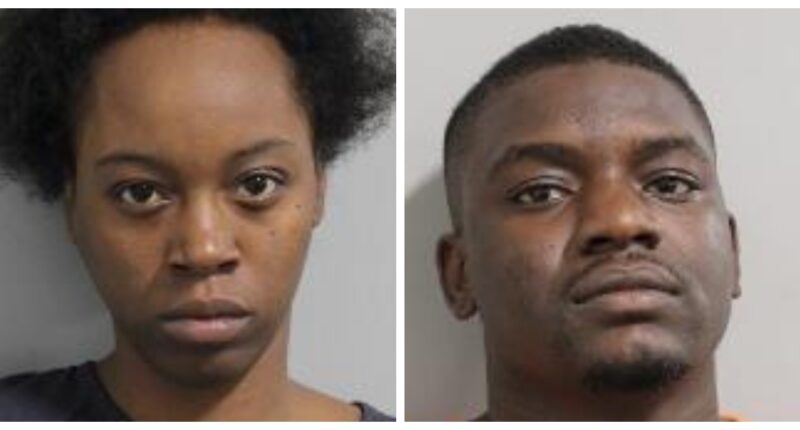 In what one Florida sheriff called the worst case he's ever seen, a couple is accused of letting their comatose 3-year-old boy rot in his bed after authorities discovered his lifeless, ulcerous body with gaping wounds, no rectum, and a hole with intestines, spinal column and colon visible.
Takesha Williams, 24, and Efrem Allen, Jr., 25, were booked into jail on charges of negligent child abuse causing great harm resulting in the death of a 3-year-old toddler, officials said. The charges were upgraded on Friday to aggravated manslaughter of a child.
The baby, who was not identified, was found on May 12 with no pulse and connected to a ventilator when Bartow Fire Rescue responded to a 911 call from the mother saying the child's pulsometer was not working correctly. He had been under home care after a near-drowning accident in the summer of 2020 at a vacation home in Davenport, Florida, officials said.
"They let this baby rot and die in its bed," Polk County Sheriff Grady Judd said in a news conference following the arrests. "I've done this for five decades. I have seen thousands of children abused, hundreds of children murdered at the hands of parents. I have never seen the horror that we saw with this poor child at the hands of these two folks."
Judd said it all began in July 2020, when "this beautiful baby boy" was only 10 months old. He toddled off into the pool and nearly drowned at a short-term rental home. Despite life-saving efforts then, the child had no brain activity when he got to the hospital and could not even blink, the sheriff said. Doctors recommended to the parents that he be removed from life-saving measures because the child would forever be in a coma with no brain activity.
The parents didn't want to do that and were sent home with their infant on a ventilator, with a stomach tube and home health care three times a week for over two years, the sheriff said.
The parents began to reject assistance for the boy in October, which was the last time home health care dealt with the child, he said.
When health care workers knocked, "they would not be home, would not answer the door," Judd said. DCF told authorities when they went to the apartment to see the child, the parents said, "Don't wake the child up today."
Judd said the mother had been receiving benefits to stay home and care for her baby but suggested the suspects got tired of his intensive care.
"I suggest to you, and this is only supposition on my part, they just got tired of the baby," Judd said.
The grim discovery was made the morning of May 12 when Williams and Allen noticed he was cold to the touch, his stomach was bloated, and the pulse oximeter was malfunctioning, officials said.
Williams waited until 3 p.m. to call 911, saying, "This is really not an emergency. You don't need red lights and sirens, but we'd like fire to come over and check the baby," the sheriff said.
When paramedics arrived, they saw the child hooked up to a working ventilator.
"But there appeared to be no life in the child," Judd said. "This child was rotting in the bed."
The baby was rushed to the hospital, where he died. When medical personnel removed his diapers and clothes, they noticed ulcers and large gaping wounds throughout the body, down into the muscle, Judd said. The child smelled of decomposition.
"They noticed there was no rectum," Judd said. "There was just a big gaping hole where the intestines and the spinal column was visible."
An ER doctor said the child had not had appropriate care for months. A medical examiner said the child had sepsis, bilateral pneumonia, and stage five ulcers, Judd said.
Authorities said Williams and Allen noticed the boy had large open sores but feared contacting anybody because they feared the Florida Department of Children and Families (DCF) would take their other two young children away. Those children, 2 years old and 10 months old, appeared healthy and were removed from their care, Judd said.
"They stated people would assume it was neglect," authorities said in a news release. "However, they stated the victim is not neglected."
Judd said his goal is to send them to prison for "as long as we can."
"And then from there, God's got to take over," he said.
Williams and Allen are being held in the Polk County Jail on $100,000 bond each.
Have a tip we should know? [email protected]