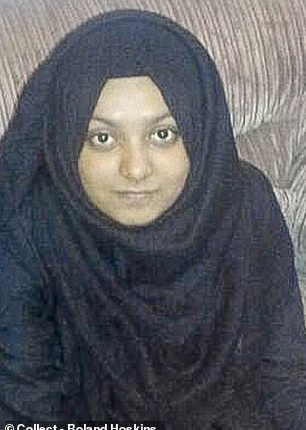 Shamima Begum has used a BBC podcast to blame her best friend for her decision to join ISIS. 
Sharmeena Begum – no relation – fled the UK to join ISIS in 2014, followed by Shamima and her schoolmates Amira Abase and Kadiza Sultana two months later. 
They were all 15 at the time apart from Sultana, who was 16. Sharmeena has been missing since 2019 and Abase and Sultana are both presumed dead. 
Unlike her notorious and publicity seeking friend, Sharmeena's story is less well-known – despite her being the first East London schoolgirl to make the journey. 
Born to Bangladeshi parents in Tower Hamlets in 1999, she was largely brought up by her mother Shahnaz until 2007 when her father Mohammed Nizam Uddin moved to Britain.
It is mainly through interviews Mr Uddin has given to the media that we can build up a picture of Sharmeena's early life – and make sense of Shamima's attempts to portray her as the spark for her decision to embrace the ISIS death cult. 
Sharmeena Begum (left) – no relation – fled the UK to join ISIS in 2014, followed by Shamima (right) and her schoolmates Amira Abase and Kadiza Sultana two months later
Shamima was 15 when she ran away with Sultana, 16, and Abase, 15 – (all pictured at Gatwick airport)
 Mr Uddin, a waiter, recalled Sharmeena as an ordinary young girl who enjoyed listening to Rihanna, watching EastEnders and shopping at Forever 21. 
But he saw a sudden change when her mother died of cancer in 2013 aged 33. 
Interviewed shortly after his daughter left for Syria, he said: 'I told the police that Sharmeena definitely changed after her mother died. 
'She changed her dressing style and wore a scarf and started praying five times a day. Sometimes she would go to the East London Mosque for prayers.' 
Mr Uddin was careful not to blame the mosque or groups within it for his daughter's radicalisation, but his brother-in-law said the rest of the family blamed the Islamic Forum of Europe (IFE's) women's group for poisoning the young girl's mind.
Baki Miah a step-uncle to Sharmeena, said: 'They told her things like, if she goes and dies in Syria, she would go to paradise, where she would meet her mother.
'I am 500 per cent sure that she was groomed at the East London Mosque. She was spending most of her time in the mosque, after school and all the time, she was spending in the mosque.'
Family members and relatives of the teenager said that they suspected rogue individuals within the IFE's women's wing, known as the Sisters Forum or Muslimaat, advised her to travel to Syria in the wake of her mother's death.
The IFE has denied the claims. 
Meanwhile, the mosque strongly denied playing a role in the radicalisation of Sharmeena and her three friends. 
In a statement, the mosque's lawyers said it was attended by thousands of worshippers each week 'so it is possible, indeed probable, that one or more of the girls attended at some point'. 
Mr Uddin believes Sharmeena was targeted through her phone by shadowy IS recruiters who exploited her vulnerability after her mother's death.
'Every parent should check what their children are doing on their phones at every moment,' Mr Uddin at the time. 
Whatever the exact cause of her radicalisation, Sharmeena wasted little time on acting on her twisted beliefs – travelling to Syria via Turkey in December 2014 after borrowing £500 from her grandmother she claimed was for shopping. 
She also duped her grandmother – who she lived with – into handing over her passport, saying it was needed for a school project. 
Her father had no idea what she was planning and was left distraught when she failed to come home after an overnight stay at her grandmother's house.
When he rang Sharmeena's mobile phone and heard a foreign dial tone, he called Scotland Yard to report her gone. Mr Uddin said: 'The police told me it's possible Sharmeena has joined Islamic State.'    
After Sharmeena's conversion to a stricter form of Islam following her mother's death, she began trying to influence her other friends too
Born to Bangladeshi parents in Tower Hamlets in 1999, she was largely brought up by her mother, Shahnaz, until 2007 when her father, Mohammed Nizam Uddin, moved to Britain 
During interviews on the BBC podcast I'm Not A Monster, Shamima Begum described how she first met Sharmeena at their school, Bethnal Green Academy.  
 'It was Ramadan so we were fasting,' she said.
'I was complaining about fasting and Sharmeena came up and started complaining, saying she had to fast too because her mum made her.' 
After Sharmeena's conversion to a stricter form of Islam following her mother's death, she began trying to influence her other friends too.  
Shamima said: 'The way she was talking about it was very persuasive.  
'I just wanted to go along with what my friend wanted so I could be accepted. I didn't want to give them a reason to exclude me.'
Shamima Begum, pictured here wearing leggings and a white t-shirt, has changed her appearance radically since she was first found in the Al-Roj camp in Syria
After Sharmeena joined ISIS, Shamima said she began sending messages urging her to also join the death cult. 
'Sharmeena was asking what was going on at school and in between those conversations would talk about what it was like in ISIS and [try to] persuade us to come,' she said. 
'I felt guilty, she was putting a lot of pressure on me and making me feel guilty, saying we had this obligation and you won't be able to practice your religion in the UK.'
When a horrific video showed a Jordanian pilot being burnt to death in a cage by ISIS terrorists, Shamima said she asked her friend if the incident had actually happened. 
Recalling their conversation, she said: 'No, it's a lie. What happened was he was flying over ISIS territory and ISIS shot him down, the plane crashed and caught on fire, and the video is of them dragging them out of the flames.'    
Shamima Begum is currently living in the Al-Hawl refugee camp in Syria after having her British citizenship revoked. 
In an earlier episode of the BBC podcast, released this week, she claimed she was interrorgated by Jihadi John after arriving in Syria.
She described how she and the two friends she fled the UK with were taken on a bus that stopped in the middle of a field.
'An hour later five cars came and surrounded the bus. We were so scared we couldn't even talk… afterwards another car came and a man with a mask walked on the bus. He had a small gun on him. He sat across from me.
'He asked us our real names, how old we were and where we had come from. From those three questions he could figure out that we were the three girls on the news. 
Shamima Begum claimed she met  Jihadi John in ISIS's capital' city of Raqqa 
'His face was covered but his face looked like Jihadi John from the videos.
'The size, the eyes, the accent – he was clearly British. 
'They could not believe in a million years that three teenagers could leave their good, comfortable lives in the UK for Syria without being caught by the government.'
In the same episode, she also claim edshe had never watched ISIS execution videos before leaving the UK – contradicting her previous comments.
Questioned by broadcaster Josh Baker how she couldn't have seen footage of ISIS violence, she said: 'I didn't know about these atrocities because as a 15-year-old I didn't watch the news.
'I got my news on social media where people were saying this is untrue, it's an exaggeration.'
This was in the face of comments she made in 2019 to the BBC's Middle East correspondent, Quentin Sommerville, who asked her: 'One of the reasons you joined IS is because you watched some beheading videos, is that right?'
She replied: 'Not just the beheading videos, the videos that show families and stuff in the park. The good life that they can provide for you. Not just the fighting videos, but yeah the fighting videos as well I guess.'
This audio was played back on the podcast, before Baker asked her: 'You've said previously that you did watch ISIS propaganda in London… you said you were aware of the fighting and brutality of ISIS before you left'.
'No,' she replied.
Post source: The List