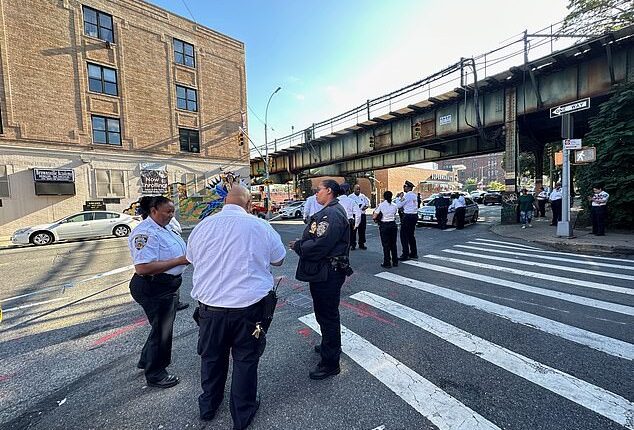 Three teenage students are stabbed with one left in critical condition outside Brooklyn high school
Triple stabbing in Brownsville, Brooklyn, has left three students in hospital 
An eighteen year-old is in a 'critical condition' in hospital with chest wounds
Two seventeen year-olds were wounded in the head and chest  
Three teenagers are in hospital following a triple stabbing outside of a New York high school on Tuesday, with one said to be in critical condition.
The stabbings took place in Brownsville, Brooklyn, shortly before 3 p.m. at the intersection of East 98th and East New York Avenue. All injured students were said by the New York Police Department to be students at K568 Brownsville Academy.
Police, who have not named the victims, said that an 18 year-old was stabbed in the chest and was rushed to Kings County Hospital. He is said to be in critical condition, although is now reported to be stable.
Two seventeen year-olds were taken to Brookdale University Hospital Medical Center with stab wounds to the ear and the chest. All three were expected to survive, police said.
Jenna Lyle, spokesperson for the New York City Education Department, said: 'Violence has absolutely no place in our communities.'
Police, seen outside Brownsville Academy in Brooklyn, shortly after the attack that left three teenagers in hospital
The triple stabbing occurred shortly before 3 p.m.  as students were being dismissed for the afternoon
All three victims, who were rushed to hospital, are expected to survive according to police
Ms Lyle said that police and school staff had responded to the incident, which took place off school property, 'immediately'. 
She added: 'We are providing the necessary follow-ups to this school community, including emotional and mental health support for any student who needs it.'
The New York Post reported on Tuesday evening that a suspect had been taken into custody.
Data from the 2020-21 school year for Brownsville Academy provided by the New York City Department of Education indicated that the high school had an enrollment of 84 students. It indicated that some 56 percent of enrolled students graduated.
The attack took place shortly before another teenager was stabbed approximately four miles away in an unconnected incident. 
The sixteen-year-old, who is expected to survive, was stabbed multiple times in Red Hook in Brooklyn at approximately 3:30 p.m. and was rushed to Maimonides Medical Center.
Police said that suspect, sporting a grey hoodie and black shoes, ran off.
It was reported on Tuesday evening that a suspect had been taken into custody. The New York City Education Department said that it was providing 'follow-ups' for students at Brownsville
The attack took place at the intersection of East 98th and East New York Avenue in Brooklyn
The attack took place shortly before another teenager was stabbed in Red Hook, Brooklyn, in an unconnected incident 
Post source: The List