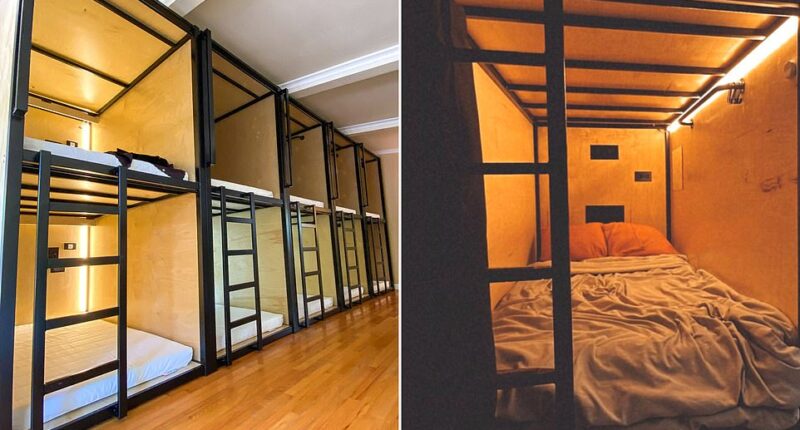 Tiny 4ft pods in San Francisco office are rented for $900 per month
Advertisement
Housing in California became so expensive that San Francisco residents have been willing to spend $900 on a 4ft pod to save money. The California housing crisis drove a mass migration out of the state – with 500,000 more people leaving in a two-year-period than arriving. Brownstone Shared Housing came up with a creative 'solution' to overpriced housing with their communal living pods. Each pod is 3.5ft wide and 4ft tall – barely big enough to fit a twin mattress and not nearly tall enough to stand up in.
The pods range from $500 to $900 a month – which sounds steep for a glorified closet, but compared to other rental properties on the market it is a bargain. Nine hundred dollars would get you a full studio apartment in major U.S. cities like St. Louis, Cincinnati and Nashville – but San Francisco residents are used to high price tags and lower living standards as homelessness and crime continue to plague the Democrat-led city. San Francisco is investigating the low-cost housing option after it became apparent that the developers might not have had the correct permits to build their pod-complex, which provides some of the cheapest rent in the city. The idea of tiny pod houses came from the Japanese 'coffin house' which was Tokyo's solution to housing the jobless during the country's recession in 2009.
San Francisco have now come up with their own 'coffin houses' to provide 'affordable' housing options to people who can't keep up with the city's extortionate rental prices. According to the property-finding website Zillow, the average San Francisco studio apartment is a whopping $2,200 a month. The median studio apartment in Palo Alto, home to tech tycoons and the center of Silicon Valley, is even more expensive at $2,300 a month. The much cheaper tiny living spaces offer a basic pod to sleep in and amenities like charging stations, LED lights and individual climate control systems. Christian Lewis – founder of an AI start-up and tenant of the SF pods – said: 'I actually pushed off coming to San Francisco for a really long time, but it was been absolutely net positive without a doubt. Just for the first couple of days, I met some of the smartest people I've met in my entire life. That's the reason I came and that's the reason why I'm staying. That's the reason why I'm living in a pod.'
Lewis announced that he was going to live in the San Francisco pod community for 30 days where he would be paying $700/mo rent. He seemed to be enjoying his stay so far having met 'a lot of cool people.' He shared on X (formerly Twitter) that there were several AI founders and indie hackers at Mint Plaza and said 'the downstairs lounges are actually nice'. San Francisco is the third most expensive place to live in the U.S. – following only New York City and Honolulu – but has one of the highest homeless populations and is seeing crime rates climb higher and higher. According to crime data recorded between January to September 2023 robberies saw a 15.9 percent increase from the same time last year.
Meanwhile, motor vehicle theft saw a 10.8 percent increase as viral videos of smash-and-grabs circulate with ferocity online. According to a recent study by McKinsey, 70 percent of San Francisco residents cite homelessness among the city's top three problems. On any given night, 38,000 Bay Area residents are homeless, the study found, Yahoo reported. Democrat Mayor London Breed refused to acknowledge that San Francisco are alone in their struggles: 'Sometimes [negative stories and videos]… that you see go viral, those aren't always just in San Francisco.' San Francisco residents are tired of paying extortionate prices to live in a city that is overwhelmed by crime and homeless people. A local resident and hospital worker said that the homeless community are taking over the city: 'They defecate, they urinate on the street. They do drugs on the street. The mayor isn't doing anything and it's been like this for a very long time.'
Founders of Brownstone Shared Housing, James Stallworth and Cristina Lennox, were inspired to come up with a solution to unaffordable housing after experiencing similar struggles themselves. The pair developed the creative idea of shared pod houses when they worked together in the California State Auditor's office in the state's capital of Sacramento. They launched their first affordable communal home in Palo Alto in 2021 and combined the concept of pod-living – which is popular in parts of Asia – with all the comforts of a fully furnished home. The first pod-house went so well that they decided to expand to San Francisco, Bakersfield and San Jose. Stallworth said: 'We created these sleeping pods that landlords can put in their houses. 'And so instead of renting to a smaller group of people, it allows more people to share a home. The price that we end up charging for a sleeping pod is a fraction of what people would pay if they were splitting a room in a house … which would be closer to $2,000.'
Stallworth and Lennox were surprised when the tenants of their Palo Alto house – aged between 18 and 35 – stayed at the house for six months to a year, despite there being no minimum commitment to the rent. The Palo Alto house is technically leased to Brownstone Shared Housing – but the communal pod living has sparked an investigation by the city of San Francisco into whether the developers, Lennox and Stallworth, had the correct permits before opening up their alternative living concept. According to Palo Alto Online, the pair implemented an organizational system to give everyone equal drawer, closet and refrigerator space and everyone is responsible for the cleanliness of their own pod, with a cleaning person coming to handle the communal areas every two weeks. Along with personal amenities, the communal living situation at Mint Plaza also includes shared living spaces. The communal areas have become a good place for networking in San Francisco's up-and-coming tech and artificial intelligence industries. Read the full story: https://www.dailymail.co.uk/news/article-12575629/California-housing-crisis-Tiny-4ft-pods-rented-900-month.html?ito=msngallery
Want more stories like this from the Daily Mail? Visit our profile page here and hit the follow button above for more of the news you need.
Post source: The List