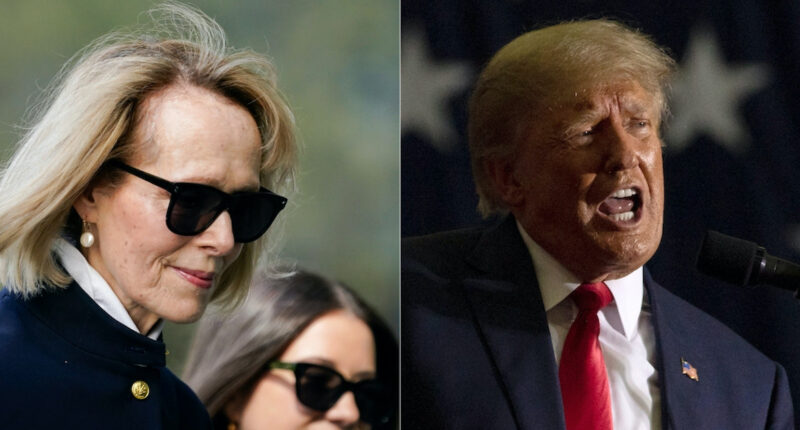 Former President Donald Trump moved for a new trial after a federal jury ruled in favor of E. Jean Carroll and awarded her $5 million, finding that he sexually abused and defamed her.
Much of the 31-page motion focuses on the jury declining to specifically find that Trump raped her, settling for a broader definition of sexual abuse that would include the "groping of [Carroll's] breasts through clothing or similar conduct, which is a far cry from rape."
"In other words, the Jury simply did not believe Plaintiff's rape accusation," attorney Joe Tacopina wrote in a 31-page motion.
Carroll explicitly said in her book, media appearances and on the witness stand that Trump raped her in the dressing room of a Bergdorf Goodman in the mid-1990s. She never qualified, retracted or expressed uncertainty about those allegations. She told jurors — over the course of three days of direct testimony and cross-examination — that the former president painfully penetrated her without her consent, first with his hand and then with his penis.
Trump, for his part, never argued that Carroll consented to any form of sexual contact. He denied knowing her, let alone sexually assaulting her, but he would never express those denials on the witness stand. Instead, Carroll's lawyer used passages of Trump's video deposition as evidence.
After hearing all of the evidence, the jury landed on a verdict that neither side had argued, finding that Trump sexually abused Carroll, but that his actions did not amount to rape.
Trump argues that the verdict means, at minimum, that the jury's award should be lowered to an amount "no more than" $400,000 on the sexual battery claim, $100,000 on the defamation claim, $368,000 for repairing Carroll's reputation, and $50,000 in punitive damages.
That would dramatically reduce Carroll's award from $5 million to just less than $1 million: $918,000.
Former federal prosecutor Mitchell Epner predicted Trump's arguments would go nowhere fast.
"The lynchpin of Trump's arguments to reduce the damages awarded is that sexual assault that does not reach the standard for rape could not be the basis for the damages awarded, but only a far lower amount," said Epner, who now practices media law as a partner at Rottenberg Lipman Rich PC. "This argument could have been made by Trump's attorneys to the jury, but was not (for tactical reasons). I cannot imagine Judge Kaplan awarding Trump any success on this motion to relieve him from the litigation choices of his counsel."
Carroll's lead attorney Roberta Kaplan didn't immediately respond to an email requesting comment.
Over the course of trial, the jury heard a wealth of evidence and testimony. Two of Carroll's friends testified under oath that the "Ask E. Jean" columnist told them about the incident at the time, keeping that secret for decades for fear of Trump's retribution. The jury also saw the infamous "Access Hollywood" tape that almost derailed his 2016 campaign — along with deposition footage of Trump saying that famous men "historically" could grab women by the genitals, "unfortunately or fortunately."
Trump had long defended himself against Carroll's accusations by claiming that she wasn't his "type," but in another damaging portion of his deposition, the former president mixed up a photograph of his sexual assault accuser with his ex-wife, Marla Maples.
Read Trump's motion here.
Have a tip we should know? [email protected]