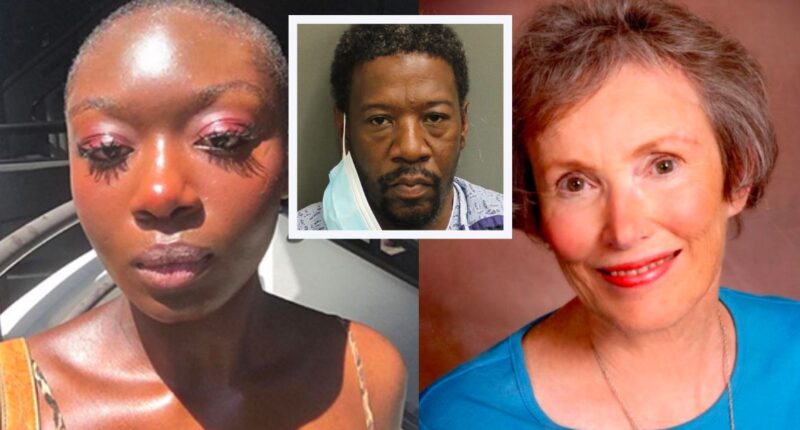 Friends and family of two slain Florida women say their convicted killer should be put to death – though he legally cannot and will not be.
Aaron Glee, 52, reached a plea agreement with prosecutors in Tallahassee in June. In exchange for dropping the death penalty, Glee admitted to kidnapping and killing Victoria "Vicki" Sims, 75, a well-known local volunteer and retired state worker, and Oluwatoyin Salau, 19, a Black Lives Matter protester and community college student.
On Friday, Leon Circuit Judge Frank Allman sentenced the condemned man to two consecutive life sentences for two counts of murder in the first degree. He was also sentenced to another life sentence for one count of kidnapping, 15 years in prison for one count of sexual battery, and an additional five years for felony battery, court records show.
"It's not enough," Salau's friend, Kayla Rose, said outside the court after sentencing in comments to local ABC affiliate WTXL.
Rose and another friend, Rebekah Figueroa, addressed the court in victim impact statements, cataloging their loss and imploring the judge not to accept the negotiated plea deal.
"We want the death penalty," Figueroa said in comments reported by the Tallahassee Democrat. "We want the light to fade from his eyes the way it faded from Toyin's. Consecutive life sentences is a far more precious gift than he deserves."
The angry friend said she was the last person who spoke to Salau before Glee kidnapped the young college student.
"Part of us is still enraged toward this disgusting excuse for a human being," Figueroa told the local paper. "We're not the same, just glued pieces of something Aaron Glee has torn apart."
According to the Tallahassee Police Department, Sims' cellular phone was traced back to Glee's residence. Her body was discovered under a bloody sheet in a bedroom. Investigators found Salau under a pile of leaves in the woods behind the residence.
Glee initially fled in the aftermath of the killings.
His destination was West Palm Beach. He was quickly found and arrested by police at a bus station in Orlando after Sims died on June 13, 2022. The defendant then complained of breathing issues, and he was taken to a hospital, where he made his first confession.
"While at the hospital, Glee had made voluntary admissions to officers guarding him that he had murdered two women in Tallahassee," law enforcement said. "He would also place a telephone call to his mother and make these same admissions."
A more detailed confession and an approximate order of events came in a later interview with investigators, police said.
Glee told detectives he met Salau at a bus stop on June 6, 2022. There, the killer said, the local college student told him she had recently been sexually assaulted. In this version of the story, Glee told Salau she could clean up at his home and get some rest. According to this account, Sims picked him and Salau up in her car. Police said surveillance footage corroborated his story.
After Salau showered, however, Glee admitted to raping and keeping her captive for roughly three to five days – though his recollection faltered, he said, because he was extremely drunk then. Ultimately, Glee, previously incarcerated, said he killed Salau to cover up the crime because he didn't want to go back to prison.
Salau was then tied up with rope in a way that would kill her, Glee next confessed. He left the young woman in the room for hours, only occasionally checking on her and finally determining that she had died. The defendant would later make his way into Sims' apartment – then he stole her car, kidnapped, and killed her as well, police said.
"Two years ago, I didn't know I would be speaking to you for the last time," Figueroa posted in June 2022. "Your words will forever haunt and inspire me. You always fought with everything you had, and you stood up for what you believed in, and your fight will continue on in those you touched. It was truly an honor knowing you."
After the sentencing, Figueroa insisted her slain friend would have changed the world – and yet the world missed out on that.
"There was one person, solely, in this entire town that could and would make real impact and change," Rose told WTXL – echoing her friend this time. "It was Oluwatoyin Ruth Salau."
Sim's loved ones also read victim impact statements.
"An angel lived and walked among us," June Campos, one of Sims' daughters, said in comments reported by the Democrat. "On June 13, 2020, the angel's earthly light was extinguished, and the heavens called her home … She was an advocate for all humans and all human rights, even for monsters such as you."
Another of Sims' daughters sobbed through her testimony, saying how much she missed her mother.
Have a tip we should know? [email protected]