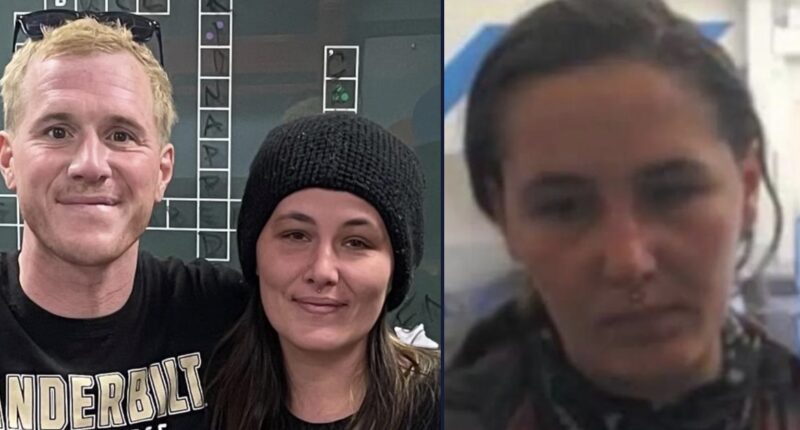 A missing 33-year-old Tennessee mother of two may have been spotted multiple times over Memorial Day weekend, including selling her phone at a Walmart in Redding, California, and retrieving her towed car in New Mexico, according to the latest update in a multi-state case that began earlier in May with an alleged domestic violence incident during a trip across America.
Nikki Alcaraz, a.k.a. Nikki Cunningham, and her boyfriend Steven Tyler Stratton, ostensibly heading with their dog by Jeep to Orange County to visit family, were deemed to be "mutual combatants while traveling down the interstate" in Torrance County, New Mexico, on May 4.
A witness identified as Jordan Hamilton, a trucker driving on I-40, called authorities and reported seeing Alcaraz in a rest area off the interstate "sitting on the ground with the male over her and he punched her in the face," according to Deputy Erwin Young's incident report. What happened next evoked the early days of the Gabby Petito-Brian Laundrie case, when a domestic abuse incident in Utah ended with authorities separating them for the night, rather than pursuing charges.
The deputy said Alcaraz told him that she and Stratton dropped off an unspecified friend in Texas and proceeded to drink a bottle of Fireball. She claimed the man "started to hit her for no reason" while she was in the passenger seat, and she expressed a desire to press charges.
"Upon checking Ms. Alcaraz I was able to notice red marks on her face and fingerprint marks on both arms. Ms. Alcaraz also stated that she had a bruise on her chest and her back," the deputy wrote. A missing person poster later showed a photo of Alcaraz with a black eye.
The deputy said, however, that Stratton had a different story.
Stratton allegedly claimed that he was the one driving and that Alcaraz "hit him in the mouth for no reason."
"Mr. Stratton also stated that Nikki does blackouts after drinking liquor," the incident report said.
Stratton said he didn't want Alcaraz to go to jail, according to the deputy. Once more deputies got involved in the investigation, neither Stratton nor Alcaraz wanted to press charges and neither one would say who was driving the Jeep, the incident report said. The intoxicated couple was separated for the night, authorities said.
"Deputies spoke with both subjects again and neither one would admit to driving the vehicle and they were both intoxicated. Mr.Stratton and Ms. Alcaraz stated that they did not want to assist with any charges being filed. Both Subjects were given a ride from the scene. Ms. Alcaraz was transported to Moriarty, NM. Mr. Stratton will be dropped off in Edgewood, NM," authorities said.
Upon further investigation of the driver's side of the Jeep, Deputy Young determined that Stratton and Alcaraz were "mutual combatants."
"I noticed the driver's seat to have been pushed back to indicate a taller person was driving. I noticed numerous blood spatter on the passenger side door which would have come from Mr. Stratton since he was the only one with visible blood on his face. I also noticed blood on the running board. It was determined that both parties were mutual combatants while traveling down the interstate. The bruise on Ms.Alcaraz's arms came from Mr. Stratton holding her down to avoid being hit."
The Jeep, which belonged to Alcaraz, was removed from the scene by Frank of Flying C Towing's, the incident report said. The latest update from investigators came on Monday, May 29 — Memorial Day:
"On 5-29-2023 I spoke with Frank and asked him about the subjects that picked up the Jeep. Frank advised the female showed up in a vehicle from California. Frank also stated that the male was not the same person from the day before. Frank also stated that they had used the male cell phone to call him and he gave me the cell phone number," documents said. "Frank also stated the unknown male drove the Jeep out once he got insurance for it and the female Nikki drove the male vehicle."
Between May 4 and May 29, Nikki Alcaraz reportedly texted her sister Toni on May 9 claiming to be in Arizona, but she was not heard from in the weeks since.
"She was crying and upset" after the New Mexico incident, Toni told WKRN. "Her eye was already turning black and you could tell she was beat up pretty bad."
WKRN, citing a deputy and District Attorney General Ray Crouch in Cheatham County, Tennessee, reported a possible sighting of Alcaraz in Shasta County, California, at a Redding-area Walmart on May 27.
The woman who may be Alcaraz was reportedly selling her phone at an ecoATM. A bandana covered the woman's neck and chest, where Alcaraz has tattoos.
Shasta County is a 10-hour drive away from Orange County.
Cheatham County court records reviewed by Law&Crime show that Stratton is wanted in connection with a separate theft case.
Have a tip we should know? [email protected]