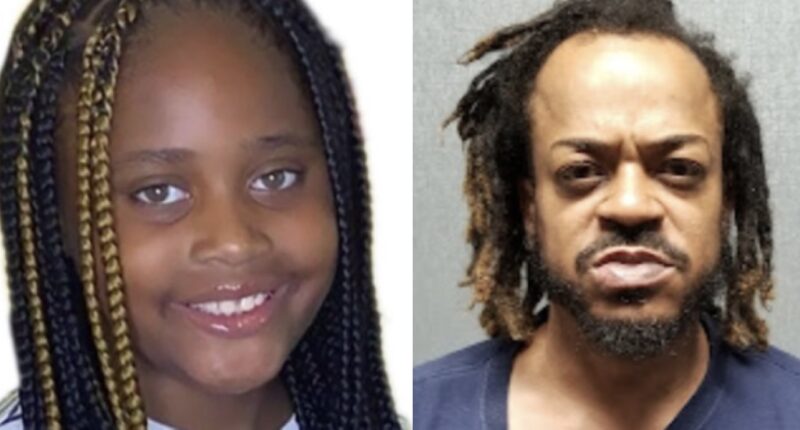 Police in Maryland announced murder charges against a funeral home owner who allegedly shot a pallbearer at the burial of a 10-year-old girl who was killed last month in Washington, D.C., by a stray bullet.
Wilson Wesley Chavis, a 48-year-old Hughesville, Maryland resident and owner of Compassion and Serenity Funeral Home, fatally shot Washington, D.C.'s Ronald Steven Banks, a 30-year-old pallbearer and family friend of Arianna Miracle Davis, whose burial service was held on Tuesday afternoon.
Arianna Davis was tragically shot by a stray bullet on Mother's Day while in the back seat of her family's car in Washington, D.C., according to the FBI. She died three days later.
"She was returning home from a Mother's Day event when she was shot. She died as a result of her injuries on May 17, 2023. The FBI and the Metropolitan Police Department in Washington, DC, are seeking the public's assistance in gathering information regarding this homicide,"  the feds said, offering up $10,000 in reward money for information that leads to the arrest and conviction of those responsible.
Even on the day of her burial at Washington National Cemetery in Suitland, no one was safe from deadly gun violence.
"I'm so traumatized that this happened at my daughter's burial site. I didn't even get to lay her down, even to put her in the ground, and another incident happened," Arianna's mother Antionette Belk told NBC4 Washington. "This is so traumatizing to me, my children, my whole family. It's trauma after trauma."
The devastated mother of four, a teacher, reportedly said that the defendant yelled "I own this body" and spit on a pastor at the scene.
In broad daylight, Chavis shot Banks fatally and wounded a woman, the Prince George's County Police Department alleged.
"On June 6, 2023, at approximately 1:20 pm, patrol officers responded to a cemetery in the 4100 block of Suitland Road for the report of a shooting. Banks was located suffering from a gunshot wound. He died a short time later at a hospital," cops aid. "A second victim, an adult female, suffered a graze wound."
The woman, who was reportedly shot in the leg, was identified as a cousin of Arianna's.
More Law&Crime coverage: Man arraigned 20 years after allegedly beating half-sister to death, serving as pallbearer at funeral
Cops indicated that Chavis and members of the rival company Freeman's Funeral Services had a long-running "business dispute" that ended with the defendant opening fire and killing Banks.
"The preliminary investigation revealed Chavis owns the funeral service company that was providing funeral and burial services for a young child who was being buried at the cemetery. While the burial service was preparing to get underway, Chavis confronted two people at the service. Those individuals are affiliated with a second funeral service company with which Chavis has a long-standing business dispute," police said. "Several funeral attendees became upset with Chavis and confronted him over his behavior. The preliminary investigation suggests Chavis pulled out a gun and fired two shots, striking both victims."
FOX 5 DC reported what took place this way:
After several funeral attendees became upset with Chavis and confronted him, court documents revealed the 48-year-old then backed up, tripped over the concrete vault lid on the ground next to the grave, and fell. Investigators said as he fell, Chavis immediately pulled a pistol out and fired, allegedly hitting and killing 30-year-old Ronald Banks — a second round was said to be fired as he stood.
The report said that Chavis had a temporary peace order filed against him in May by Glenda Freeman — the president of the rival funeral home — after he allegedly threatened her on the phone and in text messages. Freeman reportedly said Chavis also threatened employees over something that happened two years ago. Notably, Pastor Joseph "Jody" Fletcher was reportedly one of the employees Freeman sought to protect.
After the shooting, Chavis tried to flee in his vehicle, but he didn't get too far because an officer with the Morningside Police Department spotted him and pulled him over, Prince George's County Police said.
A GoFundMe campaign started in Arianna's memory has raised more than $40,000. On June 4, one of the campaign organizers thanked the more than 700 people who donated.
"We recognize there is no dollar amount that will bring Arianna back or make this family whole. And yet as the Belk-Davis family prepares to lay Arianna to rest this Tuesday, we know that will not conclude this tragedy," the post said. "Indeed, the months ahead will be hard, and we want to make sure the family is well supported."
Just two days later, Arianna's burial was desecrated by the same kind of senseless gun violence that stole her life.
Maryland District Court records reviewed by Law&Crime show that Chavis faces several felony charges, including: First-degree murder, second-degree murder, manslaughter, attempted first-degree murder, attempted second-degree murder, and first-degree assault. There are also misdemeanor charges for second-degree assault, reckless endangerment, and a firearm offense.
His attorney of record is Antoini Martin Jones.
A bond hearing is set for Friday at 1:15 p.m., the docket says. A preliminary hearing is currently set for the morning of July 7.
Have a tip we should know? [email protected]