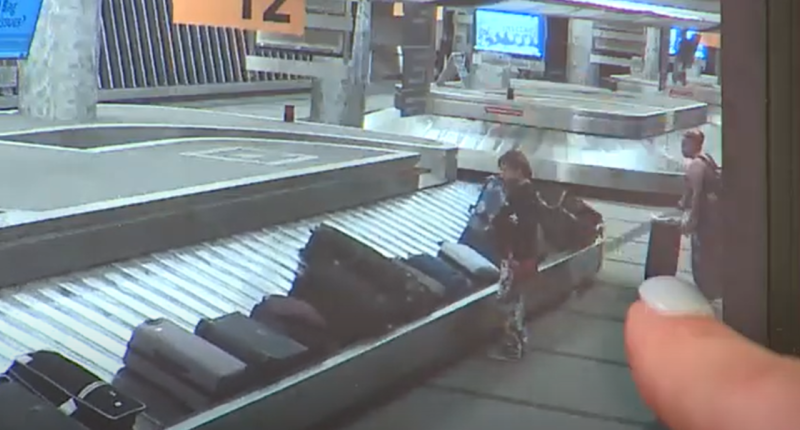 DENVER — After a business trip in New York, Djenita Svinjar returned home to Denver on May 9 to an unsettling surprise after landing at Denver International Airport (DEN).
The Thornton woman couldn't find her luggage at the baggage claim carousel. She says United Airlines at first insisted it may have just been lost or misplaced.
About a week later, DEN surveillance footage obtained by Svinjar through a Colorado Opens Records Act request showed what really happened to her luggage.
"She grabs my bag. They leave the airport after that," Svinjar told Denver7, pointing to two women caught on camera taking two bags and walking away.
The footage shows bags being released on the carousel without any United passengers around. Two women then walk into the frame of the camera.
"They start picking up bags, they start looking at them looking at the tags. Then, she grabs my bag," Svinjar said. "I had over $6,000-worth of items in there, including some high end fashion accessories and a purse, too. But, you know, ordinarily, I'm very cognizant of these things and I do try to be a smart packer. But I didn't think it would be an issue because it was a direct flight from LaGuardia to Denver."
Svinjar says she is speaking out to raise awareness about the thefts at DEN.
"I think it also hits personally because I actually came to this country with two bags of luggage when I was escaping the Bosnian War as a refugee in 1994. And my family, all that we had when we came here were those two bags of luggage. So for me, I tried to put myself in the shoes of people who may be experiencing that now and may have one or two bags to their name. What if this happens to them?"
According to the Denver Police Department, there have been 113 reports of theft at DEN so far this year. There were 328 thefts in 2022, and 238 in 2021. These figures do not include auto thefts.
In a statement to Denver7 News, an airport spokesperson said in part, "Protecting passenger property is a priority for Denver International Airport (DEN) and we understand the frustration they create for impacted passengers. That is why DEN works closely with Denver Police Department (DPD) and the airlines to minimize these impacts."
Svinjar says while she came to a resolution with United Airlines, she hopes DEN considers increasing security or coming up with a better system to address how easy it can be for passenger luggage to be stolen.
---
The Follow Up
What do you want Denver7 to follow up on? Is there a story, topic or issue you want us to revisit? Let us know with the contact form below.