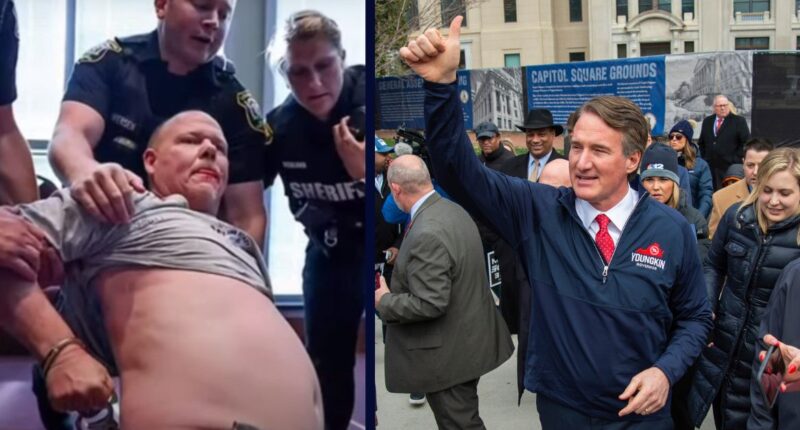 A father convicted of disorderly conduct after he raised accusations at a school board meeting in 2021 that his daughter was sexually assaulted by a "boy in a skirt," has received a full pardon from Virginia Gov. Glenn Youngkin as the commonwealth hurtles toward early voting for the 2024 gubernatorial race in just two weeks.
Scott Smith, whose then-16-year-old daughter was raped in a bathroom at Stone Bridge High School in Loudon County, Virginia, quickly became a lightning rod after the incident, lending momentum to a larger national debate about parental rights and transgender rights.
The meeting that June, as WTOP reported, ended in heated debate, protests, and arrests as families and board members argued over school policies involving the use of bathrooms by transgender students, transgender students in athletics and critical race theory being taught in the school district.
After Smith stood up at the meeting to confront the board and declare that his daughter's assault was being covered up, a dispute later ensued between Smith and another parent. Smith told law enforcement the parent had threatened to spread false information about his business, Washington, D.C., FOX affiliate WTTG reported.
Smith leaned in with his fists clenched at the woman and cursed at her. Police deputies then went to remove him but he resisted arrest. He was dragged out of the meeting, kicking and screaming at officers while threatening to knock their teeth out, according to testimony at his trial in August 2021 reported by Loudon Now News.
Smith was convicted of two misdemeanors including disorderly conduct and obstruction of justice. He was sentenced to serve 10 days in jail but a district court judge suspended the sentence. Smith later appealed the obstruction charge and won after another judge determined there was a clerical error made in charging paperwork.
"I know [District Judge Thomas Kelley Jr.], found him guilty in both cases, but based on what he signed on August 17, I'm not sure I have much choice here," said Judge James Plowman.
WTOP reported last May that Plowman was "referring to the date the district judge signed the final disposition."
"I don't believe I have any choice but to dismiss the obstruction-of-justice count," Plowman said.
Smith was scheduled to go to trial on Sept. 25 for the remaining disorderly conduct charge but with Youngkin's pardon, that matter is now moot.
"It's cost me so much time and treasure that could have been spent somewhere else," Smith told WTTG. "I had to wait on this pardon because I couldn't trust the justice system and that's really scary."
In an appearance on the same network, Youngkin called Smith a "dedicated parent who faced unwarranted charges."
"We righted a wrong," Youngkin said. "This was a dad standing up for his daughter and just to remind everyone, his daughter had been sexually assaulted in the bathroom of a school and no one was doing anything about it and in fact, it took the election of a new governor, me, and my directive to [Virginia] Attorney General Jason Miyares to investigate this and uncover the fact that [former] superintendent [Scott Ziegler] had covered it up. He was immediately terminated when the final report from the grand jury was issued."
The governor added: "Mr. Smith did what any father would do; what any parent would do, is stand up for his child," Youngkin said.
BREAKING: Virginia Governor Glenn Youngkin @GovernorVA announces a pardon for the father at center of Loudoun County assault case. #FoxNewsSunday pic.twitter.com/Ens0gq6z9z

— Fox News Sunday (@FoxNewsSunday) September 10, 2023
At a press conference after the pardon, Smith expressed relief.
"A lot is off my shoulders today. This has been a long battle and a battle that should never have happened in the first place and as Gov. Youngkin said in his comments, my constitutional rights were violated," he said.
Loudon County prosecutor Buta Biberaj, who handled Smith's prosecution, told the New York Times in an interview this week that Youngkin's pardon was done to score political points and was "political gaming" given that the governor faces an election this November and early voting in the commonwealth starts in just two weeks.
Youngkin has known about Smith's case since before he was elected, Biberaj added.
"Now, two weeks before early voting you're going to announce this?" she said.
Scott Ziegler, superintendent at the time of Smith's daughter's assault, is now facing trial. He has pleaded not guilty to charges alleging he made false statements to the public about his knowledge of the bathroom assault. Ziegler was fired in December 2022.
In addition to allegations that he covered up the assault of Smith's daughter, officials have alleged that Ziegler also tried to hide that the same student who assaulted her, assaulted another girl at a different school. The boy, who was 15 at the time, was found guilty in the case of Smith's daughter and he pleaded no contest to charges of abduction and sexual battery involving the other student at a different Virginia school, according to ABC.
According to the New York Times, when Smith's trial was underway, testimony emerged that the boy accused of assaulting his daughter was not transgender and that he was in a "consensual relationship" with her.
Have a tip we should know? [email protected]