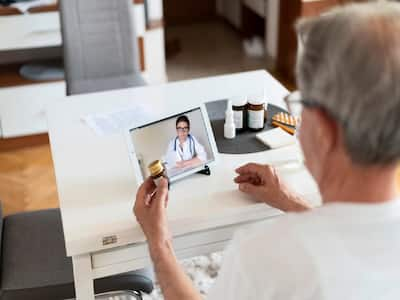 Remote monitoring technologies in India can assist in managing an estimated 45 million chronic patients while saving an estimated INR 5000 crore yearly.
The world of healthcare has undergone an unprecedented rise in the utilization of technology to track and monitor patient data. Since it lessens the need for in-person visits and increases access to healthcare for those who need it most, remote patient monitoring has a positive impact on healthcare. Medical professionals can now adopt a more proactive approach to providing care and make sure that every patient receives the treatment and care they require by using the power of technology and data. The availability of active intensivists in tier 2 and tier 3 cities is very limited. In such cases, remote monitoring platforms come to the rescue as an ICU of 8 beds can be effectively monitored and managed by a remote intensivist.
Remote monitoring technologies in India can assist in managing an estimated 45 million chronic patients while saving an estimated INR 5000 crore yearly. When compared to traditional care, it can even cut the length of hospital stays for a few chronic disorders by 25 per cent.
Key components of remote patient monitoring
Here are some essential components of remote patient monitoring that track patients and improve care coordination:
Continuous health monitoring: Remote monitoring gathers data on patients' vital signs, symptoms, and other health-related variables in real-time using a variety of devices and sensors. This continual monitoring enables medical practitioners to track patients' illnesses more thoroughly and spot potential problems earlier. It gradually helps in the timely detection and treatment of illnesses.
Enhanced care coordination: Healthcare professionals may compile precise and recent data on patients' health status by utilising remote monitoring technologies. Different healthcare professionals, such as primary care doctors, specialists, nurses, and caregivers, can share this information and study and discuss patient data, communicate securely, and decide on the patient's care after doing their research. This streamlined communication improves care coordination, reduces errors, and ensures that all providers are on the same page.
Early detection and intervention: Remote monitoring makes it easier to detect changes in a patient's health before they become serious. Algorithms and data analytics can be used to identify patterns or anomalies in patient data, triggering alerts to healthcare providers when intervention or adjustment in treatment is necessary. This preventive approach can lessen readmissions to hospitals, stop disease progression, and enhance overall patient well-being.
Chronic disease management: Remote monitoring is beneficial in the management of chronic diseases like diabetes, hypertension, heart disease, and respiratory illnesses. Patients can conveniently monitor their vital signs, blood sugar levels, medication compliance, and other pertinent factors at home. These data can be remotely monitored by healthcare professionals, who can also provide suggestions and alter treatment plans as needed. This approach promotes self-management and empowers patients to take an active role in their care.
Patient engagement and satisfaction: Remote monitoring promotes patient involvement by giving them simple resources to check their health and get in touch with their medical professionals. Patients can access their health information, get instructional materials, and communicate virtually with their care team. This empowerment promotes self-management and encourages patients to take ownership of their health, leading to better outcomes.
Geographical accessibility: Patients in underdeveloped locations can now obtain high-quality healthcare via remote monitoring, eliminating geographical boundaries. Patients can connect with specialists by sending their health information to healthcare providers who are located elsewhere. Patients who have trouble travelling over vast distances or have limited access to medical facilities may benefit most from this technology. It eliminates the need for frequent in-person visits and allows healthcare providers to monitor patients' conditions remotely.
Summary
Remote monitoring has emerged as a powerful tool for tracking patients and enhancing care coordination. It has transformed the healthcare sector by giving professionals access to patient data in real-time, empowering them to give personalised treatment and make informed decisions. Additionally, remote monitoring promotes improved communication and care coordination among various healthcare practitioners. This coordinated effort reduces errors, gets rid of repeated tests, and gives patients a seamless healthcare experience. It represents a significant step forward in the evolution of healthcare, and its continuous advancement and incorporation into clinical practice hold considerable promise for the future.
This article is written by Arindam Sen, Director, i2i Telesolutions.
Total Wellness is now just a click away.
Follow us on




Post source: The Health Site