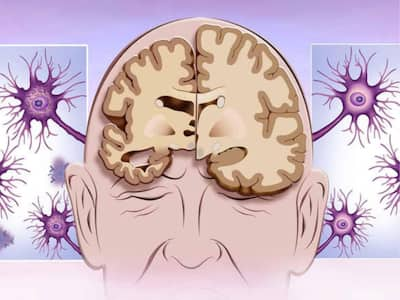 Vitamin E is a fat-soluble vitamin that is important for many bodily functions, including cell protection, immune function, and blood circulation.
Alzheimer's disease is a serious neurological disease that affects millions of people worldwide, causing cognitive decline, memory loss, and loss of independence. While there is no cure for Alzheimer's disease, research is going on to look into several therapeutic ways to slow down its progression and improve the quality of life for individuals who are affected. The use of vitamin E is turning out to be a potential therapy for Alzheimer's.
What Is Alzheimer's Disease?
Alzheimer's disease is a chronic brain disorder that worsens with time. It is characterized by changes in the brain that result in protein accumulation. Alzheimer's disease causes the brain to shrink and, eventually, brain cells to die. It is the most prevalent cause of dementia, which is characterized by a progressive decline in memory, thinking, behavior, and social skills. These changes have an impact on a person's ability to perform their tasks.
Role of Vitamin E in the Treatment of Alzheimer's Disease
Vitamin E is turning out to be potentially beneficial for people with Alzheimer's disease. According to experimental models, vitamin E supplementation may be an effective technique for improving cognitive and memory deficiencies because it reduces oxidative stress. Moreover, combining vitamin E with other antioxidant or anti-inflammatory chemicals may boost its efficacy.
Vitamin E refers to many fat-soluble substances found in plants. It is an essential nutrient for humans, as it helps preserve the integrity of cell membranes. It is vital for the brain. It is essential for other processes as well as tissue and organ development, including brain development. In addition to its antioxidant properties, vitamin E has been shown to work as a signaling and gene-regulation molecule.
Vitamin E is a fat-soluble antioxidant that has received a lot of attention for its potential to neutralize free radicals and alleviate oxidative stress. Nuts, seeds, vegetable oils, and leafy greens are high in vitamin E. Its antioxidant feature makes it a potential choice for Alzheimer's disease treatment.
Vitamin E tocopherol and tocotrienol isoforms have numerous features, including significant antioxidant and anti-inflammatory capabilities, as well as influences on immunological function, cellular signaling, and cholesterol-lowering. Reduced plasma levels have also been linked to an increased risk of AD development, whereas consumption, particularly from dietary sources, may limit or slow disease progression. This advantage could be attributed to the combined impacts of vitamin E isoforms and other micronutrients, which help lower the effects of Alzheimer's disease.
Vitamin E For Treating Alzheimer's: Know The Limitations
While the possible benefits of vitamin E in the therapy of Alzheimer's disease are fascinating, caution should be exercised. High vitamin E doses can have adverse reactions, such as bleeding issues, and can react with certain drugs. Individuals considering vitamin E supplementation for Alzheimer's disease should speak with a medical professional first. Moreover, the efficiency of vitamin E may differ between individuals, and its effects may be more obvious at different stages of the disease.
Total Wellness is now just a click away.
Follow us on
Don't Miss Out on the Latest Updates.
Subscribe to Our Newsletter Today!




Post source: The Health Site