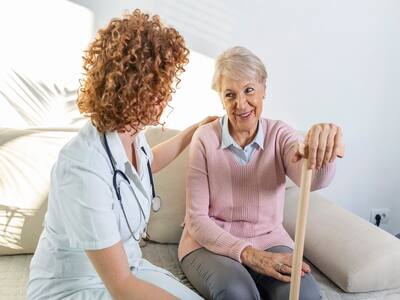 All Alzheimer patients require help and assistance from caregivers. If you are taking care of a patient, here are some tips you must note.
Alzheimer's disease is very common and experts define it as a more progressive form of dementia. This disease impacts specific parts of the brain, for instance, the part that controls of memory, thought and language. The symptoms of this disease may be mild at first but as it progresses, it may lead to complete memory loss or inability to continue a conversation or respond to people.
The initial sign of Alzheimer's disease starts with small memory losses which may seem normal. But, note that memory loss during ageing is very different from memory loss due to Alzheimer's. Several studies have been conducted on what kind of lifestyle people should lead in order to prevent the progression of diseases like this one. Some experts suggest activities, eating the right foods for brain health, pursuing hobbies, exercising, avoiding alcohol, etc. But, there is no conclusive proof that a healthy lifestyle can reverse this disease.
Tips For Caregivers To Take Care Of Alzheimer's Patient:
Help your patient follow a particular routine every day such as eating, bathing, dressing and sleeping.
Help them plan their day-to-day work for example, their appointments or their exercise sessions.
Make your patients do all the activities that they really enjoy. Help them do these activities at the same time daily.
Remind them to take medications regularly, make up a system or a reminder.
When the patient is dressing or bathing, as a caregiver, you must supervise them but let them do as much as possible by themselves.
Buy comfortable and easy to wear clothes for your patient.
Always keep a shower chair in the bathroom and use a sturdy one. This will prevent any accidental fall and injury.
Always be gentle and respectful towards your patient.
Always be patient.
When you are helping patient get dressed or eat or bathe, always tell them what you are going to do.
Serve meals in a consistent, familiar place and give the person enough time to eat.
Let them take their time to eat or do any other activities. Don't rush them.
Total Wellness is now just a click away.
Follow us on
Don't Miss Out on the Latest Updates.
Subscribe to Our Newsletter Today!




Post source: The Health Site