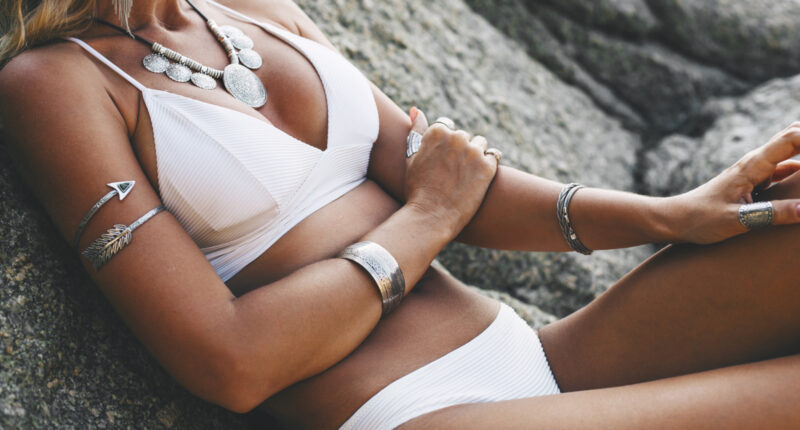 Alena Ozerova/Shutterstock
We may receive a commission on purchases made from links.
A bride has to say yes to a staggering list of things — venues, color schemes, and, of course, the wedding dress. But in some instances, perhaps one of the most personal decisions on this list is bridal swimwear. There are multiple scenarios where a bride might need a swimsuit, and there's a growing trend of making the absolute most of these opportunities. First, some bachelorette parties and getaways are beach-themed — either in a tropical destination, a cruise, or a beach house. Along those lines, some couples take engagement photos at the beach. And honeymoon planning or even destination weddings often include shopping for the perfect bridal bikini or one-piece.
Some brides want to channel wedding dress vibes in their swimsuit choice, opting for flowy white tulle, lace, or bits of drama. In contrast, other brides are looking for a simple white bridal swimsuit that can be worn again, even after wedding-related events. So, this collection covers all the wedding wow — from bridal bikinis to modest one-piece suits and plenty of gorgeous, special-occasion beach cover-ups. Each look is beach, boat, and bride approved.
Dive right in with a deep-plunge bridal swimsuit
Of course, we're starting off the bridal swimwear inspiration with this dreamy post by photographer Amanda McCollum. It accomplishes two goals. First, it features an elegant drama-plunge one-piece, perfect for a honeymoon look. We love the simplicity of the cut, combined with the long around-the-waist ties, which loop multiple times for a layered look. That aside, the image makes us want a pre-honeymoon photo shoot to recreate this dreamy bouquet-in-the-water bridal float moment. And, of course, bonus points for the single strand of dainty pearls.
Coordinate matching bridal party swimwear
Epic bachelorette weekends begin (and end) in matching swimwear. You can keep the color scheme the same as your wedding or lean into the weekend's setting. Whether it's Cabo, like the seaside shenanigans here posted by JMP The Label, or some other beachside destination, teal is perfect. The bride is in a white bikini, and her bridesmaids are all in teal, with coordinated white and beige coverups. Start by choosing a collection that offers a variety of styles in the same color or pattern, and let bridesmaids choose which they like most.
Add a boujee bridal bow
Weddings are expensive; we totally get it. So getting creative with accessories is one way to rock a bridal swimwear look without going (further) into debt. Here, bridal expert @taraarii2 shares an inexpensive way to turn a simple white bikini into a delightfully boujee bridal look. She suggests adding a tulle bow, essentially creating the look of an otherwise $200 honeymoon suit for less than $25. Most fabric or craft stores, like Michael's, sell white tulle ribbon — either plain or with sequin. Add a homemade bow to your bridal bikini, and voilà!
If you're this bride, we want to be friends
If you love tacos so intensely that it's the theme of your wedding — or bachelorette — we're hoping for an invitation. This lighthearted taco-themed bridal swimsuit collection is the stuff of happy, stress-free memories. Bride The Label is the Etsy shop that makes these taco bridal dreams come true, but you can explore other fun themes. Maybe this bit of wedding sass is your go-to bridal swimsuit or one of a few you bring on your honeymoon. Either way, it's fun to taco walk on the wild side!
These feminine ruffles are bridal-approved
The high-cut legs on this one-piece shared by @nudepalm are complemented by ruffles that are best described as bridal-sweet. It's a beautiful overall silhouette, with moderate front exposure and a dainty crisscross back. Regardless of whether your bridal gown has ruffles, they add a celebratory vibe and echo the pattern of ocean waves. If you opt for low ruffles, it might be too much fabric for traditional coverups. Opt instead for an open caftan-style coverup, which will better accommodate the additional layers of fabric.
Shine bright like a diamond
This bridal swimwear 'fit shared by La Chenille Bridal Bikini is ready for champagne toasts and impromptu vow renewals. Its sparkly beadwork is stunning, and that deep plunging neckline is ultra feminine. All in all, this is the look you want for a luxe beachy bridal photoshoot or a day on the honeymoon when you rent a boujee spa cabana. The matching cover-up fits like a skirt, so the hemmed seam gives an elegant finished look.
Stash accessories in your beach tote for the evening
There's more to a bridal swim 'fit than just the suit itself. Instagram influencer @toyomuyiwa walks us through her look — from swimsuits to sunnies. She also incorporates color and playful patterns in her sarong. Though it's a departure from most bridal swim looks, we can't get enough because it brings in more of her personality. Finally, when she completes the ensemble with jewelry and a clutch, it's easy to see how easily this 'fit goes from daytime beach blanket to early evening tiki bar.
Make waves with this simple yet dramatic bridal swimsuit
The beauty of this Riot Swim one-piece swimsuit is its simplicity and delicate straps, creating a pretty and dramatic aesthetic. Plus, if you've been looking around for the trendiest ways to take part in the cutout trend for summer, this has the style covered for beaches and pool parties. Finally, it's a fabulous selection for a bride's packing list, seeing as though it'll pack down as small as a bikini. So, if you're looking to bring multiple suits on the honeymoon, this is a contender.
Every beach bride deserves a gorgeous lacy coverup
Of course, if the nuptial plans include a honeymoon with beaches or pools, the packing isn't done until a cute AF coverup finds its way into the suitcase. This intricate half-moon patterned lace from PQ Swim is new-wife-worthy, without a doubt. Its detail is unique, especially with the bell sleeves. But one of the things we love most is that it's not entirely sheer, making it a good option for al fresco restaurants that require more modesty.
Looking for glam? Choose an ankle-length coverup instead
A long dress adds drama; there's no doubt about it. Well, the same holds for bridal beach coverups, so if you're looking for a beach 'fit that will have all eyes on you, opt for ankle-length. When we saw this boho-chic inspiration from BuddyLove™️, it reminded us of heirloom lace. The half-sleeves provide extra sun protection, but overall we love the open weave and romantic vibe.
It's a classic for a reason
Even if you're not usually one to wear statement shirts or clothing decorated with catchy phrases, this bride-themed swimsuit is an exception. It's an adorable classic with a crisp blue and white aesthetic. If you'll be on a boat, definitely dupe this look posted by Bride The Label and pair it with bold red sunnies and a sheer white cover-up. The cut of the swimsuit — and wider straps — means it's the multitasker you need for honeymoon adventures like snorkeling and kayaking.
Layer a thin linen shirt over your bridal bikini
The carefree and oh-so-casual vibe of this all-white 'fit is the exact mood every new bride deserves. Consider this minimalist bridal beach look from @vitaminaswim if baubles, pearls, and sparkles aren't your thing. The bikini top's peek-a-boo front adds a feminine nod. Still, the overall look is easy breezy, especially with the oversized linen button-down instead of a statement-making cover-up. It's giving, "Oh, hello! We weren't expecting anyone at our beach bungalow today, but I'm delighted to make you a fresh coconut milk bevy."
Choose a bikini that doubles as a crop top
Let's say you want to toggle between beach and boutiques; take the lead from Jeni Raitz Greenhill, who shared this breathtaking beachy bridal ensemble. The bikini top easily doubles as a crop top, and the textured white skirt is easy to pop on and off as needed. The oversize flutter sleeves add a lot of visual interest but are sheer — so there's no weird tan line. The skirt is nice enough for dinner out; just be sure to pack a Tide stain stick to handle any oopsies during the trip.
Keep the wedding romance going strong
A little romance goes a long way, but that's not the only benefit of this white bridal swimsuit. Generally, any ruching around the waist helps create a smooth silhouette, and this one-piece has that, plus the added bonus of a flower accent. The ruching adds a cinching effect, while the flower's detail catches the eye immediately. From there, the gaze tends to move toward the swooping neckline, giving this suit a gorgeous natural femininity. We also love that this bridal swim inspiration posted by Ella James Miller is something we'd wear for years to come.
This one-piece is for the bride who loves a little bling
A more playful riff on the classic bride-themed one-piece, this inspiration posted by @swimblingladies is just downright fun. It's 100% on-point with its traditional bridal color scheme, and we love the double straps. But it's the gold font and blingy gemstone illustration that just makes us smile. The look gives joy and a sense of lightheartedness that any bride would be grateful for after the busy wedding prep days.
Say yes to pearlcore bridal beach wear
Pearls are perfectly on-trend for 2023, so of course, pearlcore deserves a bit of real estate in a bride's luggage. And TikTok influencer @stephanieleighnyc posted this reminder that you don't need to squander your nest egg to achieve the perfect pearlcore bridal look. In fact, there are options on Amazon for under $50. One thing to note about this chic aesthetic — keep it simple. You'll notice that Stephanie is wearing a plain white bikini. Plain suits — bikini or one-piece — will work well under this heavily beaded cover-up.
Of course the bridal party should match their swimsuits to the cabana
It's oodles of fun to lean into a bridal theme with wild abandon. We're not just talking about coordinating cover-ups, clutches, and sunnies, folks. Some bachelorette parties are destined for greatness (you know who you are). So, for all the ladies who can't resist a theme, we happily present this video from TikTok creator Kylie Kreischer. Obviously, we love the coordinated looks the women are wearing. But let's face it, the fact that their suits also match the cabana and beach blankets has us swooning.
That teeny tiny bikini? Finally, go for it!
There's that one itty bitty string bikini that's been haunting you on social media. You keep seeing and loving it, yet haven't taken the leap to buy it. Well, a honeymoon is the perfect opportunity. You'll wear it, and you'll feel amazing. Similarly, go a little off-script while you're at it. Instead of white, order one in a pale ecru shade, like this gorgeous version posted by TikTok user @SaDé, which looks incredible against a beachy backdrop.
Switch it up and rock a black bridal swimsuit
If you're not inclined to wear white just because it's tradition, go in a different direction. Do the opposite; wear a stunning black one-piece like this, posted by model Rosa Perrotta. The plunging back gives way to layers of highly-detailed lace flowers with pearl accents. The same bead and lace are on the shoulders, and the impact of the white on black is spectacular. Knowing that the lace adds bulk, you should look for a loose kimono-style cover-up that won't pull or run against the flowers.
Ride the wave of luxury with plenty of pearls
Genuine pearls come from the sea, so we love the idea of this bandeau-style one-piece shared by @gottaswimwear that is just dripping with them. The white-on-white gives regal vibes and is incredibly photogenic. One pro tip, however, applies when looking for a bridal swimsuit with a full pearl bodice. Shop around to find one that has pearls only on the front. Sure, it would be cute on the back too, but it would be pretty uncomfortable while lying on your back, sunbathing.


Post source: The List