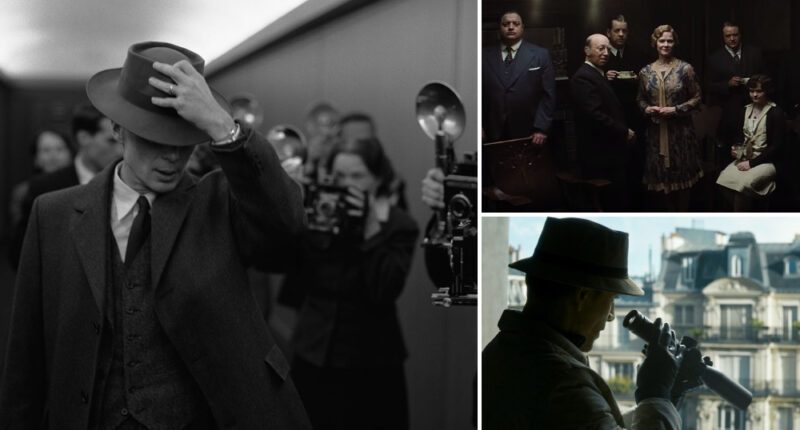 Variety Awards Circuit section is the home for all awards news and related content throughout the year, featuring the following: the official predictions for the upcoming Oscars, Emmys, Grammys and Tony Awards ceremonies, curated by Variety senior awards editor Clayton Davis. The prediction pages reflect the current standings in the race and do not reflect personal preferences for any individual contender. As other formal (and informal) polls suggest, competitions are fluid and subject to change based on buzz and events. Predictions are updated every Thursday.
Visit the prediction pages for the respective ceremonies via the links below:
OSCARS | EMMYS | GRAMMYS | TONYS
2024 Oscars Predictions:
Best Achievement in Cinematography
Weekly Commentary (Updated Sept. 14, 2023): It was announced "Oppenheimer" cinematographer Hoyte van Hoytema will be honored with Variety's Creative Impact in Cinematography award at the SCAD Savannah Film Festival, pushing the D.P. to the forefront of the Oscar race.
The Dutch D.P. has worked with director Christopher Nolan on his last three movies — "Dunkirk" (2017), "Interstellar" (2014) and "Tenet" (2020). He was nominated for his work on the 2017 film but lost out to Roger Deakins for "Blade Runner 2049." With Nolan's movie being the current frontrunner, as agreed upon by pundits, and "Dune Part Two" moving out of the year, multiple tech noms (and wins) will be required if it hopes to cross the finish line.
Also in the race are some overdue veterans like Rodrigo Prieto, who has two films in the race — "Barbie" and the more likely "Killers of the Flower Moon." Respected in Hollywood, cinematographers such as Dariusz Wolski ("Napoleon") and Łukasz Żal ("The Zone of Interest") will have passionate backers.
We also have past winners in the conversation such as Erik Messerschmidt, who also has double shots at goal this year with Neon's "Ferrari" and Netflix's "The Killer." He'll compete for one of the five slots against previous winners like Linus Sandgren for "Saltburn" and Robert Richardson for "Air."
Read: Variety's Awards Circuit for the latest Oscars predictions in all categories.
The submission deadline for general categories is Nov. 18, 2023. Preliminary shortlist voting will begin on Dec. 18, with the results announced on Dec. 21. The voting period will run from Jan. 11-16, 2024, with the official nominations announcement on Jan. 23.
The 96th Oscars will be held on Sunday, March 10.
***The list below is not final and will be updated throughout the awards season.
---
And the Predicted Nominees Are:
---
"Poor Things" (Searchlight Pictures) — Robbie Ryan
"Napoleon" (Apple Original Films/Sony Pictures) — Dariusz Wolski
"Maestro" (Netflix) — Matthew Libatique
"Past Lives" (A24) — Shabier Kirchner
"El Conde" (Netflix) — Edward Lachman
---
Other Top-Tier Possibilities
---
"Air" (Amazon MGM Studios) — Robert Richardson
"Ferrari" (Neon) — Erik Messerschmidt
"Origin" (Neon) — Matthew J. Lloyd
"Barbie" (Warner Bros.) — Rodrigo Prieto
"The Holdovers" (Focus Features) — Eigil Bryid
"The Bikeriders" (20th Century Studios) — Adam Stone
"The Iron Claw" (A24) — Mátyás Erdély
"The Taste of Things" (IFC Films/Sapan Studio) — Jonathan Ricquebourg
"The Color Purple" (Warner Bros.) — Dan Laustsen
"All of Us Strangers" (Searchlight Pictures) — Jamie D. Ramsay
---
Also In Contention
---
"Dumb Money" (Sony Pictures) — Nikolas Karakatsanis
"May December" (Netflix) — Christopher Blauvelt
"Anatomy of a Fall" (Neon) — Simon Beaufils
"Rustin" (Netflix) — Tobias A. Schliessler
"Asteroid City" (Focus Features) — Robert Yeoman
"Fair Play" (Netflix) — Menno Mans
"Priscilla" (A24) — Philippe Le Sourd
"BlackBerry" (IFC Films) — Jared Raab
"Freud's Last Session" (Sony Pictures Classics) — Ben Smithard **
"The Burial" (Amazon Studios) — Maryse Alberti
All Eligible Titles (Alphabetized by Studio)**
---
2022 category winner: "All Quiet on the Western Front" (Netflix) — James Friend
** indicates an unconfirmed release date in 2023 or could campaign in the lead or supporting categories. All release dates are subject to change.
Oscars Predictions Categories
BEST PICTURE | DIRECTOR | BEST ACTOR | BEST ACTRESS | SUPPORTING ACTOR | SUPPORTING ACTRESS | ORIGINAL SCREENPLAY | ADAPTED SCREENPLAY | ANIMATED FEATURE | PRODUCTION DESIGN | CINEMATOGRAPHY | COSTUME DESIGN | FILM EDITING | MAKEUP & HAIRSTYLING | SOUND | VISUAL EFFECTS | ORIGINAL SCORE | ORIGINAL SONG | DOCUMENTARY FEATURE | INTERNATIONAL FEATURE | ANIMATED SHORT | DOCUMENTARY SHORT | LIVE ACTION SHORT
About the Academy Awards
The Academy Awards, better known as the Oscars, is Hollywood's most prestigious artistic award in the film industry. Since 1927, nominees and winners have been selected by members of the Academy of Motion Picture Arts and Sciences (AMPAS). Seventeen branches are represented within the nearly 10,000-person membership. The branches are actors, associates, casting directors, cinematographers, costume designers, directors, documentary, executives, film editors, makeup and hairstylists, marketing and public relations, members-at-large, members-at-large (artists' representatives), music, producers, production design, short films and feature animation, sound, visual effects and writers.
Post source: variety