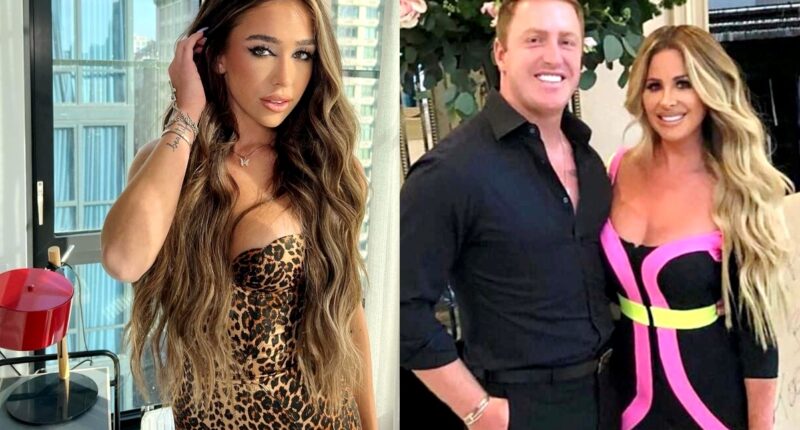 Kim Zolciak's daughter Ariana Biermann, 21, wants evidence she claims was collected "illegally" during her August 2022 DUI arrest in Georgia tossed from the case against her.
As Ariana demands the evidence be banned from trial, Kim, 45, has reportedly failed to nab a role on the upcoming 16th season of The Real Housewives of Atlanta as her estranged husband, Kroy Biermann, 38, continues his efforts to sell their $3 million Georgia home, telling a judge they're "financially destitute."
According to court documents obtained by TMZ on September 18, Kroy is requesting a judge keep Kim from delaying the potential sale of their mansion, explaining that they need to unload the property quickly and move into their own places for the sake of their kids.
As Kroy explained, the "toxicity enveloping the marital home is extremely detrimental to the mental and emotional well-being of the children."
He also said his and Kim's debt is mounting, with multiple lawsuits and a lien placed on their home, which was prompted by the $1.1 million in back taxes they owe the IRS.
"The parties to this action are financially destitute, largely related to [Kim]'s reckless spending habits and love for online gambling," he stated.
Although the house is their last true asset, the property is currently in pre-foreclosure with a possible sell date set for November 7.
As for Kim's potential return to RHOA, sources close to the show told TMZ she's not in the running, nor is she in touch with producers. Instead, executives are planning to recast the show with a new group of women for the upcoming season.
As Kim and Kroy's messy divorce continues, court documents obtained by Radar Online on September 20 have detailed Ariana's efforts to have certain evidence kept from her DUI trial.
As RHOA fans will recall, Ariana was pulled over last summer after hitting another vehicle. While she denied drinking alcohol at the time, when she was just 20 years old, she admitted to smoking a THC vape pen the previous night. Still, the responding officers claimed to smell alcohol on her breath and clothing, and they said she exhibited a "noticeable" sway during a field sobriety test.
The officers also hit Ariana with three charges, including misdemeanor DUI, misdemeanor improper or erratic lane change, and underage alcohol or possession or purchase of alcohol.
But in her court documents, Ariana said that at the time of her arrest, "sufficient facts did not exist to support even an articulable suspicion that Defendant was under the influence of alcohol or drugs, or that any other criminal activity was underfoot."
She also denied committing traffic violations beforehand.
The detention was an "unlaw warrantless seizure, not supported by probable cause or articulable suspicion, violating" her rights under the Fourth Amendment of the Constitution of the United States," she suggested, demanding the court exclude the evidence that was "illegally obtained."
Among the evidence she wants to be thrown out is the field sobriety test, because she says the officer who conducted it was not properly trained, and the chemical test, "because the machine on which [she] was to be tested was not being operated with all its electronic and operating components as prescribed by its manufacture properly attached and in good working order."
A judge has not yet ruled on the motion.
Post source: RB