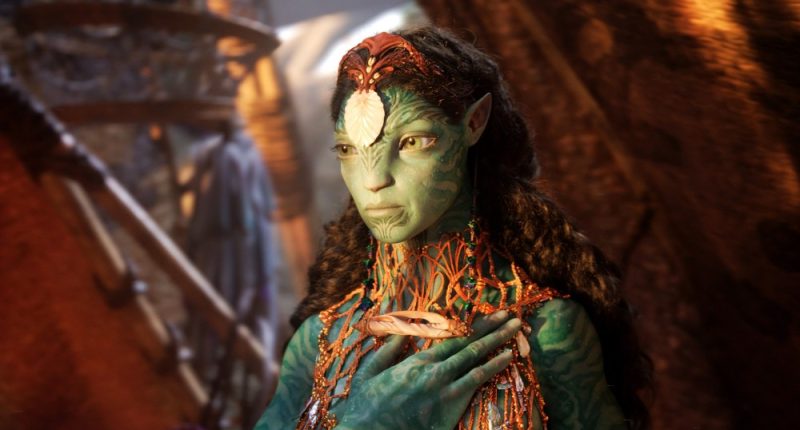 Without any notable competition, "Avatar: The Way of Water" continued its might box office reign with ease. James Cameron's blockbuster sequel added $16.3 million from 3,600 North American theaters between Friday and Sunday, enough to claim the No. 1 spot for the seventh consecutive weekend.
So far, "Avatar 2" has generated $620 million at the domestic box office and $2.117 billion globally. On Friday, it passed "Star Wars: The Force Awakens" ($2.071 billion) to become the fourth-highest grossing movie in history. Now, "The Way of Water" ranks behind only "Avatar" ($2.92 billion), "Avengers: Endgame" ($2.7 billion) and "Titanic" ($2.19 billion) in terms of worldwide ticket sales. Cameron has directed three of those four releases, putting the filmmaker in unmatched company.
Only one new movie, Neon's disturbing sci-fi thriller "Infinity Pool," opened in theater nationwide, debuting to muted results. The R-rated film, from director Brandon Cronenberg (whose father David Cronenberg is an architect of the body horror genre), generated $2.7 million from 1,835 cinemas. Alexander Skarsgård and Cleopatra Coleman star in "Infinity Pool" as vacationers at a wealthy tropical island. But when a mysterious woman (played by Mia Goth) convinces the couple to venture away from the resort, they suffer a tragic accident that pushes them into a world of consequence-free violence. What unfolds next is the kind of stomach-squelching horror that makes the film's mediocre "C-" CinemaScore unsurprising, even though critics dug "Infinity Pool" (which holds an 89% average on Rotten Tomatoes).
"This is a weak opening for an original horror movie from an indie distributor," says David A. Gross, who runs the movie consulting firm Franchise Entertainment Research. "Reviews are excellent, but audience scores are poor."
"Infinity Pool" landed in eighth place behind holdovers like "Puss in Boots: The Last Wish," the Tom Hanks-led drama "A Man Called Otto" and the campy thriller "M3GAN."
Impressively, a Bollywood spy adventure called "Pathaan" took fourth place with $1.8 million despite playing in just 694 theaters. Internationally, the film has grossed $52.6 million, securing the biggest debut for a Hindi-language production. Part of the appeal of "Pathaan" is actor Shah Rukh Khan, India's biggest male film star, who is headlining his first movie role in five years.
Universal's animated adventure "Puss in Boots: The Last Wish" remained in the No. 2 spot, bringing in $10.5 million (down just 11% from last weekend) from 3,452 theaters. To date, the family film has amassed $140 million in North America.
Sony's heartfelt drama "A Man Called Otto" claimed third place with $6.5 million from 3,957 venues. The well-received movie has been chugging along in theaters, collecting $45 million domestically and $61 million globally after five weeks on the big screen. "A Man Called Otto" cost $50 million, so it'll need to keep playing to justify its budget.
Universal's low-budget, killer-doll movie "M3GAN" rounded out the top five, adding $6 million from 3,416 theaters and bringing its domestic tally to $81.9 million.
More to come…


Post source: variety