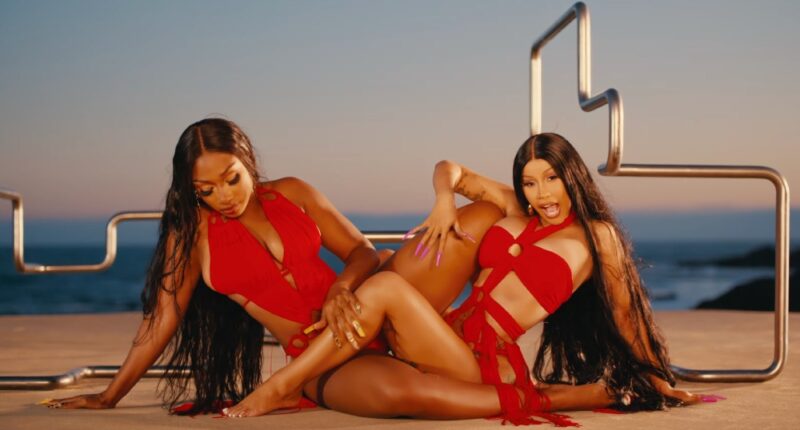 Cardi B and Megan Thee Stallion's colorful, beach-themed music video for their joint single "Bongos" has quickly amassed millions of views on YouTube since its Friday premiere. Cardi B has her fingers crossed that those numbers will keep on climbing as the rapper revealed to radio host Angela Yee that the production costs were colossal.
In an interview for Yee's "Way Up" show, Cardi said the video cost her upwards of $2 million to produce due to her and Megan's wishes to keep the single's existence under wraps. She explains her original intention was to shoot the visuals — directed by UnderWonder's Tanu Muino, who also directed Harry Styles' "As It Was" and Lil Nas X's "Montero (Call Me By Your Name)" — outside of the United States but hurricane season put a stop to those plans, and they opted to shoot in Malibu instead.
"Malibu always [has] paparazzi and everything so we hired about 20 guards, 15 guards just guarding the whole area," she said. Cardi also explained they deployed geofencing which issues an alert when a mobile device enters a mapped, pre-established location. They also used special in-ears to avoid having to play the music out loud while Cardi, Megan and their crew of dancers filmed the scenes that incorporated choreography.
In the colorful visual, Cardi and Megan also wear a variety of outfits, including oversized feathered hats and stringy bikinis while out on the beach. Muino also incorporated a variety of indoor scenes, one of which positioned Cardi in a multicolored room that saw her camouflaging with the rainbow stripes of a couch she lounges on.
"This type of stuff cost a lot of money for the videos and rehearsals every day — it cost a lot of money, it's a lot of work," Cardi concluded.
See the video below.
Post source: variety