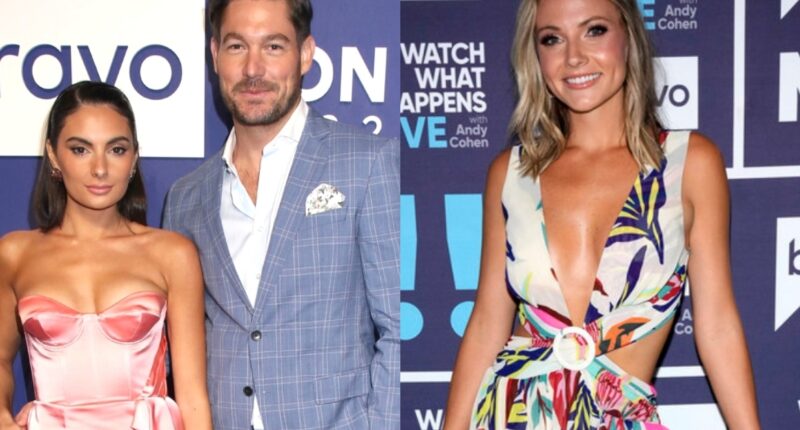 Craig Conover is speaking out about Taylor Ann Green's suggestion that his girlfriend, Paige DeSorbo, has cheated.
After Taylor, 28, made the claims on the Southern Charm season nine premiere, Craig, 34, responded to the dig as he also revealed how Paige, 30, reacted and noted that fans will be learning more about what led up to the shocking split between Lindsay Hubbard, 37, and Carl Radke, 38, on the upcoming season of Summer House.
"You'll get to see they filmed all summer—they filmed for two or three months," Craig told E! News on September 14. "It's unfortunate that the ending result is leaked or talked about because there's no context, and I think, for better or for worse, there's going to be a ton of context when you get to see Summer House. Because there was several conversations had. It's a big part of this season."
According to Craig, who has spent time with the former couple, he was sad to learn that their wedding had been called off.
"I was still surprised, but I think—I'm not saying this against anyone—I think it'll make a little more sense when you get to see it all play out," he teased.
As for Taylor's allegations against Paige, which came amid an argument about Taylor's breakup with ex-boyfriend Shep Rose, 43, Craig was disappointed.
"It was just sad for me because I think I realized in that moment how lost Taylor really is," Craig also shared with E! News. "I care about her and I was like, 'Man, you're really struggling.' She thought she was gonna get married to Shep and he had cheated on her multiple times. I've been cheated on before. That will really turn your world upside down and everything that you think you know about the world. So, she's dealing with that."
As he credited Taylor's lashing out to the heartache she was feeling post-split, Craig also realized that when it comes to his girlfriend, Paige is too known to get away with cheating.
"To say that about Paige—my reaction, the reason I walked away was because there was nothing I could do to help her in that moment," he explained. "I kinda laughed because I was like, 'Me and Paige just sit on her couch and watch TV.' It would be a little hard for either of us to be out there being secretive. I don't think that comes with this territory anymore."
"Obviously, I had to tell Paige what someone was saying about her," Craig added, "but she had a similar reaction."
Moving forward, Craig confirmed that he and Taylor weren't at odds for long.
"It comes to a quick conclusion in episode two, which is good," he added.
Southern Charm season nine airs Thursdays at 9/8c on Bravo.
Post source: RB