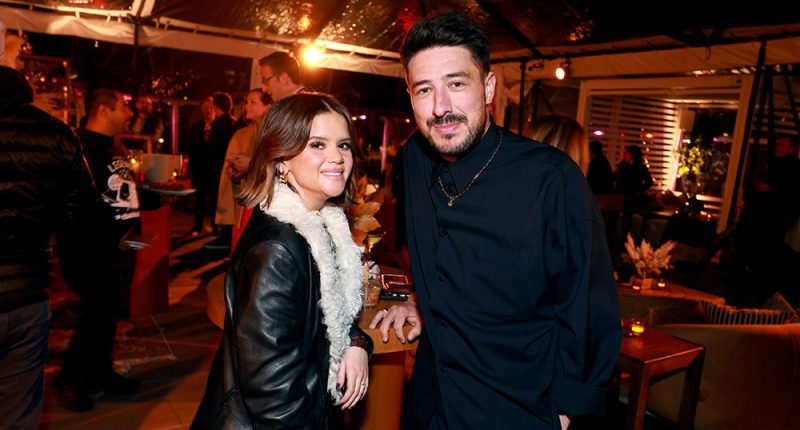 For Marcus Mumford, getting involved with the original music for "Daisy Jones & the Six" was a matter of being in the right place at the right time.
The Mumford & Sons frontman was working at L.A.'s Sound City Studios on his solo record with multi-instrumentalist and producer Blake Mills — who co-wrote and executive produced all 25 songs heard in the Prime Video series, which chronicles the rise and fall of a '70s rock band — when Mills asked if he wanted to help write a tune for the show.
"It was a slower day for my record and Blake was like, 'Look, do you wanna try this thing for Daisy?'" Mumford tells Variety. "And I often think that… writing begets more writing. If you're able to flex a similar muscle in a different way, then it can often help the writing you have in front of you as well."
That idea became "Look at Us Now (Honeycomb)," Daisy Jones & the Six's first big hit, which Mumford co-wrote with Mills, Jason Boesel, Stephony Smith and Johnathan Rice. The song, an embodiment of the love-hate relationship between lead singers Daisy Jones (Riley Keough) and Billy Dunne (Sam Claflin), doubles as a feel-good anthem with its soaring harmonies and timeless guitar chords. Mumford was so enamored with the track that he decided to put his own twist on it.
"It's funny, I texted Riley like, 'I think we've destroyed your OG version of this song, sorry!'" Mumford says with a laugh. "What was challenging about that is I love the recording they got for the show so much, and I love Sam and Riley's vocal so much, that I was a bit like, 'How do we beat that? I don't think we can even try and compete with it.'"
Starting out as a simple folk-rock ballad, the nearly six-minute original "Look at Us Now" builds to a fever pitch with high-voltage instrumentation and an electrifying guitar solo. But Mumford wanted to revisit the song with a softer, more modern touch.
"It felt like that's the version you would put on an album in the '70s," Mumford says of the original track. "I had quite a clear idea of how you could edit it, because I hadn't been there for the recording session and the last I'd played with the song was in its more concise version without the full band, without the guitar solos. So I felt like I had access to that version of the song in my head."
Since the song is a duet by nature, Mumford knew he needed a powerhouse partner — and country singer-songwriter Maren Morris was the first person who came to mind. Despite running in similar circles, Mumford and Morris had never worked together, and this seemed like the perfect reason.
"She responded really enthusiastically straight away, and then it came together super fast," Mumford says. "Blake and I worked on the edit and then we called up Abe [Rounds] and Pino [Palladino], who had already played the song, so it was really fast to get them to put down a track. And then Maren came in, and we sang it all in one day and got it."
Mumford says the biggest challenge was making "Look at Us Now" as "different as we could without losing the essence of the song." That required Mumford to catch Morris up on the plot of the series to get her in character, so to speak.
"She started out singing too nicely. She sounded too sweet and beautiful and kind," Mumford says. "And we were like, 'No, you need to effectively be giving me a bollocking as your duet partner.' And so she ended up with this take that is full of bite and it's really dope."
What attracted Morris to the project was the show's honest and informed take on the music industry.
"Shows depicting the reality of what it takes to become a band or what it's really like touring can so often get it wrong. One of the components of 'Daisy Jones' is that they chose to ground this fictional universe with real songwriting," Morris tells Variety. "The music in the show that Blake Mills created and the incredible performances by the actors gives this world a heartbreaking authenticity. I'm so honored to have gotten to sing on 'Look at Us Now' with Marcus."
"She's like a fucking pro as well," Mumford adds. "I'm over there coughing and splattering and drinking sparkling water and she's all warmed up with her lozenges, ready to go. She really showed me up."
Listen to Mumford and Morris' version of "Look at Us Now (Honeycomb)" below.


Post source: variety