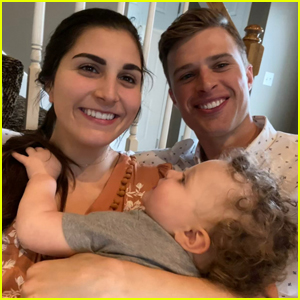 Harrison Butker is a star on the football field as the kicker for the Kansas City Chiefs.
Off the field, the 27-year-old, who is known as Butt Kicker by his fans, is more than a professional athlete. He's also a family man and the father to at least one son.
If you were wondering, Harrison married his childhood sweetheart Isabelle Butker back in 2018.
Read more about Harrison Butker's family…
One year after Harrison and Isabelle said "I do," they welcomed their first child – James Augustine Butker. He made a cameo in a tweet confirming that his dad would be returning to the Chiefs a couple months after he was born.
Just a little over one year after joining the family, James got to celebrate a pretty big event with his dad – Harrison's first Super Bowl win.
"I'll never forget this moment," Harrison tweeted alongside a video of him holding his son as confetti rained down around them on the field.
Harrison shared more content with James and Isaballe in 2020 around the start of the pandemic, but the family has stayed out of the limelight in recent years. So much so, in fact, that we don't know if the family has expanded.
However, according to FirstSportz, Isabelle did welcome a second child at some point after James was born. Maybe we'll find out more during the 2023 Super Bowl!
Harrison isn't the only member of the Chiefs with kids. Check out Patrick Mahomes' cutest family photos!
Check out some of Harrison's tweets about James below…
Hope everyone has a blessed Easter!!

"Christ our Pasch is sacrificed alleluia: therefore let us feast with the unleavened bread of sincerity and truth, alleluia, alleluia, alleluia"
-1 Cor. 5: 7-8 pic.twitter.com/zpQ7Gehk9B

— Harrison Butker (@buttkicker7) April 12, 2020




Post source: Justjared