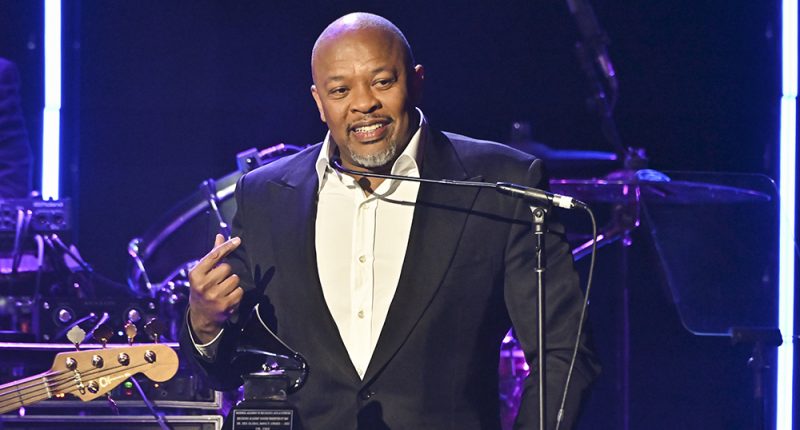 With no offense intended to any other parties, the inaugural Black Music Collective Grammy-Week throwdown was the highlight of last year's Grammy Week — with performances from Summer Walker, John Legend, Muni Long and others, and there was such a general positive and proud vibe to the whole event that the Academy decided to do it up even bigger this year.
Held at the Hollywood Palladium, it was a sort of mini-MusiCares event, in that four individuals were honored with the inaugural Global Impact Award — Dr. Dre, Missy Elliott, Lil Wayne and Epic Records Chairman-CEO Sylvia Rhone — and did not themselves perform, but instead each got a brief tribute set performed by other artists. It was an ambitious step up and there were a couple of production-related hiccups, but they were far outweighed by the bright moments — and it's no coincidence that the honorees come from a golden age of hip-hop, the early '90s, which was clearly the music that many in the audience grew up on.
Lifetime achievement-type awards are also a relatively novel situation for hip-hop artists. "To tell you the truth, I was a little bit nervous when Harvey called me about this award because I wondered if he knew something I didn't," Dre deadpanned during his acceptance speech, referring to Recording Academy chief Harvey Mason Jr. "I was thinking to myself that they usually give this type of shit to dead people."
Highlights? Snoop Dogg performing in tribute to Dre — accompanied by fellow Death Row alum Kurupt as well as Ty Dolla $ign — brought the house down with a medley of Snoop-Dre hits, at least two of which were introduced as "takin' it back to 1993,", including "Deep Cover," "Nothin' But A G Thang," and "Bitch Please," while Ty covered for the late Nate Dogg on "Ain't No Fun."
A three-part tribute to Missy Elliott saw Chloe Bailey performing "One in a Million" (Elliott and Timbaland's breakthrough hit for Aaliyah), followed by Elliott longtime protégé Tweet showing off her powerful pipes on "Oops (Oh My)" and concluding with Ciara delivering the Elliott-cowritten "1,2 Step."
The evening's first performance began with the production-related hiccup mention above (there was five minutes of uncomfortable silence onstage after Busta Rhymes was announced, but he delivered a medley of vintage fiery hits — including  "Put Your Hands Where I Can See" and a lightning fast rapping on "Look at Me Now" — that had the audience out of their seats. He was performing in homage to Rhone, who as president of Elektra Records presided over his fast rise and his peak years.
Elliott said, "This will never get old to me, I've won a lot of awards and I feel the same way…" before choking up and pausing for several long moments, "Anybody who knows me know I'm always cryin'," she laughed before singling out manager Mona Scott and Rhone, saying of the latter, "She never told me no, she never told me 'You need to lose weight'" — another pause — "She never told me 'you have to change your records'… and I appreciate you for that. I thank you because that is why I stand here."
And finally, Lil Wayne received a tribute set from 2 Chainz and Tyga — and actually delivered what may have been the most moving speech in an evening filled with them.
For an artist renowned for his imaginative wordplay and brain-bending rhymes, Wayne — one of the most commercially and critically successful artists of any genre of the past 30 years — put things in simple, bold relief: After thanking his family, Cash Money Records and all of his children and their mothers, he said, "Where I come from, we don't get honors," he said several times, shaking his head and visibly choking up. He concluded by saying "I ain't shit without y'all — thank you, thank you, thank you," and dropped the mic.


Post source: variety