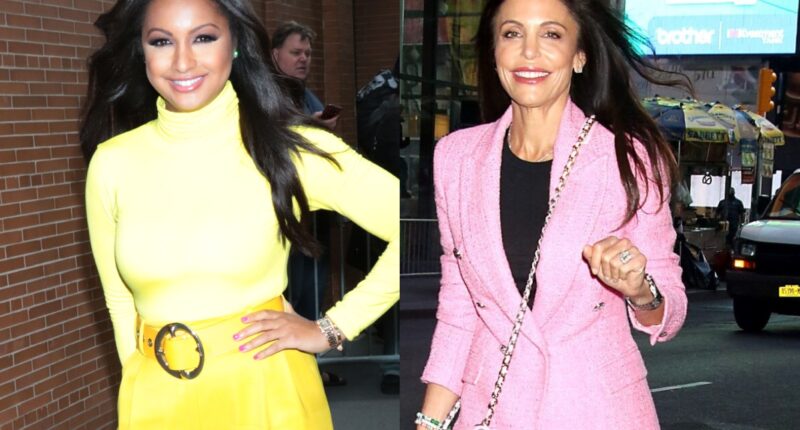 Eboni K. Williams is taking credit for the more diverse look of The Real Housewives of New York City.
Ahead of the September 11 premiere of her new show, Equal Justice With Judge Eboni K. Williams, she reacted to the new cast, weighed in on Ramona Singer's RHONY: Legacy casting, and shaded Erin Lichy over her Trump donations while also addressing Bethenny Frankel's reality reckoning and sharing details about her TV return.
"It allows me to be the nerdy side of me, the legal geek. It allows me to be your funny Auntie with sage advice at the ripe old age of 40. It allows me to be funny and have humor, be nostalgic and go back in the kind of legacy of Black culture," Eboni said of Equal Justice during a September 11 interview with Variety.
As the youngest judge on daytime, Eboni said she's not going to try and copy the long line of Black judges who came before her. Instead, she'll forge her own path while honoring their "beautiful, important legacy."
"Black people only make up around 5% of the entire legal profession. Starting when we attend our first day of law school, all of us as Black women are entering into a pre-select sorority of women in the law. So to graduate to this level — a Black woman judge in the court TV space — is a humble and benevolent privilege," she declared.
As Eboni moves on from the Real Housewives franchise, a number of her former castmates, including Ramona, have continued their run with the upcoming Legacy installment of Real Housewives: Ultimate Girls Trip.
"I thought it was a slap in the face," Eboni said of Ramona being cast on the show. "Every single one of my cast mates from season 13 has been invited to participate in [RHUGT] except for me."
According to Eboni, who confirmed she was open to appearing on the show, she believes she has been left out in "retaliation for me standing in my truth."
In addition to being open to appearing on RHUGT, Eboni said she was also willing to return to RHONY for season 14.
"I absolutely threw my hat in the ring — and the network went in another direction, which is their prerogative. But I did desire to continue on the journey of sharing my life, my motherhood journey, my flourishing career, and my home-buying experience," she confirmed.
Although Eboni was given no direct feedback for Bravo's decision to move forward without her, she suspects the network simply wanted a completely fresh start.
"I hear that, but also anybody that watched season 13 and had a visceral reaction to me, they're not going to watch a diverse cast on 14," she reasoned. "I think that there was some seeds planted in season 13 that, given the opportunity to expand on the platform in a rebooted 14th season, could have been really beautiful and special."
While Eboni said she has "not seen a single episode" of the reboot, she described Jessel Taank as "lovely," and said she was "a good ear for her to share" after they were introduced.
As for Erin, Eboni was unimpressed.
"The reality is, there is a healthy segment of Americans, no matter if you're in Florida, New York, California, Wisconsin, you pick it, that supported the 45th president. That is a reality. So when I see a wealthy white-presenting Jewish woman in America in New York City supporting that president, that does not greatly surprise me," Eboni said of Erin's past support of Donald Trump.
"If I were to engage with her, I would be curious as to her why," she went on. "I would have a conversation with Erin about her value system. Let's get to that … I don't want to go to the Hamptons and eat no f*cking barbecue with you, b*tch, if we are not starting from a foundational place of aligned values."
Despite her issues with Erin, Eboni said she's "extremely happy" the cast "looks like the New York I live in."
"I think it's an important first step to have a reboot [of RHONY] that represents a — I would say much broader, but the reality is the original iteration had no broadness at all. This is showing us a preliminary step towards fuller representation of women of various cultural, racial, and ethnic backgrounds in New York City, and that's how [RHONY] should have always been," she explained, adding that she could one day "sit down and maybe binge watch it," especially since she played such a crucial role.
"I do view the reboot as my personal legacy. I feel proudly responsible for being the impetus, the catalyst for the network recognizing a need to cleanse the palate and start over and construct something from the ground up that better honors the diversity of New York women," she stated. "I know that was a direct result of all the ruckus I created all season 13.
As Bethenny, 52, continues her efforts to form a union for reality stars, Eboni said, "It's never too late to do the right thing," before questioning the RHONY alum's credibility.
"I think when you attempt to lead a movement, an organized effort, a few things really need to be in place. Credibility being first and foremost, consistency being another. As someone who has no direct personal relationship with Bethenny Frankel whatsoever, I have questions around her credibility and consistency on these issues," Eboni admitted.
"I think you need to be intellectually and morally honest enough to make the space for the various points of distinction in the different wrongdoings whether it relates to wage disparity, whether it relates to homophobia, racism, irresponsible management of alcohol and drug use," she continued. "Because when you don't do the service of honoring those distinct allegations and experiences of individuals, and then you attempt to be the face and voice of those varying like egregious, horrific, traumatic wrongdoings, I think you undermine the effort."
When Eboni was then asked if she'd experienced or witnessed any of the things Bethenny has accused Bravo of, she offered a somewhat cryptic response.
"What I would never do is undermine my own power and positioning by making any claims that I may or may not have towards Bravo for the network in any other way than directly," she noted.
The Real Housewives of New York City season 14 airs Sundays at 9/8c on Bravo.
Post source: RB