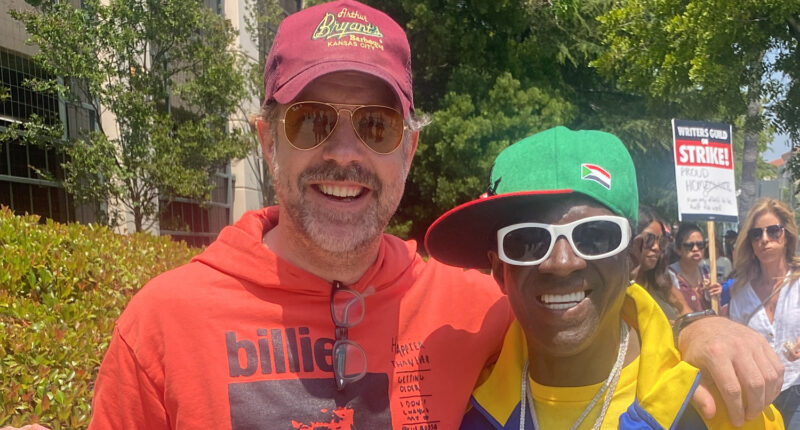 Flavor Flav is showing his support for members of the Writers Guild of America!
The legendary rapper joined Jason Sudeikis and the Ted Lasso writing team on the picket lines outside of Warner Bros. Studios on Thursday afternoon (May 18) in Burbank, Calif.
In an episode of season three of Ted Lasso, Flavor Flav got a shout-out. One character said, "Superstars play by their own rules. Back in '98, I waited three hours for Public Enemy to take the stage at the Cubby Bear. For a man with a giant clock around his neck, it ain't about time. He's making a statement."
Flav responded to the shout-out and said, "Hey @tedlasso, it ain't about time,,, it's about being timeless! One time in 2023 I had to wait a whole year and half for one of my favorite tv shows to come back."
Now, Flav is finally getting the chance to meet the people behind the joke!
Flav showed up at the picket lines with 25 Prince Street pizzas, 100 burgers from Irv's Burgers, and Liquid Death water. He also met up with Quinta Brunson and the Abbott Elementary writers!
Browse through the gallery for all the photos…




Post source: Justjared