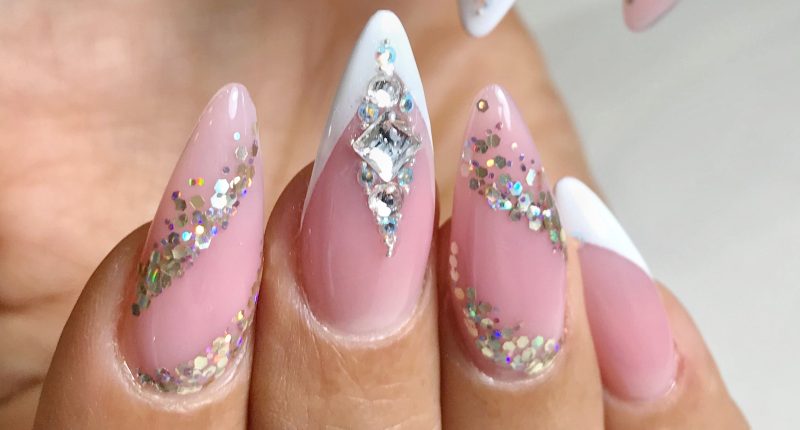 Natali Pink/Shutterstock
You're looking at your fingers with a bit of despair. You want a new nail look, but you aren't exactly sure what. The classic look of the French manicure is your usual go-to, but even some of the modern French looks are starting to get a bit old. So, if you want something new to spice up your nail game, it's time to think of gems. 
Rhinestones add a modern twist to any nail look, and they are the perfect addition to any type of French manicure. All you need to do is hop on Instagram to find dozens of different inspirational looks for your gemstone dreams. These studded accents will hit you right in your heart and make you feel all the sparkly goodness.
Get inspired by 16 different French manicures with rhinestone accents below. From classic looks with a little glow to modern French manicures to make your fingers really stand out, you'll find a little bit of everything you've been dreaming of. There's no doubt these designs take bold, bright, and beautiful to cosmic levels.
Subtle pink tips with pizzazz
If you love French tips but are ready to make a change and have already ventured into the realm of a modern French manicure, why not take the next logical step by adding rhinestones? They add that wow factor you've been waiting for. Give a square, hot pink tip a bit of extra glam by adding a rhinestone border, as @yaris.nails did here. The perfectly placed rhinestones create an archway on the ring finger that ends in a loving heart. Aside from having the French manicure everyone will be drooling over, you'll also get the bling you definitely need in your life right now.
Artistic glitter tips with colorful accents
Are you looking for a more sophisticated French manicure? You may have found your match with these artistic glitter tips, which can easily coordinate with your sparkly formal wear. Dressing up for a night on the town is all about glitter and glam. Effortlessly bring that feeling with these beautiful, chrome glitter tips showcased by @glam.by.dy. The multicolored gems along the base of the nail make them really pop while the glitter tips dazzle in the light. This look is perfectly coordinated with the chrome designs on the middle finger and the singular gem on the pinky. The long, square tips are guaranteed to grab the attention to round out a show-stopping formal look. 
Emerald encrusted tips
Don't just save green for St. Patrick's Day. Add some eye-catching emerald tips to your repertoire just like @sansungnails. This beautiful, long French manicure uses a rounded green tip to create a showstopping look. The emerald rhinestones will make your nails truly look like royalty. What more could you ask for from a stone that says love? It's the perfect anniversary look or will beautifully complement an emerald ring. There are so many occasions where these tips will light up your life. 
Modern French manicure with a rhinestone twist
If you prefer a bit of variety in your nail choice, why settle for one color or style when you can have them all? With this look created by @the.nail.nest, the tips on each finger may vary but they work together to create a beautiful overall aesthetic. The glitter tip on the index finger perfectly complements the sparkly heart designs on the middle finger, for instance. And the simplistic faded French tip and rhinestone stand out more against the faded glitter tip of the pinky. It's a sparkly design that coordinates beautifully with every wardrobe change.
Black French tips for an elegant look
You have your little black dress ready for a night on the town. You want a fun, sophisticated nail to match your look. Black tips will do just that. This fun look, by @nailsofjackie, includes a bold, square, black tip accented with colorful gems. These stones add just the right amount of color to catch the light and dazzle your audience, making these nails the perfect black-tie affair.
Hearts aglow French manicure
Sure, rhinestones can add a little excitement to your French manicure. But they also work really well with other elements like hearts. This design from @cobranailsart is sure to make you feel all those warm, fuzzy feelings of love regardless of the time of year. Coupling beautiful rhinestones with a heart in coordinating areas on the nails, you can feel the love surrounding you. The sparkly burnt tips bring this whole look together. It's ideal for showing off your current relationship status or getting in the mood for Valentine's Day. 
Black and glitter combo to wow
You are a queen after all. Now, even your nails can show how regal you are with fun, French tips with a twist. First off, choose a bold black tip color on almond-shaped nails as @antonailsart did here. Black works well to set off the glitter and stylistic swirls taking lead on the ring finger. Along with the rhinestones at the base of the remaining digits, the contrast of the black and gems creates a sleek look ready for any formal occasion. This one is truly a royal affair. 
Gem encrusted tips to really dazzle
French tips add elegance to your life no matter how ordinary it may feel. But you don't have to have long nails to rock this style, as showcased above by @valnailsvarna. Try a short manicure with a little sparkle like the one above. A little sparkle is added with a subtle line of gems along the tip of the middle fingers. Additionally, the band of gems along the base of the fourth finger of each hand gives off formal vibes. But it's the added lattice look below the gems and the point along the tip that really goes the extra mile.
Peek-a-boo tips that shine
Rhinestones are the name of the game, and rightly so, with this subtle yet stunning nail look by @clnails_werreparkbadoeynhausen. The four corners really set off the manicure, making the long, square tips stand out even more. However, after taking a closer look, you'll spot the peek-a-boo pink tips that were created with the palest of pink set against the nail bed color. It's just a subtle hint of a tip that doesn't distract from the rhinestones, allowing them to take center stage.
French tips with colorful gems
It doesn't matter where you're going, because a sleek French manicure matches any ensemble. But if you aren't one to just have plain ol' white, rounded tips and you want a bit more color in your life, the perfect solution is adding clusters of colored rhinestones to a classic manicure like @nails.by.visibly did. The rhinestones placed along the tip and bed of the nails give them some extra pop, especially when they catch the light just right. You can pair this with plain fingers or add a few rings to really bring those colors out.
Glittery French tips with sophistication
Nothing is more fun than glitter, so why not add a faded glitter French manicure to your list of nail trends to try? In addition to the glitter tips, @clnails_werreparkbadoeynhausen highlights the ring and middle fingers with a line of rhinestones. These eye-catching pairings work together to lead your eye from the rhinestones right to the tips and back again for a truly magical combination.
Black tips with a rhinestone treat
Black tips look chic on just about anyone. They add just that little bit extra to your French manicure. But just because you like black tips doesn't mean you shouldn't get even more creative with them. Have even more fun with your bold French manicure just like @mydumbnails did. In this case, adding blue rhinestones and glitter creates a real starry night feel. Add in the star designs on the ring finger, and it's a great nail choice for a relaxing day on the beach or a night out with your besties.
Elongated black tip with rhinestone ring
An elongated nail bed offers a sleeker look even with a French manicure. This is especially true when you add a bit of black to the tips. However, @cristophernail makes a serious style statement by adding a rhinestone design to the base of the ring finger. It's like a little diamond ring for your nail. And, given the simplistic nature of the look, it's just a bit of added elegance. The blunt, square tips bring everything home. 
Glamtastic long French tips
Your nails tell a story about you. Whether you're just a little bit sassy or have that wild side, you can always see it on your nails. The beauty professionals at @room304sln know this to be true. By mixing classic beauty with a little bedazzle, they create a glamourous rhinestone look that will definitely be trending. While it still has the classic white tip, the subtle square adds a bit of uniqueness. But the main star of the show is the meticulously placed rhinestones, which make everything shine as bright as a diamond. It's just the right amount of bling to have you admiring your nails for days to come.
Bold blue tips with a bit of sparkle
Break out of your nail art funk by trying something a little bit bolder. Blue polish makes a statement all on its own, but that doesn't mean it can't be classic too. When you mesh a groovy blue tip with the French manicure look, as @myshell.nails did, it's one of those designs you'll instantly want to ask for again and again. The blue tip looks more elegant when you add rhinestones at the base of each finger, while the marble effect at the tip is a new take on a classic style. 
Pastel French tips to truly admire
If you want to really refresh your nails, try out a pastel French tip for a fun twist. To truly make this look a thing of beauty, @jaynaildit applied rhinestone accents and butterflies. You can also find little pops of flowers hidden within the pastel tips themselves. It's a nice long look for those that love to show off their nail art too. Clearly, there are plenty of different ways you can incorporate rhinestones into your nail looks. But they give the classic French tip a renewed sparkle that brings it into the 21st century.


Post source: The List