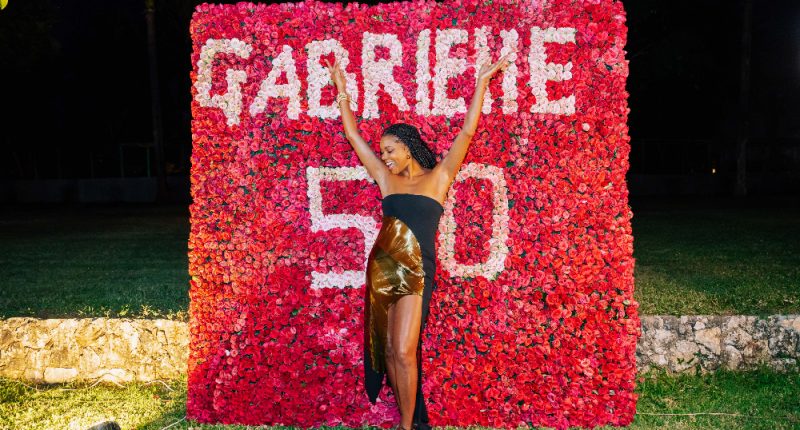 BET has announced its upcoming docuseries special from Gabrielle Union titled, "My Journey to 50." The two-part special serves as Union's first project to come from her overall deal with the company, which was announced last June.
The documentary follows the "L.A.'s Finest" alum as she jets off with her husband Dwyane Wade, family, friends and loved ones on a journey across Africa from the island of Zanzibar to the coast of Ghana to the parks of Namibia and the nightlife of South Africa in celebration of her 50th birthday.
"We join Gabrielle, along with her family and closest friends, as she embarks on a journey that sheds light on the woman she once was and honors who she is in the present while discovering the deeply rooted, badass that she has always been. On this journey, she'll walk the path of her heritage, gain wisdom and shed what no longer works for her while welcoming others to relearn, rediscover and reconnect as we collectively celebrate our most authentic selves," reads the show's official synopsis, per BET.
Aside from Union and Wade, "My Journey to 50" will feature appearances from their daughter Kaavia James Union Wade, Gabrielle's mother Theresa, her Aunt Katie, niece Chelsea, and sister Tracy, along with Adair Curtis, Essence Atkins, Angie Martinez and more. The series will be released on June 15th on BET+.
"I've always had a lifelong thirst for knowledge. Connecting with the birthplace of civilization and my own ancestry helped me inch closer to my true self," said Union in a statement. "There was no other place I wanted to spend my 50th birthday. It was an experience I'll never forget and I'm excited for audiences to join me on the journey."
"It's a privilege to have Gabrielle as part of the BET family. We're delighted to debut one of her first overall deal projects on BET+," said BET Media Group's president and CEO, Scott Mills. "In this two-part special, Gabrielle takes us on a journey that is both heartfelt and heart-wrenching. We're honored to bring this story to our audience and to serve as a home for complex black stories that celebrate and give voice to our shared experiences, heritage and culture."
Joining Union as an executive producer is Jesse Collins, who will oversee through his production company, Jesse Collins Entertainment.
Dionne Harmon, president of Jesse Collins Entertainment said: "Jesse Collins Entertainment has had an amazing working relationship with Gabrielle over the years, so when given the opportunity to document this life-changing moment for her, we were thrilled to come on board. It was an honor to be a part of her milestone birthday and to witness the transformative power of reconnecting with one's ancestral roots."
In addition to Union and Collins, Harmon executive produces alongside Madison Merritt, Elaine Metaxas, Sergio Alfaro, Tiffany Mills, Kian Gass, and Erin Beaurem.


Post source: variety