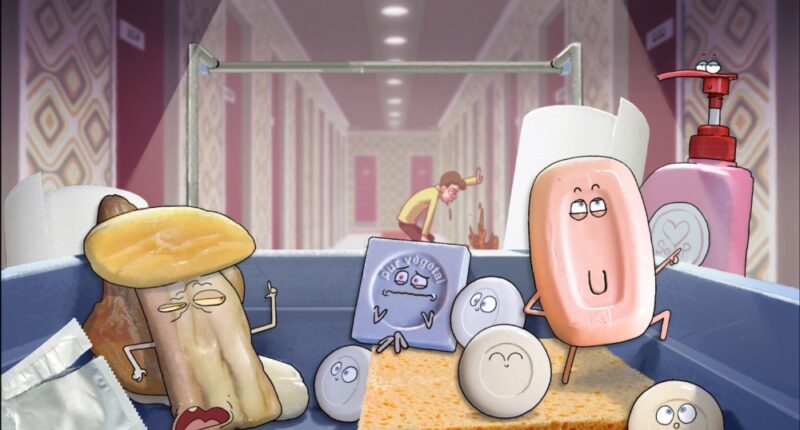 Finland-based animation studio Gigglebug Entertainment is launching a new adult-focused label and has already begun developing its first project, Variety can confirm.
Branded In Stitches and led by Gigglebug's management team, the banner will focus on bold, experimental and offbeat comedy aimed at grown-ups. Contemporary voices as well as artists and designers from Gigglebug's in-house team will be brought in to pitch adult-oriented concepts and work on projects from the new banner.
The first project from In Stitches, which the company are set to present at Mipcom next month, is titled "Soap." The 20-episode series is based on an original concept by Gigglebug animator Sasil Leirana and is told from the perspective of a bar of hotel soap called Suds.
"When affairs unravel marriages, a drug deal blows up (literally) or a serial killer repaints the walls red, who is there to clean up the mess? Soap," reads the synopsis. "Meet Suds and her pals, the cleaning products in Room 833 of The Tufnell, a large high-end hotel, who are always cleaning up behind the scenes."
"The Amazing World of Gumball" writers Tobi Wilson and Paul Rice are set to pen the project while Gigglebug co-founder and CEO Anttu Harlin will produce alongside fellow co-founder and creative director Joonas Utti. Elliott Palmer is on board as development executive.
"We have an amazing pool of talent under our roof and browsing their personal portfolios continues to blow our mind — they have so many fresh, daring and hilarious ideas that we're eager to develop, alongside our family-focused work," said Harlin. "In Stitches is still very much in keeping with Gigglebug's DNA, as it's also driven by the desire to spread joy, but it will enable us to bring boundary-pushing and more risky content for adult audiences, which encourages them to have a laugh at the bare, naked and surreal truth of being alive."
"'Soap' perfectly encapsulates our vision for the banner, and we are excited to have the remarkably talented Tobi and Paul bringing their comedic genius to the project — as well as for our animation team to flex their creative muscles in a new genre."
Post source: variety