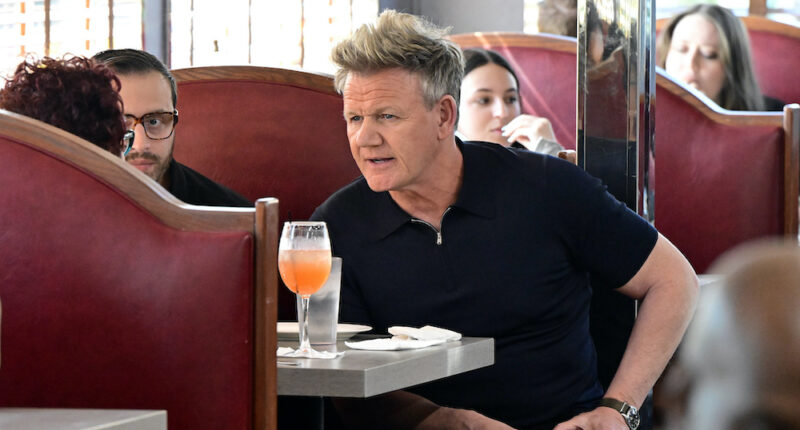 Gordon Ramsay's high-anxiety restaurant rescue series "Kitchen Nightmares" returns to Fox Monday after 10 years off the air. In that time, a lot has changed — not only in the restaurant industry, but also the broadcast TV food landscape, where Fox dominates with more culinary competitions than the other Big 4 networks.
With foodie culture stronger than ever amid the popularity of "The Bear" and the surge of cooking videos splattered across TikTok, Ramsay decided now was the time to expand upon those first seven seasons of kitchen chaos.
"This year on 'Kitchen Nightmares' for me is a big one," Ramsay tells Variety. "I stopped doing the show over 10 years ago and it means a lot for me personally to bring this show back. The time felt right. After the pandemic, Americans were eating out more than ever while restaurants were also still struggling. Over the last three years, the industry has seen some of the most difficult times in the history across the food and drink hospitality sector. So for me, it really upsets me when I travel the world and see so many restaurants that have closed through no fault of their own."
"Most importantly, I love a challenge," Ramsay continued. "Each and every restaurant is different, and each and every family is different. In many cases, it's the family that needs fixing before the restaurant. It seemed like the perfect time to dig deeper and see what was really happening behind the curtain. And trust me, there was a lot — just ask my stomach."
With so many memorable restaurant horror stories — and a few dream endings! — seared into "Kitchen Nightmares" viewers' brains from the show's original run, it might be hard to imagine anything that can top those episodes. But Ramsay's "Kitchen Nightmares" executive producer promises audiences will be satisfied with the heaping helping of wild restauranteurs in just the first few episodes of Season 8.
"The meat refrigerator in Bel Aire Diner (Astoria, NY) is shocking," showrunner David DeAngelis shares, noting the site of "Kitchen Nightmares" first rescue attempt on the new season. "We have a chef in Bask 46 (Woodland Park, NJ), which is going to air as the second episode, who calls himself 'the culinary gangster' and even has a T-shirt and business cards. Da Mimmo is a restaurant we shot in Dumont, New Jersey. It was opened just under a year ago via Melissa Gigante, a woman who is a retired police lieutenant and she has three sons who are all in their 20s somewhere. They're all huge social media stars, the Gigante brothers. One of them has nearly 3 million followers. And they absolutely do not have any clue on how to run a restaurant. And Gordon's interaction with them is hilarious. Two of them talk a huge game about how they are going to 'idiot sandwich' Gordon Ramsay. And when Gordon finally confronts them, you see them shrivel and turn into little children."
See below for more from Variety's interview with Ramsay about the return of "Kitchen Nightmares" and what he learned from the original seasons — including which "Nightmare" is the most iconic for him.
What changes did you want to make to the format from the original run? What was important to keep? 
The original "Kitchen Nightmares" from the U.K. has been around for almost two decades at this point. In that time, we've built up a whole new generation of fans of the show. So for me, we had to keep the essence of what a new generation of fans have come to love on YouTube and FAST channels. We've just made small tweaks, making sure the renovations as well as the food were more of the focus. I always want the restaurants to succeed, so I wanted to make sure the transformations were bigger than before. I'm also way better than I was last time around. I know so much more now and I have the most amazing team. So that's all the ingredients that "Kitchen Nightmares" needs.
In your opinion, what is the most iconic "Kitchen Nightmares" moment from the original run? 
You know the answer to that: Amy's Baking Company! I still get asked about her and that restaurant to this day.
Do you know how many of the restaurants from the original "Kitchen Nightmares" are still open and do you check in with those owners? 
Unfortunately, not as many as I'd like. The problem is that anyone can open a restaurant and think they know everything. But ask any businessperson, it's a nearly impossible business to succeed in if you don't have the business background. It's especially hard if you don't have the culinary background. Over the last 10 years, the food industry has moved on leaps and bounds. At your fingertips now, you've got food not just on social media platforms, imploding on a daily basis, but you've got the most amazing restaurants that are now delivering food to your doorstep. So to stand out from the crowd, businesses today need to be better than they were two years ago.
Post source: variety