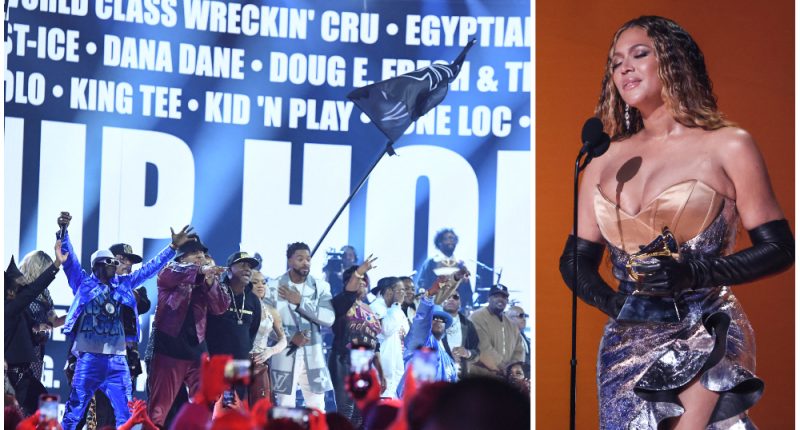 How many classic hip-hop stars can dance on the head of a pin? We got something close to an answer to that question via a medley on the Grammy Awards telecast that featured close to three dozen rap legends quickly doing their thing, over the course of 15 minutes that never flagged for a second. A segment like that can make up for a multitude of contemporary superstars missing in action, a major concern going into the 65th annual telecast that no longer seemed like a deal-killer after witnessing the ultimate hip-hop hooray.
Somewhere around the time in that epic 50th anniversary hip-hop celebration that Queen Latifah and Busta Rhymes were giving way to Big Boi and Method Man, it felt like it didn't matter if any of today's Big Divas subsequently showed up at all. With all due respect to Adele — rumored to be taking a secret, last-minute slot, falsely, as it turned out  — sometimes it's fine if what happens in Vegas stays in Vegas.
Sunday night's show did not aspire to reinvent the wheel of the Grammys in any way; it didn't even represent that much of a rotating of the tires. What's different in the Fulwell 73 Productions era from the Ken Ehrlich era is mostly the elimination of intergenerational "Grammy moment" mashups; a consolidation of separate In Memoriam segments into a single extended one; and an emphasis on hitmakers performing their biggest song of the year, not deep tracks or covers. Other than that, you couldn't say the 65th show didn't play to a lot of the basic virtues of Grammys gone by. Cool heads have prevailed when it comes to any annoying nods toward forced virality that might have been considered.
The choice to stay in the B section of the alphabet for the opening numbers made for a smart one-two punch, with Bad Bunny's opening performance being quickly suceeded by Brandi Carlile's. That's almost like hitting all four quadrants in two fell swoops. Putting Bad Bunny up front was a way of the Grammys recognizing the history of his moment, since that was not going to happen with a win in one of the all-genre categories (although producers wisely bumped the award for best musica urbana album from the pre-telecast to prime time, for the first time, and maybe the last until he's nominated again). His hordes of invading dancers has visible trouble at first getting VIPs in the front tables to dance with them — except, of course, for Taylor Effing Swift, who is always going to be the girl cheering on the band at the high school dance when everybody else is too reserved. (She is truly Cheer Captain after all.)  
Carlile's big TV moments have all been ballads with epic high notes, up till now — "The Joke" on the 2019 Grammys, "Right on Time" on last year's show, a revival of "The Story" on "SNL" in December. So she was due the rocker she chose for this year's Grammys, "Broken Horses," which had won two rock trophies in the pre-telecast. And actually, it has its big high notes, too, except they come at the beginning of different lines in the verses, not as a chorus climax. A cappella moments allowed America to better make out the rasp and vibrato in her voice, without all those guitars. Yet in a way, the triumph of the song was all about the guitars. Because when was the last time the Grammys had a rock song with a little bit of shredding on the show? Nowadays it make take Carlile, slumming outside of Americana for a minute, to get that on the air.
The In Memoriam triad was especially well-done, with Kacey Musgraves playing Loretta Lynn's own guitar on "Coal Miner's Daughter," followed by a more explicitly eulogistic turn, Quavo saluting Takeoff (and, implicitly, the parade of the dead on the big screens above) with a freshly minted song that has already touched millions, "Without You." The most adventurous touch came in the closing song of the segment, Christine McVie's "Songbird," sung sweetly by Sheryl Crow and Bonnie Raitt but with an added percussion thump by Mick Fleetwood that complemented the innate loveliness with something that felt a little ominous, or at least sobering. It felt interesting and authentic enough to maybe not immediately send you to Twitter complaining about who got left out of the video montage.
Some of the performances felt quite ordinary, a casualty of the reigning sensibility that artists' biggest songs should be performed, even if they've done them to death elsewhere, For all the hellfire and brimstone and sturm und drang that was thrown at Sam Smith's and Kim Petras' performance of "Unholy," the setpiece never broke out of his satanic hokeyness — in stark contras to the startling costuming and production design that accompanied their performance just a few weeks ago on "SNL." Madonna's intro sure overpromised on a performance that underdelivered on actual shock value… although it was good to see that the specral figure from "The Ring" is still getting work and brought some clones along as fellow extras.
Likewise, when Harry Styles showed up to do "As It Was" for the umpteenth time, you saw a bunch of extras bouncing on and off a revolving platform in a fashion meant to evoke the song's music video — but there was never any fresh spin on the spinning.
But if the very title of Lizzo's "Special" makes a big promise, she's almost incapable of not meeting it with any performance, this one included — all that self-affirmation and mass positivity should be tiring, at this point, yet it remains strangely affecting, in a show-biz-meets-real-soul kinda way.
Agreement with host Trevor Noah, here, that Lizzo could merit best-speech honors — although there were so many infusions of real joy, not least of all from the aptly named Samara Joy, that this would be a contest. Maybe Lizzo and Samara need to settle for runner-up there to Bonnie Raitt, whose personal nick-of-time honors were three decades in the rear-view mirror before voters decided to make her a Grammy queen again with two awards (one of them on the pre-telecast). Who'd have guessed song of the year would go to a tune about an organ transplant that very few people under 65 heard last year? This was either (transplanted) heartwarming, or proof of the Grammys' irrelevance in current culture. Can it be both, some might ask?
As for who didn't perform… well, it is an issue. Any list of who could have provided the Grammys a truly galvanizing performance — who was actually nominated this year — would include Beyonce, Swift, Adele, Kendrick Lamar and Doja Cat, all of them sitting it out for whatever reason. (We can speculate: Beyonce and Swift probably don't want to steal their own thunder before unveiling summer tours that don't exactly need any extra sales effort.) Zach Bryan could have turned out a decent additional slice of audience, too, but relegating one of the year's biggest albums to a single minor genre nod probably didn't endear a guy who's proven to have a problem with these things. Kendrick? Who knows why he was one of the many artists to show up for his win but not go the extra performance mile.
The absence of any of the best new artist nominees also feels like an egregious oversight. Ever since the nominees in that category got bumped up from five to 10, the easiest solution for producerse has probably been a blanket ignore-'em-all policy, unless an instant juggernaut like Olivia Rodrigo is involved. That's understandable in keeping the show down to a three-and-a-half-hour timeslot — or three hours and 50 minutes, bu the time this one wrapped. But it still feels like a lost opportunity to give America a discovery moment that would be a lot more discussed than a semi-wan remake of the "As It Was" music video. Trust us, if Samara Joy had been given three or four minutes to make an impression on viewers, they would have been impressed.
But this year's Grammys did have Jay-Z for a five-minute (!) verse on a closing DJ Khaled song, weirdly pre-taped (presumably) and set at an enormous banquet table on the street outside Crypto.com Arena. This will, frankly, take repeat viewings and listens to even begin to parse. Was it amazing or meh? Could we even tell on a first take? But it was Jay-Z, putting his imprimatur on the Grammys as if it really were Music's Biggest Night, and as if to say, come on back, Drake, et al. — the water's fine. (Kanye, you can still stay home and water the Grammy in your toilet.)
As for the winners, the love was so spread out that it seemed… well, not so much that almost everyone involved got a participation trophy, but like the big categories might have been chosen by lottery, or by picking numbered balls in one of those spinning-bowl devices. If you agree with Styles' acceptance speech, that there is no such thing as a "best" anythung in music, then there is an upside to there not being any sweeps at this year's awards. It can be seen as reflecting the actual dispersal of excellence in music, instead of falling into the fannish idea that every prom must have its king and queen.
Anyway, Beyoncé saved the day with her record-shattering wins, for the world's headline writers, at least. Otherwise, in lieu of a sweep or a single monumental performance outside of that hip-hop medley, the headlines would have had to focus on a different Bey angle: why she still hasn't won album or record of the year, ever, amid those 32 wins. Mulling over that enduring puzzler, versus the pleasures of seeing Salt N Pepa, Public Enemy and friends in the flesh, together, in an all-timer of a set— maybe the glass is still more than half-full. Sins of omission and all.


Post source: variety