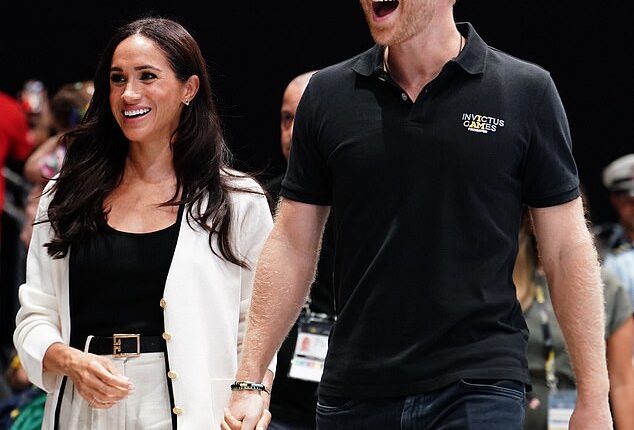 As the Duchess of Sussex joined Prince Harry at the Merkur Spiel-Arena on her first full day in Dusseldorf for the Invictus Games, she may have given a little nod to her late mother-in-law with her chic outfit choice.
Meghan, 42, was pictured hand-in-hand with Harry as she arrived at the wheelchair basketball with her husband this morning – and she lit up the arena in a white jacket with black bordering and gold buttons, paired with white linen shorts and Chanel pumps.
Her glamorous monochrome outfit was reminiscent of a similar style sported by Princess Diana in 1995, when she donned an ivory and navy suit by Tomasz Starzewski for a VJ Day Parade in London.
In photos from the day, the late royal dons a jacket with similar dark bordering detail and gold buttons, paired with a white skirt. She accessorised with a Philip Somerville hat and wore a string of pearls.
While Meghan has opted for looser tailoring in today's outfit, she may well have taken inspiration from her late mother-in-law's world renowned eye for sharp dressing.
The Duchess of Sussex oozed glamour in a white jacket, a black top and white linen shorts as she arrived at the Merkur Spiel-Arena for the wheelchair basketball events at the Invictus Games today
The Duchess layered her designer jacket with a black top, shorts from Staud and flat pumps from Chanel as she arrived to a thumping round of applause from the crowd.
Responding to the warm welcome, she beamed with delight, waved to the audience and punched her hands on the air, hugging supporters of the Australian team seated in her row. 
Harry, who has been happily posing for dozens of selfies with fans, took a back seat today as most people in the crowd wanted to be photographed with Meghan.
Following her impromptu speech at a party for 1,600 people where she apologised for her late arrival at the competition, a buzz of excitement had gone round the games that she would be making her debut appearance.
Meghan's outfit choice today is reminiscent of Princess Diana's white suit from Tomasz Starzewski which she wore to a VJ Day Parade in London in 1995
Today's outfit choice from the Duchess isn't the first time she has appeared to have taken style inspiration from Diana.
While attending the Remembrance Day ceremony at the Cenotaph in London in 2019, the Duchess's outfit bore a striking resemblance to Diana's outfit to attend the same event in 1991. 
Meghan let her statement headgear do the talking on the day, only adorning her outfit with a single poppy to show her respects to the fallen.
Both the hat and the coat were reminiscent of those worn by Princess Diana to the same event 18 years prior. The Princess was 30 years old at the time.
It is not known who designed Diana's outfit, but the coat featured a similar oversized belt buckle and the shape of the hat bears more than a passing resemblance. 
Speaking to FEMAIL at the time, stylist Susie Hasler, who runs , said it was a 'great' way for the Duchess to keep Diana's memory alive.
She said: 'Diana influenced a generation of women with her personal style, even down to her wedding dress.
'She remains one of the most influential style icons and it's great to see Meghan keeping her memory alive with a near identical look.
'As always, Meghan is great at enhancing her hourglass figure with a waist cinching belt, and this is a brilliantly conservative, yet impactful look as always.'


Post source: Daily mail