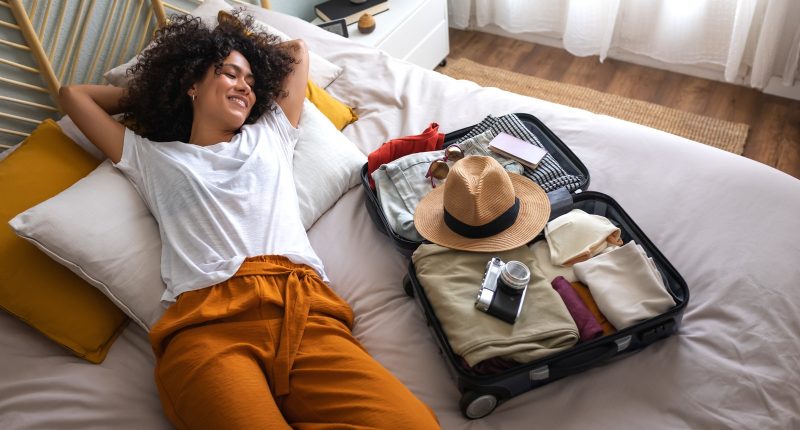 Daniel Hoz/Shutterstock
If you've been in an airport lately, you've likely heard the same announcement repeatedly echoing through the terminals. Regardless of which airline, there seem to be more pre-flight announcements warning passengers that the flight is full, and there might not be enough room in the overhead bins for everyone's carry-ons. Unfortunately, Travel + Leisure reports that this is quite common as airlines try to add more seats to existing planes. But it's especially distressing if you've got a suitcase bulging at the seams, stuffed full of perfectly curated looks for each day of your trip.
Luckily, creating a travel capsule wardrobe can help alleviate this stress by simplifying — and reducing — what you actually pack. When done well, you can mix and match to your heart's content and have oodles of looks to choose from, depending on your mood and the weather. Generally, a capsule wardrobe is a strategic, minimalist approach to creating a wardrobe. With some essential advice and the right accessories, you can pack efficiently for most trips while reducing the overall volume of what goes into your suitcase. So, suddenly, you can bring just one moderately-sized carry-on and lessen the worry that your suitcase might end up in a mandatory bag check situation.
And if you think a capsule wardrobe must be bland, no worries. There are various ways to incorporate splashes of color, pops of pattern, and fabulous prints along the way. With just a little planning and strategy, you'll build the perfect capsule wardrobe and travel the globe in style.
A capsule often relies on a neutral color sheme
A quick glance at this travel capsule inspiration from Instagram influencer @sanjapandurov shows most of the essentials for strategic packing. In addition, you can see that the color palette allows the pieces to be mixed and matched for various looks. If you're the kind of traveler that values spontaneity in your wardrobe, using this blueprint will help. Although most of the clothing is in the cream family, there's enough pale pink, blue, and low-key prints to switch it up for fun styling.
Versatility is goal #1 for a travel capsule wardrobe
When you understand the assignment like the creator of this capsule, @trendytouristuk, you can achieve two outfits with just seven pieces. This combination uses olive green as the foundation and complements that with neutral accessories. The magic, however, comes from two key elements. First, the accessories create distinct casual and evening looks. And, then, there's that little pop of excitement with the zebra print shoes. They're still neutral in color scheme, but the pattern adds a bit of pizazz. Plus, we love that you can add a blazer or jacket for a third look.
Get the most from your maxi shirt dress
A maxi dress is also an easy way to add variety to your travel wardrobe. Wear it loose or cinched at the waist, and accessorize strategically for day and night looks. But remember that you can also unbutton it and wear it as a duster over a skirt, romper, or shorts. Then, in terms of packing, you could use it as your comfy airplane outfit, saving space in your carry-on since the ample fabric would take up more room than other pieces.
Plan ahead for the weather
Don't underestimate the power of an oatmeal-hued sweater. This cute look by @loganandfinley shows how to accessorize with a neutral pullover, but there's more than meets the eye. Depending on where you're traveling, there will be fluctuations in the weather — that might be the difference between day and night, along the ocean versus inland, or toggling between the sun and shade. So, be prepared and tuck some lightweight outerwear in cream or beige into your tote. It'll go with any outfit, so you can use it each day of your trip.
Sprinkle in a pop of color
One of the best features of a travel wardrobe and its consolidated color palette is that you can easily add a pop of whimsy. For example, this cute look posted by @dammit_im_trying is built on a foundation of blue-centric pieces but adds a bright cartoon graphic tee. The T-shirt itself folds neatly into a small square or can be easily rolled and tucked inside a shoe within your suitcase, meaning it adds ample oomph without taking up much packing space. And, of course, the jeans and cardigan are staple pieces at the ready.
Include a black tee with superpowers
A black tee is great for travel capsule packing since it pairs with endless wardrobe pieces. But a tip from professional traveler Alice Ford, who posts on Instagram as @alicesadventuresonearth, can help you level up even further. Rather than a cotton tee, opt for the merino wool tee she wore. It can be styled in all the usual ways — as a summer staple piece or upscale casual — but the lightweight fabric is very breathable and odor resistant. Plus, it can be hand washed and dries very quickly.
Sometimes travel is messy
If you find yourself in a travel scenario where you'll be adventuring or exploring damp or muddy areas, plan to bring a pair of cute waterproof boots. This holds true for regions prone to heavy rain as well. Of course, you'll need your footwear to be functional, but it's also helpful if the style is versatile. A pair of cute wellie-style boots are neutral enough to incorporate into different looks, but when push comes to shove, they will get the job done. Just remember to wear them to the airport to save space in your suitcase.
A colorful capsule? Yes, please!
Although most travel capsule wardrobes are built around neutrals, you can absolutely create a colorful collection. Instagram influencer @thebrightblooms is known for using great colors, and her bright linen travel look is perfection. The wide-leg pants are in an essential terracotta shade of brown, but then she layers vibrant emerald green and blue hues and finishes the look with purple sneakers. If you add a pair of jeans and two more tops, you're ready for a long weekend. And kudos for the fabric choice since linen is comfortable and dries quickly.
Essentials + a bold pattern = travel capsule perfection
Here's what we love most about this travel look. First, it features black pants in a leather texture — a brilliant way to elevate a basic black travel pant. But then the look gives a one-two punch of color and pattern with a red blazer and patterned top. Capsule basics are represented — easy-to-match colors and essential wardrobe pieces — but they also have personality. Again, this patterned tee is a strategic way to add a little vibrance without crowding your suitcase. And this Terez shirt is actually mesh, so it's thin and easy to pack.
One dress for endless travel scenarios
Frequent travelers should always have one go-to dress for unique scenarios. For example, visiting famous religious landmarks like those in Italy or Israel requires modest clothing covering shoulders and knees. But respecting cultural traditions is easy if you pack strategically. Blue Gray Gal suggests always packing a wrinkle-free dress, but bonus points if it's versatile enough to be appropriate in any setting. Plus, if you add a subtle tie-dye or lowkey flower print, that one dress is also perfect for tropical getaways.
Post source: The List