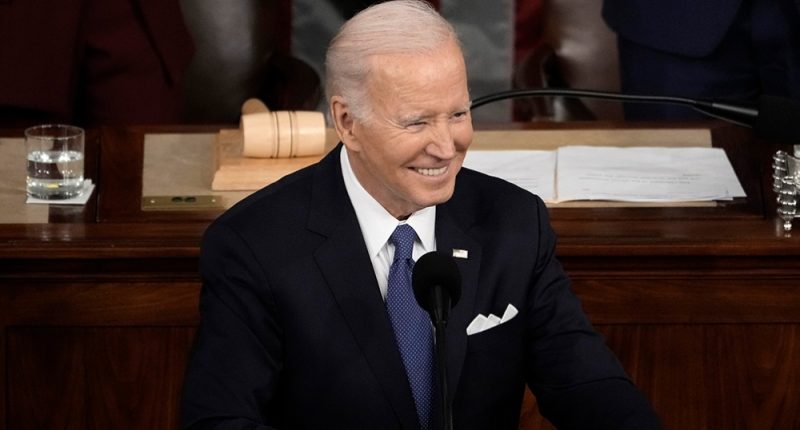 President Biden jousted with House Republicans and challenged them to work with him on a bipartisan "unity" agenda in his State of the Union address on Tuesday night.
The president pitched a handful of small-bore policy initiatives — like combating credit card fees and capping concert ticket surcharges — and engaged in a back-and-forth with Republicans over social safety net programs.
"Some of my Republican friends want to take the economy hostage unless I agree to their economic plans," Biden said. "All of you at home should know what their plans are."
When the president said that some Republicans want to slash Social Security and Medicare, the Republican side of the aisle erupted in boos. Biden engaged in a back-and-forth, as some members could be heard shouting "liar."
"If anyone tries to cut Social Security — which apparently no one is going to do," Biden said, departing from his prepared remarks. "And if anyone tries to cut Medicare, I will stop them."
The speech took on a raucous atmosphere at times, as Republicans expressed their disagreement by shaking their heads or shouting objections.
They laughed when Biden said he had encouraged investment in oil production because would be needed for at least another decade. They also objected loudly when Biden blamed Trump for dramatically increasing the national debt.
The president highlighted the legislative achievements of his first two years in office, including the infrastructure bill, efforts to combat climate change, lowering the cost of some prescription drugs, and a bill to boost domestic production of semiconductor chips.
And he offered a handful of proposals for the coming year, including efforts to beef up antitrust powers and to go after tech platforms.
Biden also sought to capitalize on outrage against Ticketmaster, highlighting a proposal to cap "junk fees" on tickets to entertainment venues and "resort fees" on hotel rooms.
"The idea that cable internet and cellphone companies can charge you $200 or more if you decide to switch to another provider — give me a break," Biden said. "We can stop service fees on tickets to concerts and sporting events and make companies disclose all fees upfront."
He also highlighted efforts to eliminate non-compete clauses, which employers use to keep their workforce from leaving to rival firms.
Biden began his speech by congratulating the new Republican speaker, Kevin McCarthy. But in his speech he also warned of the consequences of a showdown over the debt ceiling, and challenged the Republican Congress to be candid about its budget agenda.
Biden also urged Congress to pass a police reform bill, introducing the parents of Tyre Nichols, the man who was killed last month by Memphis police officers.
"What happened to Tyre in Memphis happens too often," he said. "We have to do better."
He took note of the recent mass shooting at a dance studio in Monterey Park, Calif., and urged a ban on assault weapons. He also called out Paul Pelosi, the husband of former Speaker Nancy Pelosi, who was attacked with a hammer in their San Francisco home. He linked the assault to the attack on the Capitol on Jan. 6, and said it was a symptom of a broader attack on democracy.
"We must all speak out," he said. "There is no place for political violence in America."


Post source: variety