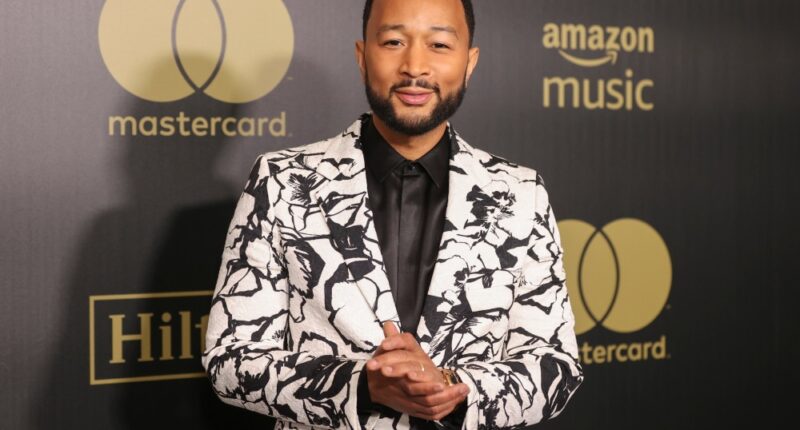 John Legend, Mike Jackson, Ty Stiklorius and Get Lifted founders are to be honored at the Greenwich International Film Festival's Changemaker Gala on Nov. 9 at the L'Escale in Greenwich, Conn.
GIFF's Changemaker Award honors those who have used their platform and the power of film to create social change.
"John, Mike and Ty have launched a company aimed at elevating underrepresented voices through film, theater, publishing and television. The content they are producing will create a greater understanding between people of different backgrounds, beliefs and cultures, which is exactly what the Greenwich International Film Festival is all about," said Wendy Stapleton, GIFF founder and chairwoman.
"We are honored to be accepting this year's Changemaker Award from our friends at the Greenwich International Film Festival," said Get Lifted executives. "From the beginning, Get Lifted Film Co. has worked to make a difference in the culture, not only in what you see on screen and stage, hear in music and read in books, but also in everyday life for the community."
The event will benefit Hill-Freedman World Academy's school record label, Hill-Freedman Records. The Philadelphia public high school serves over 95% Black and Brown students with a variety of backgrounds and facilitates a space to foster student creativity and lift its talented students' voices.
AFI Awards Event Sets January Dat
The AFI Awards honorees-only event has been set for Jan. 5 at the Four Seasons Hotel Los Angeles.
The AFI Awards is the only national program that honors creative teams as a whole, both in front of and behind the camera. Submission deadlines will be announced in the coming weeks, with honorees announced in December.
The AFI Awards selections are made by a jury of AFI Trustees, artists, critics and scholars, who choose a selection of American films and television shows to be honored each year. "When placed in a historical context, these stories provide a complex and rich visual record of our modern world," the American Film Institute explained in a statement.
'Unicorn Boy,' 'Where the Road Leads' Among Mammoth Lakes Film Fest Winners
Matt Kiel's "Unicorn Boy" and Nina Ognjanović's "Where the Road Leads" were among the winners at this year's ninth annual Mammoth Lakes Film Festival. The full winners list was announced Tuesday following the Closing Night Award Ceremony on Sunday. This year, the festival screened over 100 feature and short films and awarded over $45,000 worth of prizes to winners.
"Unicorn Boy" was named Best Narrative Feature while "Where the Road Leads" earned the Best International Narrative Feature award from both the festival jury and audience.
Best Documentary Feature went to Luke Lorentzen's "A Still Small Voice" and the Best International Documentary Feature was given to Nisha Kumari Pahuja's "To Kill A Tiger." The Bravery Award for documentary features was given to Tim Grant & Andy McMillan's "Mississippi River Styx."
"We consciously seek out the kind of bold filmmaking that deserves a showcase," said Paul Sbrizzi, MLFF's director of programming. "We program entertaining and culturally impactful work that represents the voices of the future."
The 10th annual MLFF is set to take place next year from May 22 to May 26.
Annual Thirst Gala to Honor Monique Coleman With the Cameron Boyce Pioneering Spirit Award
Monique Coleman will receive the Cameron Boyce Pioneering Spirit Award at the 14th annual Thirst Gala this June. The "High School Musical" actor will be recognized for her contributions to Thirst Project as a long-time ambassador where she led campaigns and produced her TV series "Gimme Mo'."
Nicky Mathers, Rob Chislett and Cody Wood of the Wish You Were Here Group will be honored for their dedication to Thirst Project, having raised over $200,000 over the course of their partnership to help end the global water crisis.The event will also feature presentations and performances with Emily Tostsa, Maya & Victor Boyce, Missi Pyle and others.
"We are so excited to be hosting our 14th Annual Thirst Gala at a new venue for the first time in nearly a decade. We are grateful to be able to bring together some of our favorite supporters and raise more awareness & funds to end the global water crisis," said Seth Maxwell, founder and CEO of Thirst Project.
"As our team embarks on an exciting new chapter here at Thirst Project – we can't wait to celebrate the incredible impact all of us are making in ending the world water crisis."
The annual fundraising event will take place at the Paramount Pictures Studio Lot on June 10.


Post source: variety