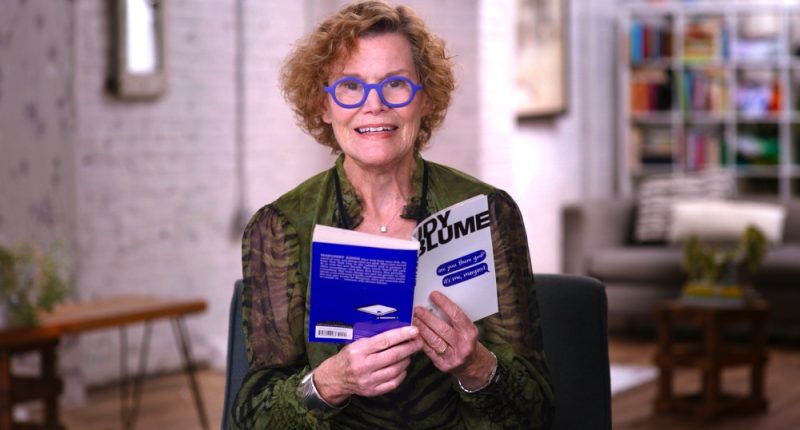 There's much talk in popular culture these days of "feeling seen": finding our inner lives and specific identities reflected in art created by strangers who nonetheless, it seems, know us all too well. It's a disorienting kind of thrill — a recognition that our private selves, so precious and particular to us, are also keyed into universal truths — and for many young readers in the last 50-odd years, it has first come to them via a Judy Blume book. In "Judy Blume Forever," a lively, affectionate documentary tribute by filmmakers Davina Pardo and Leah Wolchok, nostalgia for that sense of formative discovery is balanced by a present-tense exploration of Blume's enduring popularity, resonance and controversy, assisted by the game storytelling presence of the author herself, sparky as ever in her mid-eighties.
For any viewers who have either forgotten their relationship to Blume's books or missed the boat in the first place, the doc's mixture of interviews past and present, gushing talking-head tributes (from younger YA authors and publishers, as well as celebrity admirers like Lena Dunham, Molly Ringwald and Samantha Bee) and brightly visualized readings make for a persuasive reminder. "Judy Blume Forever" will launch on Amazon Prime Video in the spring — neat timing, with Kelly Fremon Craig's much-anticipated adaptation of Blume's most celebrated novel, "Are You There, God? It's Me, Margaret," hitting theaters in April.
"She knows what kids are and she knows what adults are," says a teenage fan in 1970s archival footage midway through the film, from a snaking bookshop queue of kids eager to meet Blume at the zenith of her career. It sounds like something that should be true of all great children's authors, yet it encapsulates the trailblazing, still-rare appeal of her work, which presents adolescent social and sexual insecurities with both uncanny recall of a child's in-the-moment perspective, and the reassuring wisdom of a grown-up who's been through it all.
Amid the sexual revolution and women's liberation movements of the 1970s, Blume's plainspoken stories of young people discovering sex, questioning religion and asserting their individual personalities tied into a wider progressive shift in adult sensibilities too, without talking down to their demographic: "Come for the female masturbation, stay for the empowerment," quips one interviewee, summarizing Blume's command of the intimate and the political in a nutshell.
Anyone imagining Blume as a righteous, bra-burning feminist of the era may be surprised, however, by the doc's rather touching portrait of a young woman caught between demure domesticity and itching rebellion, her calling to write driven by the more repressed aspects of her straitlaced upbringing in postwar suburban New Jersey. Talking us through her own life with droll wit and a hint of wistfulness, Blume describes how her love of books was instilled in her by her prim, undemonstrative mother, a woman who "worried about everything except what I was reading." Discouraged by her mother from talking about feelings or private matters — even after the untimely death of her father — the bright young woman's knowledge of sex emerged from hushed discussions with friends. Studies at NYU were swiftly followed by marriage to her first husband (like her mother, not a person given to emotional transparency) and the birth of her two children.
As a comfortable 1960s housewife, Blume felt restless, destined for something more, with her early attempts at children's writing treated as little more than a hobby by her husband. Publication of some minor works emboldened her to write "Margaret," the radically mature exploration of a teen girl's psyche that put her on the map; following it up immediately with a similarly frank but male-focused counterpart, "Then Again, Maybe I Won't," Blume found her gifts unlocked, given purpose. Psychedelically styled animated interludes over narrated passages from her books reflect the sense of revelation they brought to writer and readers alike. With her career in full swing, Blume left her husband in 1975 — coincidentally or not, the year she published "Forever…," her landmark novel charting the agony, ecstasy and eventual end of a teenage sexual relationship — and resolved to live life on her own terms.
If "Judy Blume Forever" partly functions as a study of one woman belatedly finding herself through the liberties of storytelling, it's given a more universally stirring dimension by its additional emphasis on Blume's work as a correspondent to legions of fans — many of whom felt sufficiently understood by her books to write her profoundly intimate, confessional letters about their own problems in response. Some of these children became long-term penpals of the author: Pardo and Wolchok include two of them, Lorrie Kim and Karen Chilstrom, in their roster of interviewees, and their testimonials on Blume's increasingly direct influence on their lives are the film's most moving and unexpected. As a woman driven in childhood to suicidal thoughts by a relative's sexual abuse, Chilstrom in particular regards the author as a literal life-saver: Their relationship could be the focus of a documentary on its own.
Indeed, Blume's life, career and legacy proves more than abundant material for this nimbly paced 98-minute doc, which also races through the author's impetuous second marriage and enduring third, her warm but complex relationships with her children, her bestselling but less celebrated works of adult fiction, and most compellingly, her run-ins with the conservative moral guardians of Reagan's America in the 1980s, who unsurprisingly added Blume's works to lists of books withdrawn from school libraries and the like. If the subject still makes this mild-mannered woman visibly angry, it's because she sees the fight as far from over, with banned-books discourse resurgent in the red states. What, she wonders, are adults so afraid of? Celebrating youthful experimentation and midlife renewal alike, "Judy Blume Forever" strips its subject's work of any dated aura of danger, inviting everyone to the party.


Post source: variety