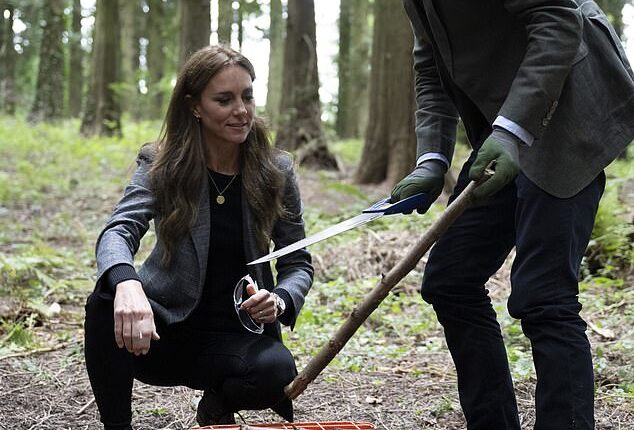 The Princess of Wales revealed her trampolining injury is still causing her a little trouble as she joined Prince William at a primary school in Hereford today.
Kate, 41, and Prince William, also 41, made the perfect team as they appeared to match their tailored grey jackers for the occasion.
The mother-of-three donned a £375 grey blazer from Maje, which she paired with  black trousers and practical black walking boots. Meanwhile she swept her long brunette locks into her usual signature bouncy blow dry style, and opted for neutral makeup for the outing.  
The royal couple are visiting Madley Primary School's Forest School, where outdoor learning is prioritised within the day-to-day curriculum to enhance children's physical and mental wellbeing.
However the Princess was unable to take in the full experience of how the school's outdoor lessons function due to her taped-up fingers, which she revealed earlier this week had been caused by an injury she sustained from jumping on the trampoline with her three children. 
The Prince and Princess of Wales learnt about the outdoor classes offered by Madley Primary School to its students today as they visited Hereford
Princess Kate, who injured her hand while jumping on the trampoline with her children and now has two taped-up fingers, joked that she wasn't able to fully join in with William's log-cutting activity
The Princess of Wales showcased her elegant style once again today as she joined Prince at a primary school in Hereford
The mother-of-three donned a £375 grey blazer from Maje, which she paired with black trousers and practical black walking boots
During their visit William donned safety glasses and gloves to saw through a log – but his wife, who was holding the log steady – had to politely decline the offer of gloves for herself, motioning to her right hand still bandaged from a trampolining injury.
'I can't even put that on because I've got two fingers stuck together!' she said.
The heir to the throne also tried his hand at whittling, taking tips from Jake, 10, on how to use the knife. Admiring a stick Jake had worked on, he said: 'Is this yours? It's brilliant.'
He also prompted giggles when he knocked a stick off a den made by the children, before hastily placing it back on.
The prince and princess – wearing boots, jeans and a £374 blazer by Maje – joined children and staff at Madley Primary School's Forest School, where outdoor learning is prioritised to boost children's physical and mental wellbeing.
Headteacher Lee Batstone explained that children burn the names of reception children onto the sticks back at school and they use them as part of their registration process each day.
New starters and their parents also receive wooden heart-shaped discs with the school motto 'Be the best you can be', which are placed in their hands and kept throughout their time at the school.
The royal couple also joined pupils under a canopy made from a parachute where they were making apple, cinnamon and sugar skewers to toast on a fire.
'It's like a healthy marshmallow,' said Kate. 'It always tastes so much better whenever you cook something on the fire.
'I've seen 1000 marshmallows around the fire but I've never seen a sugar-dipped apple. I'm going to try this with my kids.'
'It smells delicious,' added William.
She was told children learn how to start and maintain the fire from Year 6.
'These are really good skills to learn, to be able to keep warm, to feed yourselves,' said the Princess.
'Is it nice learning here? It's so peaceful, isn't it? I could stay here all afternoon.'
All pupils attend the outdoor school at least once a week and learn national curriculum subjects along with awareness of the environment, conservation and woodland management.
The sessions include time in a mindfulness circle where the canopy overhead forms the shape of a heart and hide and seek during playtime.
The school, which has five fully trained forest school leaders, is partnered with the Duchy of Cornwall, which provided it with the woodland site at Brampton Hill Wood 12 years ago.
It is the brainchild of headmaster Gareth Batstone and Geraint Richards, Duchy Head Forester.
Children learn about building things from natural materials and how to use knives and equipment safely and correctly.
Prince William inherited the Duchy of Cornwall when he became Duke of Cornwall on the death of Queen Elizabeth II.
Valued at more than £1 billion, the estate covers 23 counties in England and Wales, including large holdings in Herefordshire.
William and Kate were also given several books for their children to share.
The royal couple were gifted books for their children, George, Charlotte and Louis by the school, and also helped pupils prepare for a campfire
Sam and Emily founded We Are Farming Minds, a charity working to support the mental health of farmers in rural communities throughout the county
The Waleses talk with We Are Farming Minds charity founders Sam (2L) and Emily Stables (C), along with Alfie, during a visit to Kings Pitt Farm
The Prince seemed particularly taken by one called The Last Tree, by Luke Adam Hawker.
Others included The Circles All Around Us, by Brad Montague and Kindness Grows by Britta Teckentrup.
'Thank you, they love reading,' said Kate. 'Actually, it's a great way to stay learning about the environment.'
Told the children were all in Year 6, she added: 'George is in the same year as you guys, he's year 6.'
The children, who had only been told about the royal visit 90 minutes earlier, then showed the couple around.
William and Kate spoke to the school's eco reps, who wear a green polo shirt instead of their usual uniform.
They told the couple about the wildlife living there, including deer and badgers, spotted at night on a badger cam.
Told they also did litter-picking activities, the Princess replied: 'We do a lot of that at home.'
William and Kate were impressed by various shelters built from branches, mud and tarpaulin and Kate climbed inside one to have a closer look.
'Well done you, it's fantastic,' she told Harry and Ollie, both 10, and Ethan, 11.
Headteacher Lee pointed out another that was built by a former pupil who was brought up in care and who struggled to manage his emotions before attending the forest school, telling the couple that the had been able to open up about his mental health issues while in the woodland.
The Duchy of Cornwall is thought to view Madley School Forest School as a blueprint for others to potentially be created on Duchy land in future and as they left, William told the group: 'We need more schools like this.'
'How good would it be for more schools to have access to places like this?'
Speaking afterwards, headteacher Lee said the visit had been 'really positive,' adding: 'I think through the children, they got a real understanding and a real sense of how this works, connects together. Hpefully the next stage is to open this up to lots of children and schools using other sites so that all children can experience this.'
Year 6 teacher Louise Lacey said of the royal visit: 'This has given the children memories that will last a lifetime.'
Meanwhile she swept her long brunette locks into her usual signature bouncy blow dry style, and opted for neutral makeup for the outing
Today's outing comes after veterans 'caught up in the royal crossfire' claimed Prince Harry's deep rift with his family is casting a shadow over the Invictus Games, which the Duke and Duchess of Sussex are supporting in Germany this week.
At Madley Primary School, each child attends the Forest School at least once a week where they learn both national curriculum subjects outdoors, in a woodland environment, but also learn about environmental awareness, conservation and woodland management. 
The Duchy of Cornwall and Madley Primary School have been partners of the Forest School initiative for the last 12 years as the Duchy supplied Madley Primary School with a woodland site at Brampton Hill Wood in order to enable the Forest School to take place in Hereford. 
Over the subsequent years, due the school's expansion, the woodland area that the Duchy provides has increased, along with the facilities available. 
Following this, the Prince and Princess will visit Kings Pitt Farm, where they will meet with Duchy of Cornwall farming tenants, Sam and Emily Stables. 
Following struggles with their own mental wellbeing and seeing the stigma around mental health in the farming industry, Sam and Emily founded We Are Farming Minds, a charity working to support the mental health of farmers in rural communities throughout the county. 
It offers Herefordshire farmers fully funded access to a range of services including counselling, a 24-hour phone and text support line, free mental health awareness workshops and social events throughout the year to break feelings of isolation. 
The Duchy of Cornwall is working closely with We are Farming Minds to enhance its new Mental Health Strategy which provides ongoing mental health support to all its tenants, with a specific focus on tenants in rural and more isolated communities. 
Kate and William's outing comes while Harry and Meghan continue to enjoy the Invictus Games, which was launched by the Duke of Sussex in 2014.
But the Prince and Princess of Wales were central to its initial success; the couple's now-defunct foundation, which they formed with the duke, hoovered up sponsors and spent huge sums of cash to get Invictus up and running.
Nine years ago Harry, his father and brother stood united as they attended the opening ceremony and multiple events at the games in London – but the new King and his heir have had zero involvement since Harry met Meghan.
Despite Harry's passion for Invictus, which is growing in size, officials say there have been plenty of spare seats at the Merkur Spiel-Arena in Dusseldorf. Some believe the involvement of King Charles, William and Kate would change that.
The Waleses have both been at the Rugby World Cup in France in the past week while Charles and Queen Camilla and other senior royals have been at the Highland Games. 
One Team GB insider told The Daily Telegraph: 'The athletes find it bizarre but don't want to get caught up in the royal crossfire.'
William, Charles and Harry attend the first Invictus Games in London in 2014
Invictus has grown in size each year but veterans feel the absence of other royals
The Duke and Duchess of Sussex cheer on the US basketball team at the Games yesterday
The Duchess of Sussex hands out medals to the winning USA wheelchair basketball team
This year's games in Germany are the biggest ever, involving 22 nations and 500-plus athletes. Harry has been there from start to finish, joining the applause, dancing in the crowd and joking about going out on the beers at the end of the day.
He was in high spirits in the days before Meghan arrived, high-fiving children and singing Sweet Caroline. 
But there has been no word from his family in the UK. 
Double amputee Ben McBean, who was on the same return flight from Afghanistan as Harry in 2008 and is credited with inspiring the duke to launch Invictus, said he understood both sides of the 'rift' between the brothers. But he added that they should have put their differences aside.
He told The Daily Telegraph: 'They should have just given the lads a shout-out. It's like when we went to Afghanistan, no one supported the war but they supported the troops. It's the same thing'.
Palace sources reportedly say that Royal Family members never involve themselves in others' professional endeavours, and they would not expect the duke to voice support for William's Earthshot Prize, for example.
One critic of Harry said: 'Harry has never supported any of [the] latest [of] William's projects, not Earthshot when he is president of African Parks and an advocate for climate change… but they insist William must support Invictus. I'm so tired of this nonsense.'
Earlier this month King Charles attended the Highland Games, an event which was a firm favourite of his late mother, Queen Elizabeth II, with Camilla.
They were joined by Anne, Princess Royal, and her husband Sir Timothy Laurence at the Games which have been a part of Scotland's culture for hundreds of years.
Critics argue the Royal Family's 'ill-will' towards Harry should not be held against the disabled veterans who are competing.
The Prince and Princess of Wales were integral in the early stages of the Invictus Games.
The Royal Foundation, which was shared by Prince Harry at the time, invested significant amounts of money in the event. 
Meanwhile, William continued with his charity work yesterday in London, visiting a building site to discuss the mental health of construction workers.
His sister-in-law Kate has also been carrying out royal visits this week, going to HMP High Down in Surrey on Tuesday to learn more about the work of an addiction charity.
King Charles III visited Tomintoul in the Cairngorms where he was welcomed by primary school children and community stalwarts. 
An anonymous UK media strategist said: 'It's ironic Buckingham Palace has had more to say about the Highland Games than the Invictus Games, despite the honorary military roles they hold.
'In doing so, the palace ends up looking mean-spirited and petty. The ill will against Harry should not be held against the Invictus competitors.' 
The Invictus Games is one of the projects that Prince Harry has continued since his departure from the Royal Family. 
He was given a hero's welcome in Germany by those attending the latest iteration of the competition he founded for wounded and disabled military veterans.
Harry arrived trailed by dozens of schoolchildren who had been given time off from studies to attend. He has said he plans to attend as many events as he can during the week-long competition. 
On Tuesday, Meghan joined him at the games and the pair were seen smiling and rejoicing as they watched the events. 
The Duchess was seen sporting a stars and stripes badge as she cheered her home country on in the wheelchair basketball game between USA and France yesterday. 


Post source: Daily mail