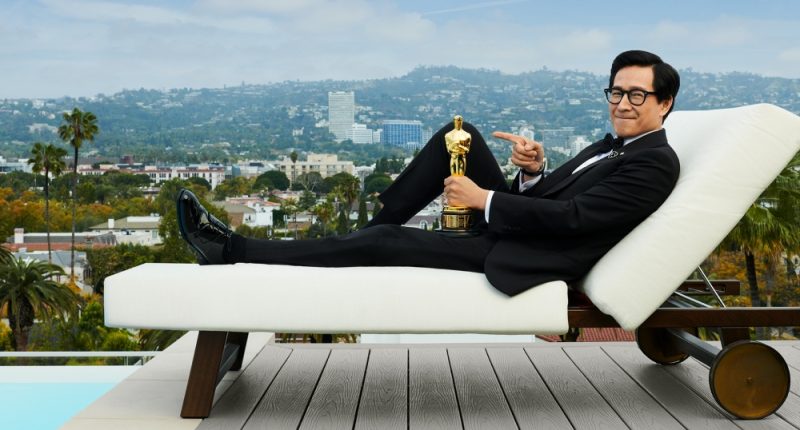 Ke Huy Quan was on a mission. He'd just been named best supporting actor for his performance as Waymond Wang, the goofy husband of a laundromat owner in "Everything Everywhere All at Once," and he wanted to experience the moment with Steven Spielberg. Spielberg, you see, was the filmmaker who cast him in his breakout role in 1984's "Indiana Jones and the Temple of Doom" when Quan was 12 years old.
So during a commercial break in the Academy Awards telecast, Quan, 51, went over to where Spielberg was sitting with his wife, actress Kate Capshaw, whom Quan hadn't seen since they co-starred in "Temple of Doom" four decades earlier. After hugs all around, Spielberg put his hands on Quan's shoulders and said, "You are now an Oscar-winning actor."
The depth of this statement was not lost on any of them, since Quan's Oscar win capped off one of the most improbable comeback stories in Hollywood history. For decades, he had been relegated to the edges of the movie business, left without a career — and health insurance.
But we're getting ahead of ourselves.
It's been less than 24 hours since Quan bounded up the stairs of the Dolby Theatre stage and told the story of being an immigrant from Vietnam — the seventh of nine children — who had, after much hard work, achieved the "American dream." And this morning, despite a marathon night of celebrating, his joyful energy is infectious.
Still, there is an underlying hesitation in Quan's voice. He's worried he'll wake up from this dream to find his resurrection has vaporized. "I had a conversation with my agent," he says. "I'm so worried that this is only a one-time thing."
Like many immigrants, Quan's parents wanted him to be a doctor or a lawyer — anything that would provide economic stability. Instead, fate interceded when his younger brother attended an open casting call to play Short Round, Indiana Jones' sidekick. But there was something about Quan, at 12, that made the casting people think they'd found the perfect foil for cinema's most famous archaeologist, and Quan, not his brother, landed the role. The next summer, he followed it up by playing Data, one of the misfits who hunt for treasure in Richard Donner's "The Goonies."
Then it was over. For 30 years, Quan suffered through countless failed auditions. He later attended USC film school and took odd jobs working as the fight choreographer on "X-Men" and developing projects for director Wong Kar Wai at his production company, Jet Tone Films. That's where he met his wife, Echo, whom he regards as the unsung hero of his recent success. Every month for the past 20 years, Echo has told her husband, "Trust me, your time will come."
"At times, I was frustrated with her," Quan says, tearing up as he remembers their conversations. "I told her, 'You keep saying that, and it's never going to happen.' I didn't believe it. Twenty years isn't a short time."
There are never guarantees in Hollywood. But Quan is making the most of his turn as an awards-season darling. Three completed projects sit on the runway: two television series, "American Born Chinese" and the MCU's second season of "Loki" for Disney+, as well as the upcoming sci-fi film "The Electric State," with Millie Bobby Brown and Chris Pratt. As of today, there are no other offers on the table.
But this morning is meant for celebration. Quan plans to visit his mother in L.A. to show her his statuette. Before he does, he sits down to discuss the journey that brought him to the Oscars.
---
How are you feeling?
I'm still processing it. I didn't have much sleep last night — I think it was only an hour. When I woke up, I took a minute or two wondering whether this was a dream. But I've been doing that a lot lately, because so many things have happened this past year and it feels surreal.
When you accepted your Oscar, you spoke about being a refugee and living in a camp. How did you end up in America?
I was just a normal kid in Vietnam in 1978, and all of a sudden my parents decided to flee the country. I didn't understand what was happening. All I knew was I was separated from my mom, from my little brother and a couple of my sisters. It was in the middle of the night when my dad, five of my siblings and I escaped in a boat. We got to Hong Kong, and I was in a refugee camp surrounded by guards and police officers for an entire year until we were granted political asylum. Then I got on a plane and landed for the first time in Los Angeles. This was in 1979.
I didn't have the maturity to process the sacrifices that my parents made so that we could have a better future. And as fate would have it, four years later, I landed a job on "Indiana Jones," which changed my life. I always wanted to thank my parents for what they did, but I grew up in a family where we just don't share that kind of emotion with each other. And then last night I did that publicly. I wanted the world to know how much my parents meant to me. Also, our movie, "Everything Everywhere All at Once," is about this immigrant family. That's why the story resonated with me so much.
Not only did you win, but Jamie Lee Curtis won best supporting actress, and Michelle Yeoh made history by becoming the first Asian actress to win a leading actress Oscar.
Right before it happened, I looked over at Michelle, and I knew she was very nervous. And we held each other's hands: Jamie was closer to her, so Michelle held Jamie's hand, Jamie held my hand, and I held Stephanie Hsu's hand. We were just hoping and praying that her name would be called. And then history was made.
Does it make you hopeful for the future in terms of Asian representation?
Forget about 30, 40 years ago — even 10 years ago. Look where we are now: The landscape looks so different. We have a seat at the table. Our voices are being heard. Our faces are being seen, and it feels amazing.
There was a mini-"Indiana Jones" reunion onstage last night. Harrison Ford was the person who opened the envelope and announced that "Everything Everywhere All at Once" won best picture. What was that like?
When he opened that envelope and read the title, it made our win for best picture even more special. And when I ran up onstage, I pointed at him and he pointed back at me and I gave him a hug. I just couldn't help myself. I just want to shower this man with all my love. I gave Harrison Ford a big kiss on the cheek.
What was your first day like on a movie set?
I'd hear Steven giving me directions, and every time I would do something that he liked, he would give me a high-five.
Do you remember watching "Temple of Doom" for the first time?
We saw it at Mann's Chinese Theatre. That was the first time that I saw myself up on the big screen. Watching the movie with the audience and hearing them laugh and applaud, it was such a great feeling. I wanted to repeat it again and again and again.
You made two movies with Steven Spielberg back to back — " Temple of Doom" and " The Goonies." Did you think you were going to reprise your role in "The Last Crusade"?
I was secretly hoping. But honestly, Steven has given me so much — not one movie, but two movies. And they were the first ones to put an Asian face in a big Hollywood movie.
After those movies, you struggled to find roles. What happened?
I was taught never to blame anybody. If something doesn't go the way you want, it's either because you didn't work hard enough, you weren't good enough or you didn't try hard enough. So when I couldn't get a job, I blamed myself: I thought I wasn't tall enough, I wasn't good-looking enough, or I wasn't a good enough actor because I wasn't classically trained. I never blamed anybody — even to this day.
We talk about Asian representation, but I don't like to look at the past and say, "Oh, my God, how bad it was!" I'd rather focus on the present and moving forward. A lot has changed.
What's your relationship like with your parents?
My dad passed away in 2001, but I had a great relationship with both my parents. I was a little kid and I had all these amazing opportunities with "Indiana Jones" and "Goonies"; I could see the joy and pride my parents felt. And then, as those opportunities dried up, I could see them wanting something different for me, because they could sense that I wasn't happy. My mom is a very superstitious person, so she would tell me to go see fortunetellers. They were Buddhist, so I would see my mom praying to Buddha to give me a career. That's why it was so painful for me — because there was nothing I could do to make someone put me in a movie or create a big role for me. And that's one of the things that I hated about our business.
This marks a huge comeback for you, but you have no projects lined up. Do you worry that, despite the success of "Everything Everywhere All at Once," you may not get cast again?
I attended an event recently and sat next to Cate Blanchett. I told her that I don't know what I'm going to do next, but I feel I have a responsibility to do something good, and that I don't want to disappoint all the people that have supported me. And she said, "Just go with your heart and be irresponsible: Don't worry about what other people think. Choose something that you believe in, choose something that you love, and things will work out."
---
Location: Mandarin Oriental Residences, Beverly Hills; Grooming: Anissa Salazar; Chloe Takayanagi/The Wall Group; Made to Measure Giorgio Armani; Brooch: Fred Leighton; Cufflinks: David Yurman; Watch: Omega; Glasses: Oliver Peoples


Post source: variety