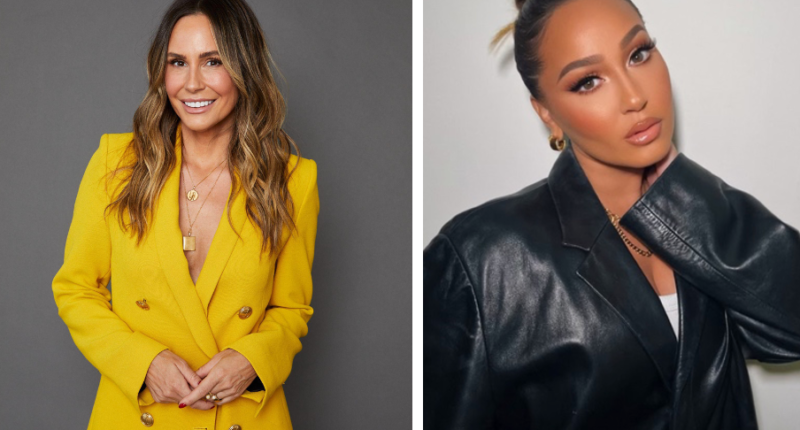 Keltie Knight and Adrienne Bailon-Houghton of E! News will host the 72nd Miss USA Pageant, which airs live Friday, Sept. 29 at 8 p.m. ET on the CW. Radio personality Ellen K will be the announcer for the pageant. The companion pageant Miss Teen USA will stream on The CW app and cwtv.com starting Sept. 28 at 7 p.m. ET.
Knight currently serves as chief correspondent for E! News and has been featured on "Entertainment Tonight," "The Thanksgiving Day Parade on CBS" and "The Grammys Red Carpet Live." Bailon-Houghton is a host on E! News and is also a pop singer and Grammy-nominated producer, among other ventures. She co-hosted the talk show "The Real" and appeared in "The Cheetah Girls" film.
The judges for the pageant will be Nicole Miller, a fashion designer and businesswoman; Emily Shah, a producer and entrepreneur; Mindy Mahy, founder of Kopu Water; Shree Saini (Miss World America and a speaker and business owner); and Ruth Zakarian. Self defense instructor Nia Sanchez Booko, who was Miss USA 2014, will serve as commentator for the pageant in addition to Chris Persky and current Miss Teen USA Faron Medhi.
The events will be held at the Grand Sierra Resort in Reno, Nevada. The 72nd Miss USA Pageant is executive produced by Renato Basile of RB Entertainment Inc.
In other TV roundup news:
TRAILERS
NBC's "Quantum Leap" returns with a trailer for Season 2, featuring stars Raymond Lee and Caitlin Bassett.
The Season 2 trailer teases a trip through 1961 Egypt, the 1992 Los Angeles uprising in Koreatown, a UFO investigation in 1949 New Mexico, Salem witch trials in 1692 and other places across the world (and through time). Along with Lee and Bassett, the series also stars Ernie Hudson, Mason Alexander Park, Nanrisa Lee and new additions Eliza Taylor and Peter Gadiot.
"Quantum Leap" is executive produced by Martin Gero, Dean Georgaris, Deborah Pratt, Chris Grismer, Alex Berger, Steven Lilien and Bryan Wynbrand. The series returns Oct. 4 at 8 p.m. ET on NBC.
Watch the trailer below.
*
Amazon Prime Video's "Harlan Coben's Shelter" has unveiled a preview of its season finale. The eight-part series premiered on Aug. 18.
"Shelter" is based on Coben's young adult novel about Mickey Bolitar, the nephew of one of Coben's previous book characters, Myron Bolitar. Jaden Michael ("Colin in Black and White") stars as Mickey alongside Constance Zimmer ("Unreal"), Sage Linder ("The Next Step"), Adrian Greensmith ("Metal Lords") and Abby Corrigan ("Castle Rock").
Watch the season finale preview below.
FIRST LOOKS
Apple TV+ has shared a first look at the upcoming third season of its espionage drama "Slow Horses." The new season, directed by Saul Metzstein, will have six episodes, with the first two premiering on Dec. 1. The following episodes will come out weekly every Friday through Dec. 29.
"Slow Horses" follows a dysfunctional team of British intelligence agents demoted to serve in a department of MI5 known as Slough House due to their career ending mistakes. Gary Oldman stars as Jackson Lamb, the bright yet misanthropic leader of the spies. The gang will face new challenges in Season 3 when a romantic liaison in Istanbul threatens to expose a MI5 secret in London. After being dragged into the fight, the misfit spies find themselves caught in a conspiracy that threatens the future not just of Slough House but of MI5 itself.
The third season is based on the novel "Real Tigers," the third installment in Mick Herron's spy series "Slough House."
Joining the cast is Ṣọpẹ Dìrísù as Sean Donovan, the former head of security at the British embassy in Istanbul, and Katherine Waterston as Alison Dunn, an MI5 agent who uncovers a dark secret within the agency.
Kristin Scott Thomas, Jack Lowden, Saskia Reeves, Rosalind Eleazar, Christopher Chung, Freddie Fox, Chris Reilly, Samuel West, Sophie Okonedo, Aimee-Ffion Edwards, Kadiff Kirwan and Jonathan Pryce will also reprise their roles in Season 3.
DATES
Season 10 of "Penn and Teller: Fool Us," the CW's magic competition series, will premiere on Friday, Oct. 27 at 8 p.m. ET. Author and actress Brooke Burke will serve as new host of the show. Burke has previously been featured on "Dancing with the Stars" and "Melissa and Joey."
The one-hour competition series stars the magician team Penn and Teller, who invite aspiring magicians to try and fool them. Penn and Teller see each trick only once and must then decipher how it works. Those who can successfully fool the duo will be invited to perform with Penn and Teller in their show at the Rio Hotel and Casino in Las Vegas.
The series is created and executive produced by Penn Jillette, Teller, Peter Adam Golden, Andrew Golder and Lincoln Hiatt, in association with 1/17 Productions and September Films.
*
Ready for fall football? Former NFL star Donovan McNabb is set to host OutKick's upcoming video podcast "The 5 Spot with Donovan McNabb," which will launch Sept. 19.
"The 5 Spot with Donovan McNabb" features McNabb as he breaks down the latest news and coverage around the league. McNabb was a starting quarterback in the NFL for 13 seasons and is primarily known for his time with the Philadelphia Eagles, where he led the team to one Super Bowl victory.
"Donovan McNabb is an NFL legend who I always enjoyed watching, except when he played against the Titans," said OutKick founder Clay Travis. "I'm ecstatic to have him as a teammate now and he will be a great addition to OutKick, where we are continuing to build a unique home for the most insightful personalities in sports media who are free to speak their minds."
New episodes will drop each Tuesday and Friday throughout the season. 
"I've always been a fan of OutKick and I'm excited to take the next step in my career off the field hosting 'The 5 Spot,'" said McNabb. "I look forward to providing my analysis of games every week and interviewing former players and coaches. I can't wait to get started."
PROGRAMMING
Australian comedy "Colin From Accounts" is coming to Paramount+ this November.
Per the show's logline, "'Colin From Accounts' is centered on Ashley (Harriet Dyer) and Gordon (Patrick Brammall), two single(ish), complex humans who are brought together by a nipple flash, a car accident and an injured dog. The series is about flawed, funny people choosing each other and being brave enough to show their true selves, scars and all, as they navigate life together." Alongside Dyer and Brammall stars Emma Harvie as Megan, Helen Thomson as Lynelle, Genevieve Hegney as Chiara, Michael Logo as Brett and Tai Hara as James.
The series is executive produced by Brammall, Dyer, Alison Hurbert-Burns, Brian Walsh, Trent O'Donnell, Rob Gibson and Ian Collie. The first two episodes of "Colin From Accounts" premieres Nov. 9 on Paramount+.
Post source: variety