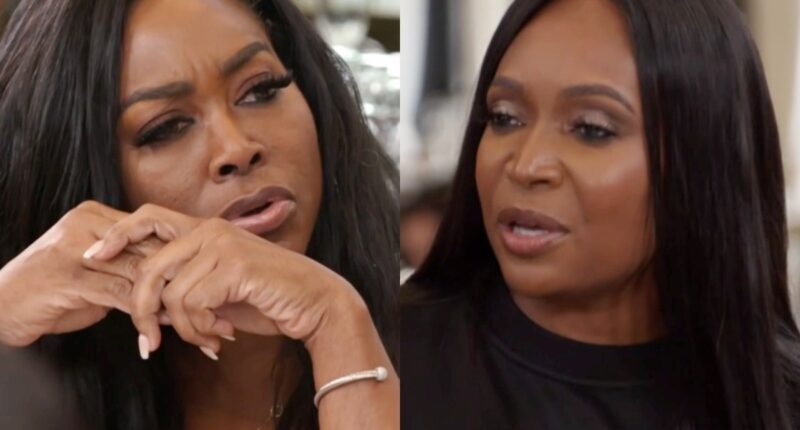 This week's episode of The Real Housewives of Atlanta is titled "The Buck Stops in Birmingham." We will learn how to buck and how not to be bucked off this cast trip. Hold on, and let's watch!
Kenya is getting Monyetta to help choreograph her dance number for the Magic City Classic Football HBCU game. She hopes to improve her dance skills after her disastrous attempt at dancing at BravoCon. Kenya is looking forward to incorporating a marching band to advertise her hair business. She does not want a redo titled "Rookie at the Apollo." Kenya is afraid the other ladies are going to embarrass her. She is not telling the girls about her halftime show so she can surprise them.
Monyetta shares that she got to dance with Prince during her career, and I am VERY impressed with that! Roi calls during their practice and Kenya is just giddy talking with him — but she now just calls him a friend. Kenya is still trying to divorce Marc, but she will not let this handsome man disappear.
Sanya calls her brother-in-law Tyrell, who is her assistant, and there is a struggle with their unusual dynamic. She is a news correspondent for sports and has been getting a lot of opportunities thrown her way. Sanya shares that Ross wants to have their house to themselves. Mama Sharon and sister Shari think that Sanya is self-centered with this decision since they help so much with her career and care for her son, Deuce. Sanya tells them she is not trying to hurt their feelings, but I do not know how that cannot hurt.
Marlo is taking William and Michael to do her annual Halloween shoot. They are getting their makeup done. Marlo wants to get her record expunged so she can get a gun to protect herself after an attempted break-in. UGH, whose idea is it to keep bringing Courtney around? She has the most annoying voice, and her only connection to the cast is Ralph, who will most likely be gone after this season.
Marlo shares the story of when her nephew was shot by his roommate. She thinks that Kandi has never acknowledged it after he used to work at her restaurant. Marlo thinks Kandi is selfish, and she throws out Marlo's past after being called out for not caring. She wants Courtney's help so she can help get her rights restored.
Sheree is visiting her gynecologist about her fibroid tumors. She has pain from them and excessive bleeding. Sheree must protect her lady parts because Martell has been inserting his big d*ck energy. Sheree is concerned about removing the uterus since she cannot have sex for six weeks or work out. Side note: Sheree needs to care for herself and not worry about how it will affect Martell and his sex drive.
Sanya is having a photoshoot, and sister Shari is allegedly sick, so she is on her own and it shows. She mentions that her brother-in-law Tyrell has quit working for her. Sanya thinks that this situation has put a strain on her relationship with her sister. She is clueless thinking that they would be okay with how she treats them.
The ladies are taking a cast trip to Birmingham. We have a time counter on the bus, and I can already predict who will be late. Kandi cannot come since she has another commitment and she is receiving an award. Drew is home with the flu, so she cannot attend the trip. Marlo finally arrives, and you can see for yourself where the drama is going to come from this episode. Kenya tells the ladies they are first going to a dance class. She tells them they will attend a charity event later in the evening. Kenya and Marlo are both hacking into this bus. Side note: Nothing is worse than being trapped on a bus/train/plane with someone hacking their pathogens into the air while I am trying to breathe.
Sanya then asks the other ladies about eating booty. Kenya admits to having eaten booty before. Miss USA was EATING a*s? I swear these all-cast trips give us a lot of information and mostly things I cannot unsee. The ladies are learning a dance called Bucking. Kenya shares that she and Monyetta are judging a buck off for the best dancer. Marlo calls Monyetta Kenya's emotional support person. Kenya says the winner is Sheree for the buck off, and she will get a bigger room at the hotel. Kenya realizes that Courtney's ex, Bryce, was in a movie with her. She would not answer the producer when they asked if she dated him in the past.
We arrive at the hotel, and Kenya and Marlo are already getting started. Kenya is already calling Marlo a clown. Marlo is complaining because she got a baby-sized bottle of champagne in her room. She is not cheering for Team Twirl. Marlo must request that the concierge bring her some booze and snacks. Sheree is annoyed that, for all her bucking, she did not receive a suite.
Kenya has brought Brooklyn with her nanny to care for her. She shows some mommy realness when Brooklyn does not want Kenya to leave. Monyetta gets the stink eye from Kenya when she comes downstairs in her sparkled booty shorts set. Kenya insists that this will be an elegant affair since it is a charity event. Monyetta offers to change clothes, but Kenya will not wait for her. She will need to catch up with them along with Sanya and Marlo.
Monyetta changes her dress to something more appropriate. Kenya keeps reminding them that this is a classy upscale event. The number of times she says that makes me see the writing on the wall. The ladies arrive, and this is not what Kenya described. Sheree thinks the van dropped them at the wrong location. Sanya and Marlo arrive, and they are disappointed that this is not the Met Gala. Marlo thinks Kenya is a low-rent Carrie Bradshaw. Production lets Kenya know that the event organizers do not want them there anymore since they are a distraction. Kenya sees to it that production gets kicked out and not her. They head back to the hotel and call it a night — at least Kenya does.
Marlo and the other ladies head to Kenya's room, where Marlo proclaims that summer is over and winter is coming. She starts pounding and kicking Kenya's door. Kenya starts screaming that her baby is in the room and to stop being so disrespectful. She calls Marlo a psycho f*cking a*shole and she is going to call the police. We then get a to-be-continued for this non-eventful episode…
Next week, Kenya calls an ambulance since she seems to be ill. She wants the ladies who are not her core group of friends to hit the road. Happy Memorial Day, Blurbers. and thank you for hanging in there with me on this snooze fest called RHOA.
 TELL US — THOUGHTS ON THIS RHOA EPISODE?
Post source: RB