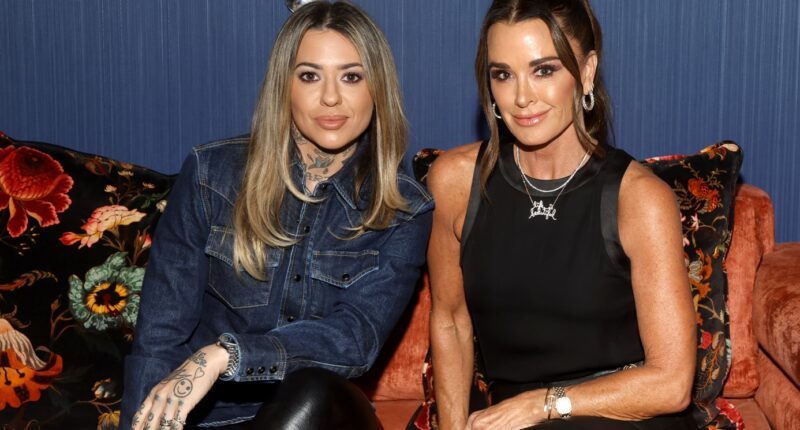 Kyle Richards and Morgan Wade were reportedly caught enjoying a "very intimate" coffee date with one another on Tuesday morning in Paris, France, where the 28-year-old country singer has a show on Wednesday.
As the Real Housewives of Beverly Hills star, 54, reportedly remains estranged from husband Mauricio Umansky, 53, the rumored couple was spotted at a "low-key" café in Paris' Saint-Germain-des-Prés on Tuesday, just under two weeks after Kyle addressed her alleged separation from Mauricio.
"You know, this has been very hard to do playing out with so many people having eyes on us and being in the public eye," she admitted on Amazon Live. "Obviously we care about each other a lot. You saw [us] on vacation and that's what I'm gonna share."
Although Kyle and Mauricio certainly looked like one big, happy family as they vacationed with their three daughters, including Alexia Umansky, 27, Sophia Umansky, 23, and Portia Umansky, 15, and Kyle's oldest child, Farrah Aldjufrie, 34, a source claims Kyle looked quite cozy with Morgan in Paris this week.
"[They] walked up alone [and] sat at a proper table inside, close together," eyewitness Chelsea Gérard told Page Six on September 12.
After sitting in chairs next to each other at a four-top table, Kyle and Morgan were said to be "constantly leaning in toward one another, even when not speaking," and engaging in a lot of "playful touching."
According to the insider, there was a "je ne sais quoi [elusive quality] to their comfortable intimacy."
As noted by Face Reality 16 on Instagram, who also also spoke to the eyewitness, Kyle and Morgan's "body language" indicated they are "not just two friends," despite what the two of them have claimed.
"They sat and were very intimate … No one knows them here so they were clearly relaxed," the source shared.
The source went on to say that the café visited by Kyle and Morgan is "not the kind of spot you go to be seen."
As detailed by Page Six, Kyle wore workout clothes during the outing and Morgan wore a button-down with another shirt and a hat.
"They walked so close together it's actually awkward, they were like leaning in towards each other a lot. Body language wise they were not just two friends," the insider went on. "There was some playful touching."
Along with the eyewitness' account, Face Reality 16 shared a screenshot of Kyle on Amazon Live, where the RHOBH cast member teased a potential visit to Paris as Morgan's upcoming show was highlighted.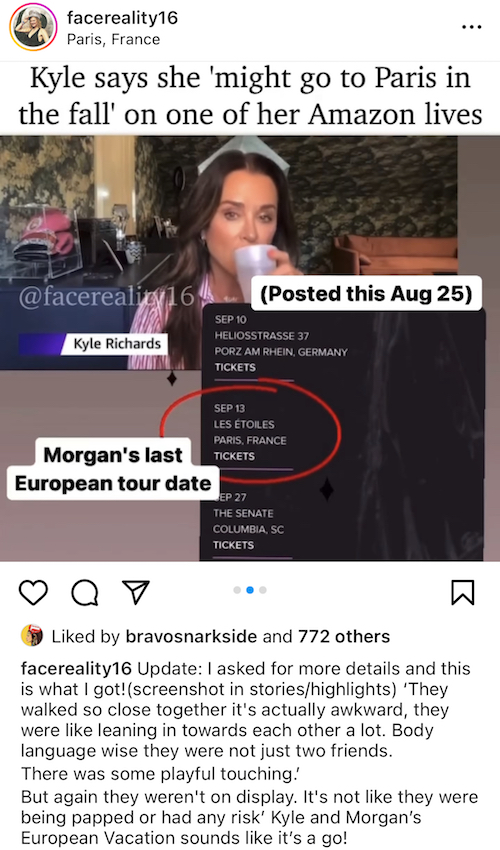 In another screenshot shared by the Instagram account, Kyle was seen wearing workout attire in a coffee shop, just as the insider described.
The Real Housewives of Beverly Hills season 13 is expected to premiere on Bravo sometime this fall.


Post source: RB