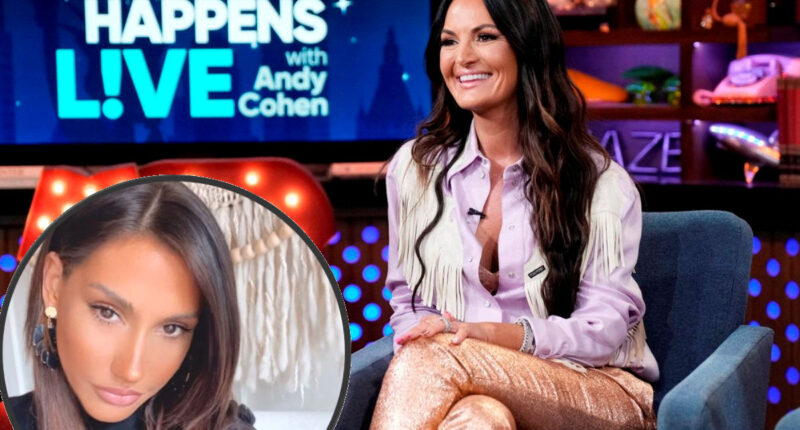 Lisa Barlow suggested newbie Monica Garcia "took a lot of notes" from Jen Shah, declared there's "more than one liar" in the season, shared friendship updates with Whitney Rose, Heather Gay, and Meredith Marks, and hinted at "what happens" on the Bermuda cast trip.
Following the last season of Real Housewives of Salt Lake City, Jen pleaded guilty to fraud, and she is currently in a Texas prison. Since news of her plea deal broke, many fans have questioned how the show will survive without her.
When asked how Jen's absence affected the current season, Lisa told ET, it "felt like the way it was supposed to be."
Lisa also suggested that viewers will "really experience" a "free" Heather, who didn't feel the need to "acquiesce to anybody" or be a "super loyal guard dog for Jen."
Addressing Monica's introduction to the cast, Lisa claimed she was "hoping" it would be a "positive experience," and that "Jen was not her muse."
She eventually shared her belief, however, that Monica "admired" Jen and "took a lot of notes from" her.
Responding to Monica's previous claim that Lisa pretends to have a perfect marriage, Lisa speculated that Monica is "triggered" by "her circumstances," and she has a "different circumstance than every single one of us."
The OG later expressed, "There's more than one liar. That's all I have to say about that … There will be no receipts to back up some of the stuff."
Regarding her friendship with Whitney – which was reportedly rocky this season – Lisa suggested they sometimes "disagree," though it's nothing so "big" that it "can't be worked out … I think just things needed to be talked through."
Teasing her relationship with Heather, Lisa hinted at "growth" which was "really nice," and she claimed they have "mutual respect."
Despite her positivity with Heather, Lisa doesn't "think it's possible" to have the relationship she once had with Meredith, her former best friend.
"Moving forward, it's a whole new friendship," Lisa explained. "I think there's new boundaries, new expectations, or no expectations."
She then denied that Meredith has secret information about Lisa's husband John, which is hinted at in the season four trailer.
Concerning the upcoming drama between Meredith and Angie Katsanevas, Lisa shared the backstory – that Angie previously declared she would "never be friends" with Meredith, which Meredith took "super seriously."
The Vida Tequila owner also indicated that Angie made the comment that "Meredith should work in a cubicle, and I just don't think they've moved on from that."
Lisa then hinted at a "meltdown" she experienced when "asked not to use my glam" on a trip, which she called "embarrassing."
At one point, Lisa seemingly addressed the shocking first scene of the season, when Heather took a mysterious phone call that she hoped to keep off-camera.
"What happens while we're gone [on the Bermuda trip], I don't think anyone could have expected it," said Lisa. "Like I was physically shaking. Heather was physically shaking. I mean, there was so many things happening that I don't think any of us expected, and when you think things are one way, [but] they're a completely different way, it threw all of us off … It's intense. Like very very intense."
The Real Housewives of Salt Lake City season four airs on Tuesdays at 9 p.m. EST on Bravo.


Post source: RB