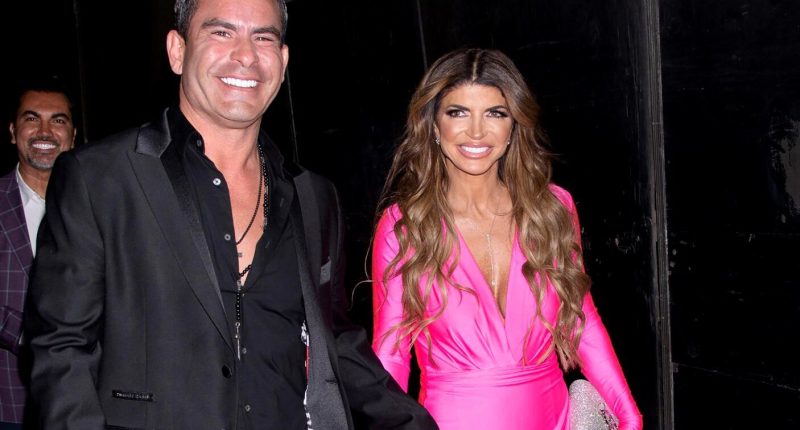 Teresa Giudice and Luis "Louie" Ruelas recently spilled new details on how the two met, why Luis thinks the women of The Real Housewives of New Jersey came after him so hard on season 13, and where the couple sees their fractured relationship with Melissa and Joe Gorga going.
Teresa and Luis stopped by The Sherri Shepherd show on Tuesday, May 23, to promote their Bravo wedding special, Teresa Getting Married, where Teresa revealed their meeting was simply an act of serendipity.
"I was just walking, and I didn't even want to go walking, I was hungover from the night before," Teresa said. "We're walking by, and he's leaving his Shore house … he had a white Range Rover with black rims and that was the car I had. I'm pointing at his car … I guess he thought I was waving, so then he started waving."
"We went up to him and I'm like, 'Hi, I'm Teresa,' and that was it. I don't even remember what we said."
Teresa explained that Louie ended up giving her his business card, and the two began texting from there. Although, she says she may have had a little divine intervention in the form of her late parents. The RHONJ star shared that three weeks prior to meeting Louie, she prayed and "spilled her guts" to her parents asking them to send her someone who was "everything they ever wanted" for her.
The couple also divulged that they are themselves the most away from the RHONJ cameras when things are "quiet," and Louie did not know what he was "getting into" after agreeing to appear on the show.
"It was a different world to walk into," Louie said.
As for why he thinks the cast of RHONJ was so hard on him this past season, Louis bluntly responded, "They're fighting for my wife's seat. They have to [come for me]. They're not going to go for her. They're going to come for me. I'm next in line," he continued. "A lot of it, I expected. I'm like, 'Damn, they really want your seat bad.'"
Teresa echoed her husband's sentiments, adding, "They can't come for me. So, of course, they go after my honey, and I'm like, 'You're not doing that.' I'm very protective of him."
Louie continued by adding that he's similarly protective of Teresa, especially after watching "the history of the show" and seeing certain "truths" come out, considering their explosive and ongoing feud with family members and co-stars Melissa and Joe.
Maintaining her stance that she had nothing to do with spreading or perpetuating the rumor that Melissa cheated on Joe, Teresa explained, "You'll see in the finale I had nothing to do with it. Louie told [Joe] privately. And [Melissa] said she knew about this six months ago, prior to us even starting to begin to film. So read between the lines. She knew all of this was going down. And then, like, why pin it on me? I had nothing to do with it. It's because I'm the easy target."
Teresa went on to say that Melissa should really be going after co-star Margaret Joseph's former friend Laura Jensen, who is alleged to be the source of the damaging rumor. But Teresa believes Melissa won't confront Laura because of the potential dirt she has on the RHONJ star.
"You should really be going after the person who really put it out there, but they're afraid of that person. Maybe they know more…" Teresa mused.
As for where Teresa, Louie, Melissa, and Joe go from here, Teresa says that she needs "time to heal."
"This has been going on for a long time. Like, I just need time to heal. I want to focus on [Louis and my's] family," Teresa concluded. "At this point in my life, that's what we need to do and forget about the nonsense."
Check out the full interview below to hear Teresa and Louie:
The Real Housewives of New Jersey has been put on "pause" for the time being as production tries to navigate filming around Teresa and Melissa's broken relationship ahead of season 14.
Post source: RB