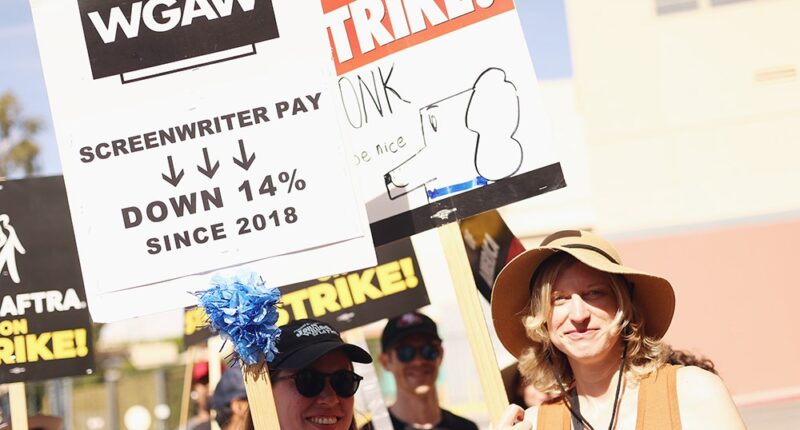 Shares of major media companies fluctuated on news that studios and streamers have reached a tentative agreement with the writers' union on a new contract, potentially ending a strike that started in May. There are also hopes that a possible deal with the Writers Guild of America could set the stage for a similar pact with actors, who have been on the picket lines since July. The dual strikes have brought production to a standstill and could mean that several high-profile movies and shows are delayed.
Warner Bros. Discovery saw its stock up nearly 2% in pre-market trading. However, it started Monday down roughly .70%, hovering around $11. The company has pushed back the opening release of major films including a sequel to "Dune" while it waited for a resolution. The Walt Disney Company's shares climbed more than .50% in pre-market trading, and were up more than .40% at roughly $81.50 in early trading. Netflix's shares improved roughly .90% in pre-market trading, while trading up .92% at over $383 during early trading.
Others getting an initial lift include Paramount Global. Its share price also climbed roughly 2% in pre-market trading, before trading up .25% at roughly $12.50. Comcast's shares were down in pre-market trading and were down .20% at over $45 a share after the market opened. The company owns NBCUniversal.
In a sign of how important a resolution was to these companies, several CEOs and top executives, including Universal's Donna Langley, Disney's Bob Iger, Netflix's Ted Sarandos and Warner Bros. Discovery's David Zaslav were in the room last week, negotiating with representatives from the union.
Apple and Amazon, both of which maintain their own streaming services and were involved in contract negotiations, aren't as reliant on their entertainment operations as the more pure-play media companies. Shares of Apple were down in pre-market trading and opened flat at roughly $175. Amazon shares improved more than .60% in pre-market trading and were up 1% in the morning at more than $130 a share.
Post source: variety