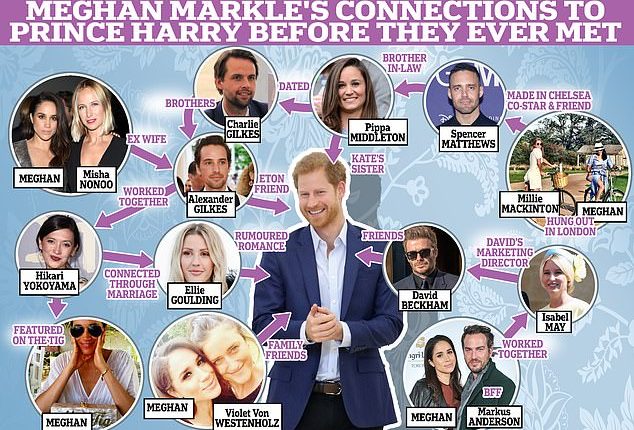 She famously claimed to have never looked up her husband Prince Harry online before their first date.
But back in 2016, Meghan Markle already had several connections to the UK's then most eligible bachelor. 
In the years preceding her relationship with Prince Harry, the mother-of-two, 41, appears to have befriended six key people with links to the Royal Family.
Along with one of Prince Harry's Eton peers and a close friend of Princess Eugenie's, the Duchess of Sussex also befriended a reality star with a connection to Pippa Middleton.
Here FEMAIL uncovers Meghan Markle's close British ties in the lead-up to the relationship that would dramatically alter the course of her life. 
From her Soho House director pal to a well-connected reality star friend, FEMAIL reveals Meghan Markle's connections to Prince Harry before their first date 
Meghan Markle appears to have befriended six key people with royal connections before she ever met Prince Harry in 2016. The couple pictured in December 2022
Alexander Gilkes and Misha Nonoo
Before she deleted all her blog The Tig and her social media pages in late 2017, Meghan Markle's friend Misha Nonoo made regular appearances on the Duchess' Instagram account.
In a previous interview with the Evening Standard, the fashion designer, 38, explained how she met the former Suits actress in 2014 while attending an Art Basel event in Miami.
She explained: 'We were seated next to one another at a lunch and we got along like a house on fire.'
Explaining how they 'really bonded' over their charity work, Misha added: 'We both love dogs too.'
Meghan's flourishing friendship not only gave her a leg-up in the fashion arena – but also provided her with an important royal connection too. 
At the time of Meghan and Misha's first meeting, the designer was still married to her ex-husband Alexander Gilkes – who attended Eton college at the same time as Prince Harry and Prince William. 
Misha Nonoo and her ex-husband Alexander Gilkes pictured at the 11th annual CFDA/Vogue Fashion Fund Awards in November 2014. The fashion designer met Meghan in May that year
Alexander (centre) pictured with Sarah Ferguson and Princess Eugenie at the Gavel&Grand Benefit Auction in New York in March 2014
What's more, Alexander – who is now engaged to tennis champ Maria Sharapova – has such close ties to the Royal Family that he was even invited to Prince William and Kate Middleton's wedding back in 2011.
In 2014, the Etonian founded his own auctioneer firm Paddle8 in New York – which employed Princess Eugenie for two years in 2013. 
The mother-of-two was Alexander's Benefit Auctions Manager and the two became so close that he even referred to her by the nickname 'Eug'.
During the Princess' time in New York, Alexander also attended the Gavel&Grand Benefit Auction with Eugenie and her mother Sarah Ferguson.
It is through Alexander's work that his ex-wife Misha is believed to have become close friends with Princess Eugenie.
After hitting it off with Meghan, Misha then reportedly introduced the actress to Eugenie. 
During her 2021 interview with Oprah, Meghan explained: 'Eugenie and I had known each other before I had known Harry, so that was comfortable.' 
Eugenie and Meghan first met at an event in Miami in May 2014. Fashion designer Misha Nonoo pictured in 2015 with Meghan
The Sussexes, Eugenie and Jack were all guests at Misha's lavish Rome wedding in the summer of 2019. Pictured, Misha and Eugenie in 2019
If their ties to Eugenie weren't already a significant enough royal connection, Alexander's younger brother Charlie also dated Pippa Middleton for a number of years. 
During their relationship, the younger Gilkes brother was invited on board the Middleton family's boat for the river pageant during the Queen's Diamond Jubilee celebrations in 2012.
Following their split, Charlie – who is the founder of Inception Group – then went on to marry publicist Anneke von Trotha Taylor.
The couple's 2014 wedding in Puglia was even attended by Meghan's future husband Prince Harry along with Pippa and Michael Middleton. 
Misha Nonoo's ex-husband's brother Charlie Gilkes once dated Pippa Middleton. The couple pictured in September 2008 
Charlie (centre) pictured with the Middleton family during the Queen's Diamond Jubilee River Pageant in June 2012
Prince Harry pictured attending the wedding of Charlie Gilkes and Anneke von Trotha Taylor in Italy in 2014
Hikari Yokoyama
In late 2014, Meghan Markle featured an interview with art curator and interiors expert Hikari Yokoyama on her now defunct blog The Tig.
In the gushing piece, the Duchess described Hikari as 'beautiful, fashionable and incredibly cultured'.
She then went on to highlight how Hikari had helped set up Paddle8 – the aforementioned auctioneer firm founded by Prince Harry's Eton peer Alexander Gilkes. 
In the blog post, Hikari shared her favourite New York and London hotspots – including The Wolseley restaurant in Green Park, Columbia Road Flower Market and Gaz's Rockin Blues nightclub.
Hikari Yokoyama pictured at London Fashion Week in 2017. The British Vogue contributing editor featured on The Tig in 2014 and previously worked for Alexander Gilkes
Left: Hikari Yokoyama and husband Jay Jopling in January 2018. Right: Ellie Goulding is married to Jay's nephew Caspar Jopling, pictured in August 2021
Since then, Hikari has been an appointed a contributing editor of British Vogue – and may have proven to be a useful contact when Meghan guest-edited the September issue in 2019.
As well as providing Meghan with a link to Prince Harry through Alexander, Hikari also has ties to Ellie Goulding – who the Duke of Sussex reportedly dated in the summer of 2016.
The Love Me Like You Do songstress, 36, is said to have been set up with her husband Caspar Jopling through Princess Eugenie – who previously worked with Hikari's husband Jay Jopling at Paddle8.
As such, Hikari and Jay were invited to Ellie and Caspar's September 2019 wedding in York. 
Sharing a photo of the couple on the steps of York Minister following their wedding ceremony, Hikari gushed: 'Love you Caspy and Ellie. 
Hikari pictured with Ellie Goulding in May 2022. In 2019, the British Vogue contributing editor posted pictures of Ellie and Casper at their wedding 
Prince Harry and Ellie Goulding were rumoured to have dated in 2016. The pair pictured at the Invictus Games Closing Ceremony in September 2014
'Love you even more together. Thank you for such a magical, generous weekend.' 
Most recently, the two women were pictured smiling together at The Eternity Charity Fundraiser in London in May 2022.
As well as her rumoured romance with Prince Harry, Ellie Goulding became friends with Prince William and Kate Middleton when they watched her performance at BBC Radio 1's Big Weekend in May 2010.
Millie Mackintosh
Millie Mackintosh and Meghan Markle pictured together at Soho Farmhouse in Oxfordshire in 2016
Left: Millie Mackintosh – who was said to be 'embarrassed' not to get an invite to the Royal Wedding – picture in February 2023. Right: Meghan pictured in December 2022
Her friendship with Millie Mackintosh may have fizzled out ahead of her wedding to Prince Harry in May 2018.
But when she first started putting down roots in the UK in 2016, the former Made in Chelsea star was said to be one of the Duchess' best friends. 
Miss Mackintosh is said to have met Meghan shortly before the actress began dating Harry in July 2016, having been introduced by a mutual friend. 
In September 2016, the duo took a trip to private members club Soho Farmhouse in Oxfordshire.
After riding around the grounds of the estate, Meghan and Millie both posted the same picture of them on their bikes.
Millie Mackintosh pictured with her Made in Chelsea co-star Spencer Matthews in September 2012
Pippa Middleton is married to Spencer's older brother James Matthews. The pair pictured at their wedding in May 2017
Meghan gushed: 'The best afternoon with Millie Mackintosh. So proud of you, darling.' 
Meanwhile, Millie captioned her post: 'Dream day @meghanmarkle.'
Meghan's friendship with the reality star provided her with another connection to Prince Harry – as Millie appeared on Made in Chelsea at the same time as Pippa Middleton's brother-in-law Spencer Matthews.
In February 2018, a royal insider told the Daily Mail that the reality star had been helping Meghan organise the wedding – and was even predicting she might be chosen as a bridesmaid. 
However, Millie has never spoken publicly about why her friendship with Meghan ended and the star was noticably absent from the Duke and Duchess of Sussex's wedding in May 2018.
A friend of Millie's told the Daily Mail's Richard Eden in 2018: 'It's very embarrassing. But she's putting a brave face on it.' 
Isabel May
Isabel May and Marks Anderson pictured at the wedding of Prince Harry and Meghan Markle in May 2018
Isabel previously held down two high-profile jobs for the Beckham family. David Beckham pictured with Prince Harry and Prince William in June 2010
After befriending Markus Anderson in 2012, the Soho House director is then said to have introduced the Duchess to PR guru Isabel May.
Isabel, who was studied history at Sussex University, joined London-based PR agency Freuds in 2001. Among her clients was Soho Hou se, which resulted in her close friendship to Markus Anderson. 
The former Burberry director of communications was at the fashion brand when they employed David and Victoria Beckham's sons Romeo and Brooklyn.
In 2018, she moved to the former England captain's company DB Ventures to become their Chief Marketing Officer. She has since moved on to become Charlotte Tilbury's Chief Communications Officer.
As a result of her close connection to the Beckhams, Isabel was rumoured to be the individual who set Meghan and Harry up on their first date in 2016.
At the couple's Windsor wedding in 2018, Isabel was seated in the second row on the bride's side – in front of Serena Williams, Oprah Winfrey and the Clooneys – perhaps signifying her closeness to Meghan.
Meghan Markle pictured with her friend Markus Anderson at the opening ceremony of the Invictus Games in 2017
Jennie Segal, Aliyya Stude and Isabel at the 'Party Girls Die in Pearls' book launch at Burberry Houston at The Galleria on May 15, 2017 in Houston, Texas
In 2019, Vanity Fair reported that Isable had been asked by the Duke and Duchess of Sussex to be Archie's godmother.
A source told the Mail On Sunday: 'Izzy is one of Meghan's dearest and closest friends and she values her friendship so very much. Izzy keeps their relationship really quiet and very much under the radar. 
'The time they spend together is private. She helped Meghan adjust to life in London when she moved here from Canada. Meghan relied on her a lot. They are just like any two young female friends. They totally support one another and enjoy lots of social activities together.' 
Violet von Westenholz
In the couple's Netflix docuseries, Meghan explained how she travelled around Europe in 2016 to have a 'single girl summer'.
Violet von Westenholz is the daughter of former Olympic skier Baron Piers von Westenholz, who is a close personal friend of King Charles and Jane von Westenholz, a long time friend of the Queen Consort
Violet von Westenholz pictured with Meghan Markle at Wimbledon in 2016 – around the time the Duchess of Sussex started dating Prince Harry
But just weeks before her first date with her future husband, the actress crossed paths with an individual with a very strong royal connection. 
Violet von Westenholz is the daughter of former Olympic skier Baron Piers von Westenholz, who is a close personal friend of King Charles. 
What's more, her mother Jane von Westenholz is a long time friend of the Queen Consort and was involved in the renovation of Dumfries House – a Scottish stately home saved by Charles in 2007.
In her role as press relations director for Ralph Lauren, she organised a publicity day for the brand at Wimbledon tennis tournament – which Meghan attended.
Meghan Markle pictured with Violet von Westenholz (centre right) at Wimbledon in June 2016
Following the event, the actress uploaded a photo on her Instagram with the PR director and other guests.   
Expressing her gratitude, Meghan captioned the post: "How much more could I adore this gem thank you Violet von Westenholz'.
Violet has been friends with Prince Harry since they were both teenagers, and regularly joined the royal family on skiing trips abroad.
Speaking to the Daily Telegraph in 2018, Violet refused to deny if she was responsible for introducing Meghan and Harry.
She said: 'I might leave that for other people to say [who it is].
'It's a great story and I am sure they are going to be very happy together. I am just happy they are really happy. They are great together.'


Post source: Daily mail