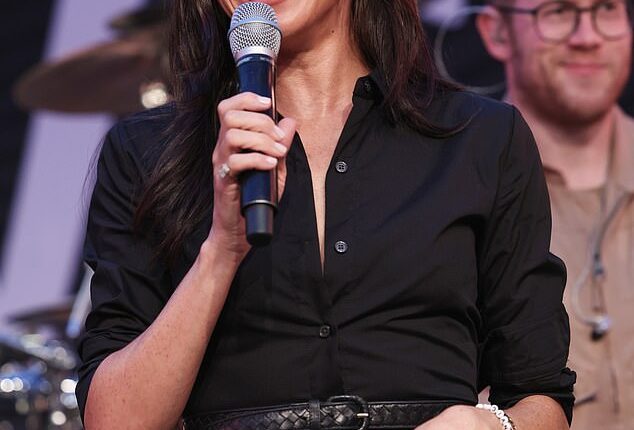 The Duchess of Sussex made a special mention about her children at the Invictus Games this evening. 
In her first speech at this year's tournament, Meghan, 42, saluted all those attending the event for wounded and disabled military veterans in Dusseldorf, before making a sweet remark about her children.   
The mother-of-two told the crowd: 'We can't wait to one day be able to bring our kids also, so they can experience just how amazing this is.' 
Before that, Meghan also shared the sweet reason as to why she missed the opening of the day's games. 
She told the audience that parental duties came in the way of her attendance as she had to spend time with her two young children in Los Angeles – buying them milkshakes and taking the eldest on the school run before leaving for Germany.
The Duchess of Sussex addressed the audience at the Invictus Games for the first time this evening, and made a special mention about her children
Meghan told the 1,600 guests: 'I had to spend a little more time getting our little ones settled at home.'
'Three milkshakes and a school drop off and I just landed a couple of hours ago and I am thrilled that the first event I can do for Invictus is here with all of you. 
'It is amazing and I hear it has got off to a good start so far.'
While it is the first time that Harry and Meghan have been seen together at the games, Harry took a back seat and allowed his wife to take the spotlight.
A source close to the couple said Meghan did not read from a prepared speech but spoke off the cuff.
Aides said Meghan, 42, did her own hair and make-up soon after arriving at her five star hotel in Dusseldorf and got ready for the event in just over an hour.
The event is being hosted by Dave Coker of the Fisher House Foundation, one of the main sponsors of the games.
While it is the first time that Harry and Meghan have been seen together at the games, Harry took a back seat and allowed his wife to take the spotlight 
The Duchess told the audience that she was late to the games as she was spending time with her children- Archie (bottom left) and Lillibet (top right)
Meghan took an evening flight from Los Angeles and after a brief stopover in Heathrow flew on to Dusseldorf.
She told the audience she had visited a Fisher House in Los Angeles a few weeks ago and was 'moved' by what she saw. The organisation helps veterans and their families and are one of the main sponsors of the Invictus Games.
She said:' They understand, as does my husband does in previous Invictus Games how much rehabilitation matters, not just a solitary experience but as a family.
'I am very proud of the Invictus family that are here. 'Like so many of you, you know this is about friends and family and the community of Invictus has created and Fisher house created.
Meghan said she had been sent some gifts and was wearing a bead bracelet she had received.
She held up her arm to loud cheers and said the initials of someone who was unable to make the game had been etched on them.
'So many people at home are rooting for you. Thank you, and look forward to a fantastic week. I can't wait until one day to bring our kids so they can experience how fantastic it is.'
Harry took over the microphone after his wife joked he was a 'man of few words tonight'.
In the speech Meghan told the 1,600 guests: 'It is so special to be here sorry I'm a little late to the party'
The Duchess of Sussex stunned in a black shirt dress with button detailing, a belt at the waist and a pleated skirt as she attended her first Invictus Games event in Dusseldorf this evening
The Duchess of Sussex looked radiant in a black shirt dress from Banana Republic as she joined Prince Harry at the Invictus Games in Dusseldorf this evening. 
Meghan, 42, stunned in the simple yet chic black frock with button detailing down the front and belted at the waist as she joined her husband on stage at an event on the second evening of the 2023 tournament.
She paired her dress with black pumps and wore her thick brunette locks down and brushed behind one shoulder. 
As she delivered a speech onstage just hours after landing in Dusseldorf, Meghan had Harry by her side, who looked equally smart in a black suit and dark blue shirt.
The pair looked relaxed as they attended the private Invictus event, which is hosting competitors and their family and friends, and is sponsored by Amazon. 
Meghan's evening glamour look follows her travel chic outfit earlier today as she flew from LAX to Dusseldorf, with a brief stopover at London Heathrow.
The Duchess joined her husband Prince Harry at a private evening event hosted for Invictus athletes and their families
Spotted boarding her first flight in LA, the Duchess looked effortlessly stylish in  her $770 ivory Valentino mules, black baggy three-quarter-length trousers, a V-necked long-sleeved top and oversized $500 Celine sunglasses on her head while carrying a trademark hat.
She was clutching a $2,650 Goyard tote bag while her solo bodyguard was lugging a rucksack and dark suit carrier that may have contained one of Meghan's dresses.
Known for her quiet-luxury outfits, often monochrome, dazzling red-carpet dresses and sharp suits, Meghan's wardrobe combines designer royalty from Valentino and Celine to Manolo Blahnik, Chanel and Cartier with some affordable finds from Self Portrait and Aritzia.
Many of her big style moments have been at the Invictus Games where she famously made her debut back in 2017 wearing 'The Husband' shirt by Misha Nonoo just months before the pair's royal engagement. 


Post source: Daily mail