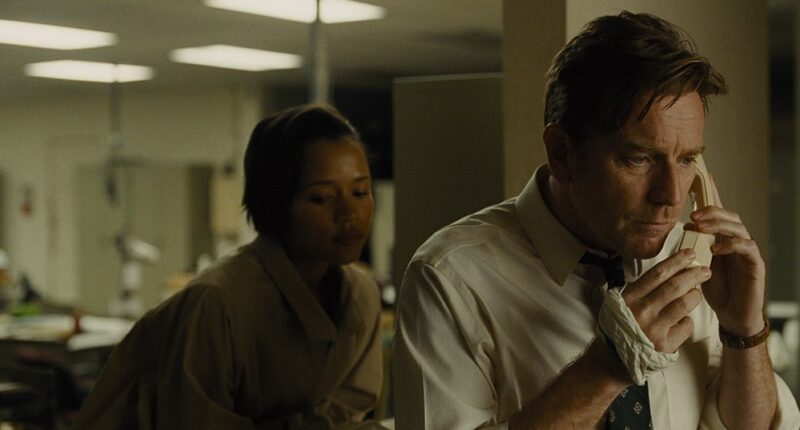 Furniture stores are strange places. The liminal feeling they give off is something like a life-size dollhouse or home you once lived in but can't remember when. If you've ever been into an Ikea, chances are you thought about what it'd be like to spend the night in one of the staged rooms that has a sink with no running water.
A friend told me once that when she was younger, her parents would take her and her older sister to Bob's Furniture for snacks and movies. While her parents would pretend to shop around for a pressboard dresser, she and her sister would raid the store's self-serve cafe for popcorn, ice cream, candy, cookies and then sit down in the store's small theater while something like "Finding Nemo" or "Shrek" played.
At its core, Swedish director 's debut feature "Mother, Couch," which premiered during the Toronto International Film Festival's opening weekend, is kind of like that. Add in Ewan McGregor, Ellen Burstyn and Taylor Russell and layer an air of magical realism over themes about motherhood and the growing up, and it's exactly like that.
"Mother, Couch" is set in a furniture store some place in America, where Mother (Burstyn) is looking for a new couch. When she finds one she likes, she refuses to get up, forcing her three estranged children David (McGregor), Gruffudd (Rhys Ifans) and Linda (Lara Flynn Boyle) to stick around the store and uncover secrets about the childhood they spent apart. All the while, store managers Bella (Russell) and twins Marcus and Marco (F. Murray Abraham) do their best to be gracious hosts, but tensions rise as the family overstays their welcome. 
The outlandish story is based on the book "Mamma I Soffa" by Jerker Virdborg, which Larsson started and finished one day early during the pandemic. "I don't think it reads as a movie, but just the concept of an old mother stuck in this couch, I was like, 'I can see my whole life in this absurd scenario,'" the writer and director told Variety. 
Though "Mother, Couch" plays like modernist/postmodernist films "8 ½" or "Synecdoche, New York," Larsson admits he rewatched beloved early-aughts comedies like "Freaky Friday" and "13 Going on 30" for inspiration. "They play with this weird sensibility of magical realism that I think is profoundly impactful," he says. 
Fresh off his film's TIFF premiere, Larsson spoke with Variety to share more about his debut feature, surveying a million furniture stores, convincing Ellen Burstyn to take on the role of Mother and why he thinks Taylor Russell is an angel.
How are you feeling now that you know the film's had its premiere?  
It's so beautiful. It's interesting because, as a filmmaker, you're living in a little bubble for so long. You write a little thing and all of a sudden you're releasing it to the world. Hearing a thousand people laugh at the same time at my silly jokes, that's, you know, quite a thing.
What a nice way to put it. Starting with the book, when did you first read "Mamma I Soffa" and when did you realize you wanted to adapt it for the screen? 
It was in the boring days of the pandemic. I have been a big fan of Jerker Virdborg's work, he's such a good concept writer, and he's almost a poet. Then this book came out and I read it within a day. And I just said, "This is a movie." I don't think it reads as a movie, but just the concept of an old mother stuck in this couch, I was like, "I can see my whole life in this absurd scenario." So I called him up and I said, "Can I just go with it? Can I just take this and run?" And he let me do it.
The film follows themes of motherhood, the complicated relationship we have with our mothers, family secrets. When you say you saw your whole life in this book, what do you mean? Why did you feel that you needed to tell this story?
As you grow up, you start to sort of think of the tiny knives that you've been stabbed by. I had a great childhood in so many ways, but when you start to digest life and why you are the person that you are, you start discovering things. And I wanted to make a complex film about that. Life is not black and white. The absurdities are in the grayscale somewhere and it's confusing and hard to get and funny and tragic all at the same time. I wanted to make a film where all those things happen at once. I went back to movies I'm obsessed with, from early Buñuel and Fellini, like "8 ½." It worked then, so why wouldn't it work today? 
There's one scene where Gruff (Ifans) is making a drink for David (McGregor) and these three silhouette portraits of the siblings appear on the furniture store wall. So there's this slow manipulation of the space where, by the end of the film, the furniture store has transformed almost entirely. Was that something you really focused on in relation to the narrative?
I'm very glad you asked this question. It's an evolving space that changes, as does David. The closer David comes to realizing and releasing, the more the space looks like his mother's house. So you're right, it's a completely different space in the beginning, like, the couch was covered with plastic the first time we see it.
I wrote a little book I called a "Storm Book" for my crew and I divided the film into nine "storms" with titles and chapters. It's a very ambitious book — 140 pages — and in it, I explain every detail of how the story evolves throughout the film. That made it very easy for us to be like, "Oh, we're shooting a scene for storm five and now the furniture store looks like this." I had to be very specific to my poor team.
So they all got a copy of it before starting?
Yes.
I know you mentioned Fellini and Buñuel, but was there anything more modern that you looked to as inspiration? 
The truth is, I grew up with movies like "Freaky Friday" and "13 Going on 30." It sounds like a joke, but I love those films. They play with this weird sensibility of magical realism that I think is profoundly impactful. Look at "13 Going on 30." Sure, it's a silly comedy, but at the core of it, I think it's a discovery of self and what it means to grow up. I honestly wanted to make a modern version of "Freaky Friday." It's not a glossy comedy like the Lindsay Lohan pic, but it's the same in the way that it's so weird. And look at the "Princess Diaries," you know, I think that's also very similar in this sense. So, yeah, I re-watched all those films. 
When you put it like that, I think "Mother, Couch" does share that kind of strange realism with those films. 
Yeah, "Freaky Friday" could also be a horror. Changing bodies with your mom? Like, that's a crazy idea.
I think most exempary of that magical realism was the climactic flood scene when the couch becomes a boat for Mother. What did that scene mean to you and to the film as a whole?
That scene is not part of the book. I just needed to visualize that feeling of when grief really hits you and how it feels to lose somebody and let go of somebody. And I couldn't find a better reference or idea than actually being engulfed by a black, dark ocean. It's sort of a perfect metaphor. If the film is about grief — I mean, it's about so much more — but if it's about grief, then I also needed to bring the audience all the way there emotionally. I know it's over the top and out of nowhere, but it's true to how it feels. And as a filmmaker, you have to go back to what's true all the time.
The cast was absolutely phenomenal for a first feature. Would you say that everyone was your first pick? 
I'm a huge fan of actors, obviously. The actors you see in the movie were my top picks on the list I dreamt about when we were in pre-production. The only convincing I had to do was with Ellen Burstyn. She terrified me to the core twice: first with "The Exorcist" and then with "Requiem for a Dream," and also reading her biography book, I knew she had it in her. I just knew she could go there. I had to have her. 
But she's a method actor, and possessing a character like Mother for a long time I imagined would not be fun. So, I made a promise to her to never do reshoots or any ADR sessions so that she'd never have to return to that character. We'd stay with Mother for three weeks and then we'd let her go. She really wanted to do it, but she was frightened, she was scared of Mother, quite literally. But after that promise, she said alright.
And she pulled it off — that's amazing. I also want to talk about Taylor Russell as Bella. I love the scene where Bella makes David dinner and tells him that silly "a woman walks into a bar" joke. She was sweet and funny, and yet, a bit unsettling. What did you feel Bella's purpose was in the film and why did you think Taylor was right for that role?
I think both the character and Taylor are angels, really. And I think angels can be very unsettling because, well, it's a weird thing. They have wings and they carry all this knowledge, and they're scary but they're also incredibly seductive. So that's where we wanted Bella to go. And I was a fan of Taylor for so long. She has a side of wit and lightness and she can be funny as fuck, actually, which I didn't see in her previous work. But when I met her, I was like, "Oh, you're a hilarious person, you're lovely, you're not deep and dark and moody at all. You're perfect for Bella." And she totally did it. She's wonderful in the film. Truly.
Ikea is mentioned a couple of times in the film, and I'm sure as someone from Sweden, you're no stranger to the store. But this furniture store in the film is nothing like Ikea. So where did you find inspiration for it?
We went down to North Carolina to shoot, because apparently, it's the furniture store capital of the world, and we thought that was a good place to start. So we started scouting, but we couldn't find it. We couldn't find the store. I think we scouted hundreds of places and finally we were just like, "Fuck it, let's just build it." I always kind of dreamt of building it, but I didn't think it was possible until my production designer said we could. We took inspiration from stuff in every store that we saw, like an interesting elevator or an interesting staircase. In the film, the staircase on the exterior rather than the interior was an idea we got from a real furniture store called Miller's. And we're like, "This is a hilarious thing for a furniture store to have. Why don't they just have an elevator?"  
So what are you looking to do next? Any big ambitions, any small ambitions? 
Maybe a movie where I depict my daddy issues? I don't know. Well now, that's on record, so, yeah. My next film will be about my dad.
Post source: variety