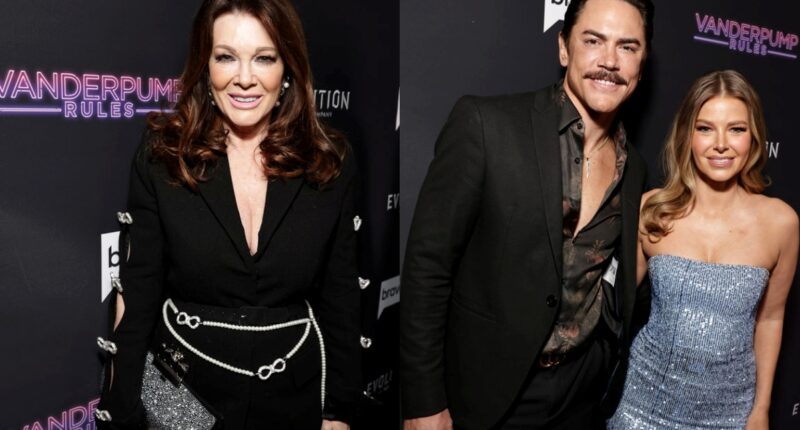 Lisa Vanderpump defended her controversial treatment of Tom Sandoval in the season finale of Vanderpump Rules, claiming she didn't want to "pile on" as Tom has been "lambasted by the whole world" for his affair with Raquel Leviss.
She also reacted to his then-girlfriend Ariana Madix's claim that Lisa was too nice as Tom was hyperventilating in the scene. Many fans were enraged, saying Lisa should've shown no mercy or empathy to Tom.
In an interview with E! News, Lisa defended her treatment of him.
"I didn't take sides with Tom, I definitely condemned what he did," said Lisa, via Page Six. "You know, I can't write him off as a person because he had an affair. The way he handled it, yes, of course."
She said, "That's not what I'm not trying to do. I'm trying to tell the truth … Also, I feel like a mother to some of these children. So, when he's been lambasted by the whole world, what am I going to do, pile on?"
She added, "No … I'm going to try and have a modicum of—not empathy, I don't have empathy—but a modicum of hope. Maybe for the future."
Lisa shared that she doesn't have a problem filming scenes with Tom on Vanderpump Rules. "It's going to be complicated," admitted the business owner. "But 'Vanderpump Rules' has never been a fairy tale. Let's be honest."
While speaking with Us Weekly, Lisa addressed Ariana's less-than-thrilled reaction to Lisa's behavior in the finale.
"Everybody else was chastising him. I didn't feel like joining the pack. I mean, it seemed so kind of slanted. Everything was against him, you know?" said Lisa. "I've known him for a long time. Of course, I'm condemning what he did. That's why I said, 'You're not a bad person. You just did a bad thing.' And my heart was always with Ariana. Maybe I didn't kind of, you know, scream at him and lambast him, but everybody else had done that."
She explained, "The man that was sitting in my living room, it felt like a broken man. So I just didn't want to pile on, to be honest … Have I had conversations and held 'em accountable? Yes, I mean, I felt the same way, absolutely, that everybody else did. But at some point, they're like my children in some way. They've grown up with me. … You might scream at him for a second, and I did that before, but when I saw him, then you've gotta try to at least move forward or look for the path forward — even though it was too early to move forward [or] look for the path forward. But of course, we were all very upset. We felt duped. We were disgusted, we were hurt — all of those things."
She claimed that Tom's meltdown in the episode "was worse than [what viewers] saw."
"And I think Vanderpump Rules is really good at that when it comes to producing the show and everything, it was enough what we saw. Was it worse than that? Yes," said Lisa. "And that scares me when somebody's just so depressed. But I think it was a moment that it all kind of came to a head there with me, and he knew that, you know, he'd lost so much from this whole choice that he'd made."
Lisa then expressed, "This group never, never, ever [failed] to surprise me. I mean, because they live their life off-camera as well as on camera. It's not orchestrated … They move together. They have babies together. They go on vacation together. It's a revolving door. It just keeps going."
According to Lisa, she saw Tom "just a few days ago" in a group setting.
"When there are other people around, there's nothing more to say that hasn't been said," explained Lisa. "We had 12 hours at the reunion where a lot of stuff came out, and it was hard."
Regarding a report that Tom and Raquel "broke up," Lisa expressed, "That's an unknown … because I didn't think they'd been together in the first place."
The three-part Vanderpump Rules season 10 reunion begins on Wednesday, May 24, at 9/8c on Bravo.
Post source: RB