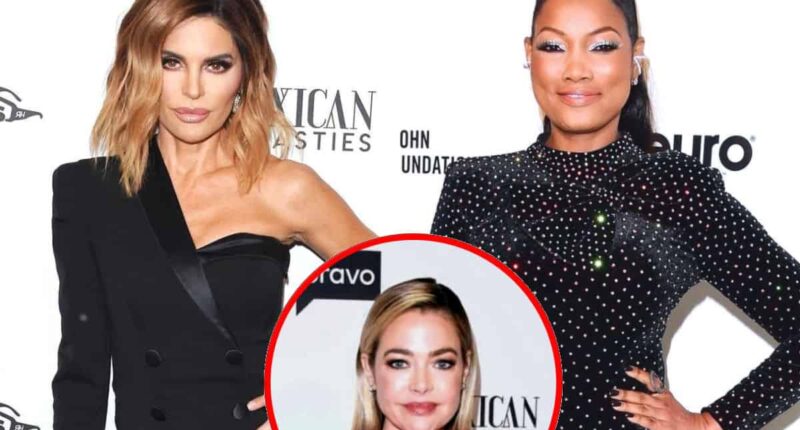 Lisa Rinna shared a series of posts on her Instagram page and Instagram Story on Wednesday as the latest episode of The Real Housewives of Beverly Hills confirmed Denise Richards had snubbed Garcelle Beauvais by failing to show up to her birthday party.
While Lisa was also not in attendance at the event, choosing to instead support husband Harry Hamlin at the Hulu premiere of The Hot Zone, she didn't hesitate to weigh in on the situation, especially after Garcelle suggested that Lisa take her party as an opportunity to make things right with Denise.
"I love [Watch What Happens Live] don't you?! Wait. Denise didn't show up to your birthday party?!!!!!" Lisa asked in the caption of a post shared on Instagram on June 29, which featured her giving a middle finger while sipping a drink in the Bravo Clubhouse.
On WWHL, Garcelle reacted to Lisa's text receipts, which proved that she had reached out to Denise after their season 10 falling out to make things right (despite what Garcelle had assumed), saying, "Listen, Rinna loves receipts. She loves receipts. [And] she had 'em. Absolutely she had 'em."
Lisa Rinna doesn't lie! She's posting receipts from her apology to Denise #RHOBH pic.twitter.com/jcsf4lFYxe

— Queens of Bravo (@queensofbravo) June 24, 2022
On her Instagram Story, after seeing that Garcelle had wanted her and Denise to make amends at her party amid questions surrounding her efforts to reconcile, Lisa said she would not be doing any such thing.
"Yeah no I'm going to go support my husband … And I'll fix things when I am good and ready to fix things- Thanks so much," she wrote.
Lisa also reacted to a photo Garcelle shared of herself and newbie Sheree Zampino, who joined the RHOBH cast for season 12 in a "friend" role by saying, "Tonight we welcome [Sheree Zampino] … Oh and say Hi to Denise for me!"
Lisa further poked fun at Denise's snub with a second Instagram post, which featured a photo of herself and Harry at the Hulu premiere.
"Tonight on #RHOBH … I go to Harry's 'The Hot Zone' [Hulu] premiere in NYC so I miss all the drama … Oh and say Hi to Denise for me," she wrote.
The Real Housewives of Beverly Hills season 12 airs Wednesdays at 8/7c on Bravo.


Post source: RB